Indy Roper Wins Level 4 Non Pro Championship on Spooks Show Time at NRHA Derby Presented by Markel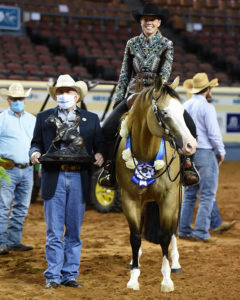 Indy Roper was all smiles as she exited the Jim Norick Coliseum Arena on Friday evening, June 19, after her first run in the National Reining Horse Association (NRHA) Derby presented by Markel Non Pro Finals.
She knew her performance on Spooks Show Time was good, and when the score, a 222.5, was announced, the cheers were resounding. However, Roper had drawn number 2 in the Level 4 Non Pro Finals, meaning she had to sweat through 31 additional runs before she was declared the victor. When the last rider had cleared the arena, it became official: Indy Roper had won her first Non Pro Derby Championship; several great prizes, including a year's use of a beautiful Kyle Zanetti Trailer, a Bob's Custom Saddle, Anderson Bean Boots, a custom Montana Silversmiths belt buckle, product from Classic Equine, and gift certificates to Platinum Performance, Bluebonnet Feeds, SmartPak, Shorty's Caboy Hattery, and CINCH; and a check for $18,800. Nominator Bobby Lewis will receive 5% of the total payout.
"I'm speechless. When we started this, winning the Derby was on our bucket list. My dad and I sat down and wrote down what we wanted to accomplish, and this was it. I've had many ups and downs in that arena, and this is definitely the pinnacle," Roper said.
Spooks Show Time, nicknamed "Raymond," is known for his big stops, so the run-in stop of pattern 10 fit him perfectly. "He ran in, stopped good, and backed up nice. We got through the turns, and then I knew I could push him hard. Like I said, his claim to fame is his stops, so the final three stops showed what he could do," Roper said.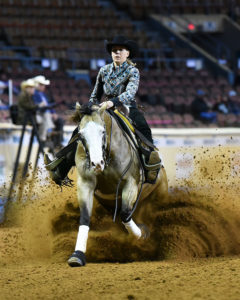 Roper's father, Tim, purchased Raymond in 2018 from NRHA Two Million Dollar Owner Rancho Oso Rio. "Andrea and Tish Fappani encouraged us to try him. I liked his demeanor because he's fun to be around, and he's smooth to ride," Roper shared.
Spooks Show Time is by NRHA Two Million Dollar Sire Spooks Gotta Whiz out of Dolittle Lena. "He's 7 now, so he's done with his derbies, and he has a home for life at Roper Farms. I have twin nieces who are going to be over the moon that he's coming back. We'll take him back home and just enjoy him."
Roper added, "We were so excited when they allowed us to show 7-year-olds in the derbies. Last year we had a little bad luck, so we gave him time off so he could be the healthiest he could be."
Although Raymond has resided in Arizona with trainer Marco Ricotta, Roper keeps several reining horses at her home in Indiana. "I'm fortunate that we have some reiners at home, and that's how I stayed in riding shape. Plus, Marco does a great job preparing my horses," she said. "I thank Marco and Jenny Ricotta and their whole team. I thank my mom and dad, Tim and Linda Roper, and my fiancé, Trent Sidabras. I have a whole cheering crowd back in Indiana."
Kim Muehlstaetter took the Level 4 Non Pro Reserve Championship and $12,758 on Spooks Grand Slam with a 220. Owned by Kim and her husband, NRHA Professional Martin Muehlstaetter, Spooks Grand Slam is a 6-year-old stallion by Spooks Gotta Whiz out of Shiney Diamond Lady. Spooks Show Time was nominated by Bobby Lewis.
Samantha Smith and Drinkin Moonshine Take Level 3 Non Pro Derby Championship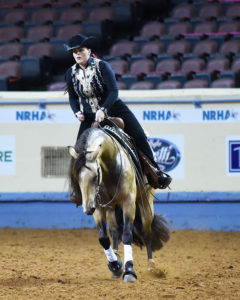 With a score of 215, Samantha Smith and Drinkin Moonshine clinched the Level 3 Non Pro Derby Championship. They also finished sixth in the Level 4, bringing their total earnings to $21,116. "I feel pretty good right now knowing I won the Level 3. This horse is only 4 years old, and this is the first real major event I've taken him to, so I'm really excited for the future," Smith shared. "He has so much ability."
While Smith was thrilled with the win, she admitted she could've ridden the stallion even better. "I chickened out on two of my stops halfway down there. They were still good, but they could've been better. My right turn was just OK, but my left turn was like, 'Wow! We're turning fast!' In my right circles he hooked up good, and he slowed down well. I was really happy with my slow-to-slow lead change. I just wish I hadn't weakened on those stops," she said. "I'm really happy because we haven't had a lot of horse shows. I really only showed him one time in Tulsa."
Drinkin Moonshine was nominated by Peter Morgan. He's by Shine Chic Shine out of Wimpy Little Girl, and was actually purchased for her father, NRHA Million Dollar Owner Lance Griffin. "He bought him for himself, and Martin Larcombe showed him for us at the Futurity. When my dad's back got hurt, I got to show him. I'm not complaining," she said with a laugh. "I thank my mom and dad. I thank Martin and his family. I especially thank my husband, Daryl, and my son, Hank, who's my lucky charm. He's here and we won."
Next up for Smith and Drinkin Moonshine? "Probably the NRBC in Tulsa in August. I couldn't have asked for this horse to be better. He's been maturing quite well. The mistakes that were made in there were mine," she said.
There was a two-way tie for second in the Level 3 Non Pro between Addisyn Schmersal and McKinnon Larcombe. Each marked a 214. Schmersal rode Black Gun Face, by Black Face Dunnit out of Blazing In Black, owned by Hickory Creek Ranch LLC. Schmersal had also qualified for the Level 2 and Youth finals, bringing her earnings for the night to $15,108. Her mom, Ginger Schmersal, nominated the horse.
Larcombe's entry, Gunners Bar Fly, is owned by her aunt Shauna Larcombe and was nominated by McQuay Stables. Larcombe and Gunners Bar Fly, by NRHA 11 Million Dollar Side Gunner out of Blonde At The Bar, qualified for the Level 4 and Youth finals, for earnings of $13,820.
Madison Gustin Takes Levels 2 and 1 Non Pro Derby Championships on Win My Cash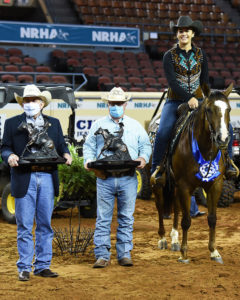 Win My Cash is well-suited to his name. With owner Madison Gustin at the reins, the 5-year-old mare won the Level 2 and Level 1 Non Pro Derby Championships and checks totaling $12,638.
Not only was it a first derby win for 17-year-old Madison, it was her first derby, ever. "I'm on cloud nine. This is a dream come true," she shared.
Gustin and Win My Cash, nominated by Carluccio Orsi, competed in the first section of the Non Pro Derby finals, where they marked a 214.5. "She's been pretty nervous recently, so I just went in hoping for her to stay calm, have a clean run, and improve from the first go. She was perfect for me and let me take her. We ran a little harder, and it was a lot of fun," Gustin recounted.
Win My Cash is by Lil Joe Cash and out of Win My Shine. The mare was trained by Kaci O'Rourke of Pond Hill Performance horses. "We bought her during her 3-year-old year at the Futurity where Kaci showed her," Gustin shared. "It's been quite the journey."
Gustin has ridden with Casey Deary since she was 8 years old. "I thank everyone at Deary Performance Horses. They're all so supportive and have helped me get where I am. Casey Deary has been the absolute best coach there is. Thank you to my parents for never giving up on me and allowing me to follow my dreams," she said.
Earning the Level 1 Reserve Co-Championship were Giorgia Medows and Rachel Tillman with a 212.5. Medows piloted Isnt She Perfect, a 5-year-old mare owned by her mother, Amy. Nominated by Tamarack Ranch, the mare is by NRHA Two Million Dollar Sire Walla Walla Whiz and out of Miss Silver Gun. Tillman rode Benjamin Sprite, a 6-year old gelding by NRHA Four Million Dollar Sire Custom Crome out of Whiz Jewels. The gelding is owned by Kelly Tillman and was nominated by Bahn Quarter Horses.
Michael Garnett Wins Masters Non Pro Title With Hollywood Nites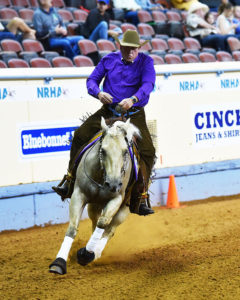 Michael Garnett has made the Non Pro Finals at the NRHA Derby presented by Markel several times, but for him, the achievement never gets old. Garnett and his 7-year-old stallion Hollywood Nites took the Master's Non Pro win with a 211.5 (including handicap). They also placed in the Level 4 finals, for total earnings of $2,580. "Any time you can win anything down here, you need to feel pretty fortunate," he shared. "My little horse was pretty good tonight. He beat me on one stop and kind of set up, but other than that he showed pretty well."
Garnett has owned Hollywood Nites, by NRHA Three Million Dollar Sire Gunners Special Nite out of NRHA Million Dollar Dam Dun It For Chex, since the colt was 3 years old. He was purchased from Cardinal Hill Training Center, who nominated the horse. "I started showing him as a 4-year-old, and I think he's won pretty close to $100,000 now. He's been a nice horse," Garnett shared. "My goal here was to make the Level 4 finals, which we did, so I'm pretty happy.
"I thank Franco Bertolani for selling me this horse for Cardinal. I thank Martin Muehlstaetter and all his staff. They're really good people and it's a good fit," Garnett continued.
Tying for second in the Masters Prime Time were Tamra Kyle on KR Smart Dreamer and Frederick Christen on Blonde Ambishen. Each marked a 210 (including handicap). KR Smart Dreamer, by NRHA Six Million Dollar Sire Magnum Chic Dream out of Smart Shiney Lena, was nominated by her husband, Pete Kyle. Blonde Ambishen, by NRHA Million Dollar Sire Shiners Voodoo Dr out of Relaxin With A Bud, was nominated by Lisa Neiberger.
Sam Flarida Wins Youth Non Pro Championship With Hollywooddirtysecret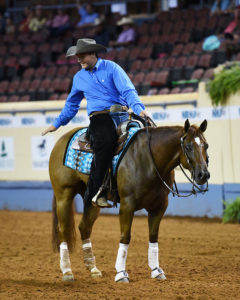 He was the last youth rider to compete in the second section of the Non Pro Derby finals, and Sam Flarida put on a show. He and Hollywooddirtysecret completed impressive maneuver after impressive maneuver, resulting in a score of 219.5. Not only did that win the Youth Non Pro, it was good enough to tie for third in the Level 4. The pair won $10,651.
For Flarida, the good run in the finals was the redemption he needed. "This feels really good. I felt like I let him down last year in the finals, and this year we really felt together. This is his first time showing in a full year. I'm so proud of him for coming back. He feels better than he ever has, and he seems happy and healthy," Flarida shared.
Hollywooddirtysecret, a 5-year-old gelding, is by NRHA Two Million Dollar Sire Hollywoodtinseltown out of Maximum RPM. He was nominated by Patricia Duque. "We've had him since he was a yearling, and I've always had a connection with him. He was always the one that would come to me and stuff like that, so we've always had something there," he said. "This horse gives you a special feeling about yourself. He makes you feel like you can do anything in the world, and he gives his all every time."
Sam is the son of NRHA Six Million Dollar Rider Shawn Flarida. "My dad knew I was ready, so when it was time to show he just said to have fun and told me we were going to do well no matter what," the 17-year-old shared. "I thank my whole family for everything and the whole Shawn Flarida Reiners group."
Jennifer Neudorf and Shining In Town, who swept last year's Non Pro Derby finals, finished second in the Youth Non Pro and fifth in the Level 4, for total earnings of $8,665. Shining In Town, by NRHA Two Million Dollar Sire Hollywoodstinseltown out of Shine Ann, was nominated by the Sather Family Partnership.
Tami Nelson Wins Prime Time Non Pro Derby Championship on Mr Masota Star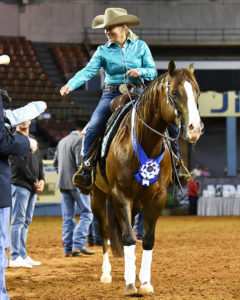 Prior to entering the Jim Norick Coliseum for the Prime Time Non Pro Derby Finals, Tami Nelson's trainer, NRHA Million Dollar Rider Brian Bell, told her, "You've done the homework, now go take the test."
With the exam over, it's safe to say Nelson passed with flying colors, piloting her horse Mr Masota Star to a 215.5 (with handicap) to win the Prime Time Championship. "He was amazing. He was perfect everywhere. My game plan was just go run hard and not make any mistakes. He did what I asked and was perfect," Nelson said of her horse, by NRHA 11 Million Dollar Sire Wimpys Little Step out of Cee Another Masota. The pair also finished well in Levels 2 and 3, with total earnings for the night of $9,673.
Nelson and Mr Masota Star were working on a strong run in the preliminary round when they had a bit of bad luck. "We fell out of lead coming down to the small slow, so we had a pretty big penalty," she shared. "He was good everywhere else and he was so solid and good for me."
Mr Masota Star is a 6-year-old stallion Nelson purchased from George and Carol Bell, who nominated the horse, in October. "This horse does everything well. He drags his butt, he can spin, and he can circle. I haven't had many horses that do all the parts really strong, and he does. I love him," she said.
Nelson credits her recent move—closer to her trainer—for her success. "I actually just moved closer to Brian so I can get a lot of riding in. Before this, I was driving about 360 miles one way to ride, so the 16 miles I drive now is a big difference, and it's been great," she said. "I thank Brian and all his team for their help, as well as my family."
Francesca Sternberg took reserve honors in the Prime Time Non Pro with a 214.5 (with handicap) on her horse Spooks Gotta Lena. The pair also placed in the Level 4 and Level 3 to win $10,842. Spooks Gotta Lena, by NRHA Two Million Dollar Sire Spooks Gotta Whiz out of Dolittle Lena, was nominated by Bobby Lewis.
Adam Donahue Wins Bob's Custom Saddles Novice Horse Non Pro Derby on Not Ruf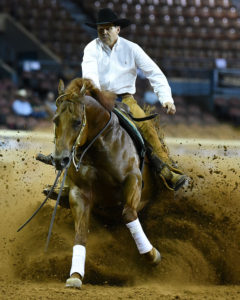 The Bob's Custom Saddle Novice Horse Non Pro Derby division debuted in the 2019 NRHA Derby presented by Markel. It was a hit with exhibitors and brought back for this year's event.
The 2020 non pro division champion was decided during the preliminary round that ended on Tuesday, June 16. Adam Donahue and Not Ruf took the win and accompanying check for $4,351 with a 216.5. That score also qualified the pair for the finals of the Non Pro Derby in Levels 4–3 and Prime Time.
Donahue purchased 4-year-old Not Ruf in April of the gelding's 3-year-old year. "He was originally trained by Bobby Avila Jr. and then went to Shawn Flarida for a while before I got him. I showed him here last year in the Futurity and had a little bad luck," he shared.
Not Ruf is by Not Ruf At All and out of Kays Freckles. "He's been a really nice horse. He's big and physical and nice to have around," Donahue said. "He's starting to become a show horse now. He was a little immature as a 3-year-old, but he's getting better every week, and I can't wait until next year."
Donahue, of Missouri, had planned to show Not Ruf in the Non Pro Challenge at the Run for a Million, but with the event being canceled, he's unsure where he'll take his horse next. "I thank Vaughn and Justin Zimmerman for breeding such nice horses. I get a lot of help from Kenny Eppers and ride with Bobby Avila Jr. every day because we're at the same barn together. It's a great group of people I'm surrounded by," he said.
Tabitha Sternberg Allen and Holly Trashya took second in the Bob's Custom Saddles Novice Horse Non Pro Derby with a 215, winning $2,648. Holly Trashya, owned by Francesca Sternberg, is by NRHA Two Million Sire Gunnatrashya out of Hickorys Holly Cee.