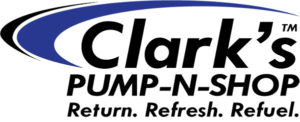 In May, Clark's Pump-N-Shop became the newest Global Partner for the National Reining Horse Association. As a Global Partner, Clark's Pump-N-Shop will directly support the NRHA European Futurity and Derby, the NRHA European Affiliate Championships, in addition to the North American events.
The company, headquartered in Ashland, Kentucky, will also become the naming sponsor of the Open and Non Pro Novice Horse Derbies at this year's 6666 Ranch NRHA Derby presented by Markel.
Clark's Pump-N-Shop, which operates nearly 70 stores in Kentucky, Ohio, West Virginia, and Florida, was established in 1976 by John W. Clark. The convenience store chain is now co-owned by John's sons, Rick Clark and Brent Clark.
Rick Clark is a familiar name to those in the reining horse industry. He is currently serving his second term as NRHA President and has been a member of the association for nearly three decades. He has been involved in all aspects of reining, as an owner, breeder, competitor, Board and Committee member for NRHA and the Reining Horse Foundation. He's also served on the NRHA Sale Committee and as a leader in the Futurity Challenge.
"Rick has contributed to NRHA on a variety of levels and has for so many years. A lot of that commitment has been behind-the-scenes through the volunteering of his time, but this Global Partnership is a more visible representation of the support he's given to reining over the years," noted Gary Carpenter, NRHA Commissioner.
Clark said, "I've been around the sport for over 25 years now and I love it – it's my passion. My brother Brent is my business partner and he's come to some events – even bought a cowboy hat and we now partner on some horses. The more we looked at it, we knew becoming involved in a sponsorship capacity was a good idea."
Clark has long sponsored individual events across the country, so it was a natural way to extend his support of the industry. He said, "NRHA is not just about the big events – it's all over – and when there is a reining in Kentucky, Ohio or Florida, I have felt like it was good to be involved. Reiners reciprocate by doing business with Clark's Pump-N-Shop and we appreciate their support! Our hope is to keep promoting our sport along with our convenience store chain. We're still building stores."
His goal of giving back to the sport and helping the shows made upgrading to a Global Partnership a natural progression. He continued, "I personally sponsored the European Futurity this year, and I thought as president of NRHA, it was the right thing to do. We are an international organization and if dollars go over there, I'm fine with it. Supporting reining worldwide is important."
Carpenter added, "Clark's Pump-N-Shop's expansion around the globe it is a testament to how far-reaching our sport has become. The friendships made and the cultural exchanges through reining events strengthen the fabric of NRHA."
Creating opportunities for reiners is a consistent theme for Clark, and the Clark's Pump-N-Shop Novice Horse Derby does just that. The $15,000 added Open Derby and a $10,000 added Non Pro division are for horses that have won less than $10,000 before May 15, 2022. Horses may also be entered into the Open or Non Pro Derby, but cross entry is not mandatory and there are no nomination requirements to enter only the Novice Horse Derby.
Clark said, "We are honored to be the title sponsor of this event. The novice derby provides a great opportunity and every time we can add an opportunity it's an advantage to owners and exhibitors."
For more information about Clark's Pump – N – Shop, visit myclarkspns.com.