Recent successes of George Bell owned and raised equines have catapulted the charismatic North Carolinian to membership in an exclusive club of owners whose horses have won more than one million dollars in National Reining Horse Association competition.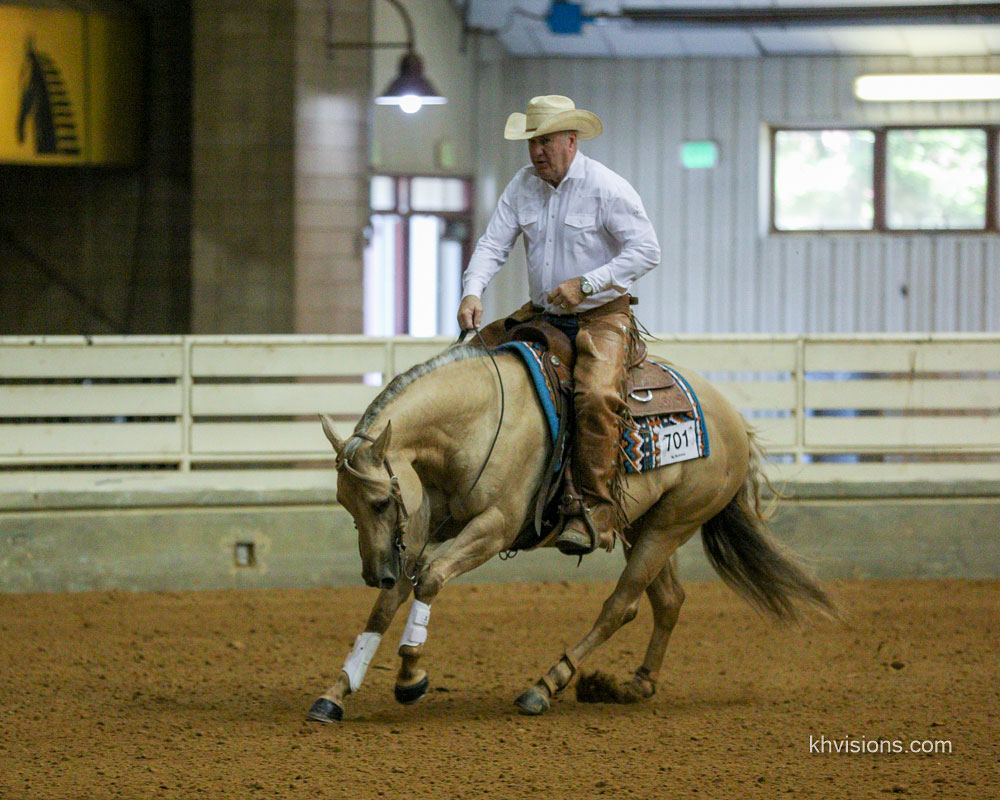 For Bell, the achievement is a wonderful recognition and made even sweeter because the majority of money won was on horses he bred and raised. "This means a lot. It's been a long time coming, and I've worked very, very hard for it. Probably way more than I wanted to work," he said with a low laugh. "I'm also now a million-dollar breeder, and to me, that's even more special because anyone can buy a horse, but not everyone can breed a good one."
Bell has owned horses all his life and got into reining after watching the 1979 NRHA Futurity Co-Reserve Champion compete. "I had never seen a horse that good and wanted one like it, so I went and bought some that were bred similar to her," he recalled. "That got me going better than what I was doing because, at the time, I really didn't own a horse that could beat anyone doing anything. I was honest with myself, and looked at my herd and knew I couldn't win with what I had."
Cee Blair Masota, by Blair Cee out of Lady Masota Star, was a full sibling to 1985 World Champion and future NRHA Hall of Fame inductee Miss Cee Blair. "I ended up with both Cee Blair Masota and Miss Cee Blair when their owner, Roland Beeson, passed away. He had willed her to me because I took care of her most of her life, and I kept her until she was 37. What Roland Beeson did for me was huge," Bell recalled.
Now the lineage of those mares can be found in most of the foals emerging from Bell's breeding program. "I've never changed because it's working. We had a Miss Cee Blair daughter, Cee Miss Hollywood (by Custom Crome), forever, and her babies have won around $500,000, and they're still winning," he explained. Cee Miss Hollywood's winningest foal is the 2015 stallion Mr Royal Hollywood, by NRHA Three Million Dollar Sire Hollywoodstinseltown, with earnings exceeding $150,000.
"We've bred these horses so long that when we have a foal, it's not a surprise what it is. We know going in what it was going to be and how it was going to work," he said.
While Bell has had plenty of success with mares that have had lucrative show careers, he finds a lot of enjoyment when mares like Cee Miss Hollywood, who barely broke $2,000 in lifetime earnings, turn into great producers. "Good mares make you a hero. That's the truth," he said. "But I like to have a mare who hasn't won a dime, and turn her into a good broodmare."
Bell is also an avid showman with lifetime earnings in excess of $128,000, and can still be found competing. However, he's always made sure that his son, NRHA Two Million Dollar Rider Brian Bell, has always ridden the cream of the crop. "I was always in the car business and had to work 80 to 90 hours a week, so I didn't have that much time to ride when I was younger. I gave all my good horses to Brian to help him with his career, and I still do. That's alright with me because I want to help him and always have, so that's what I do," he said. "It means a lot to me to watch him be successful, especially on our horses."
Bell and his wife, Carol, live in Smithfield, North Carolina, and can be found competing and spectating at reining events across the country. "Carol loves the horses, reining, and riding. She's really, really good with them, and enjoys the breeding and the babies," he said. "I especially thank God, my family, especially my son Brian because he won the most money on them, my friends and the NRHA."
The Bells' stallion, Mr Royal Hollywood, stands at Cedar Ridge Stallion Station. For more information, visit CedarRidgeStallions.com/Mr-Royal-Hollywood or find the stallion on Facebook at Facebook.com/MrRoyalHollywood.