Top-Ranked professionals in cutting, reining and reined cowhorse will return to Globe Life Field in 2024 to compete at The American Performance Horseman for $1 Million
Arlington, TX – [August 16, 2023] – Following its industry-defining debut in 2023, The American Performance Horseman will ride into Arlington, Texas, transforming Globe Life Field on Friday, March 8, 2024 as part of a newly signed three-year partnership.
As one of the marque events of The American Western Weekend, which also includes The American Rodeo on March 9, the display of talent promises to be an unforgettable experience for equine enthusiasts and fans of Western culture alike. Fans can register for presale tickets now at tetonridgeplus.com.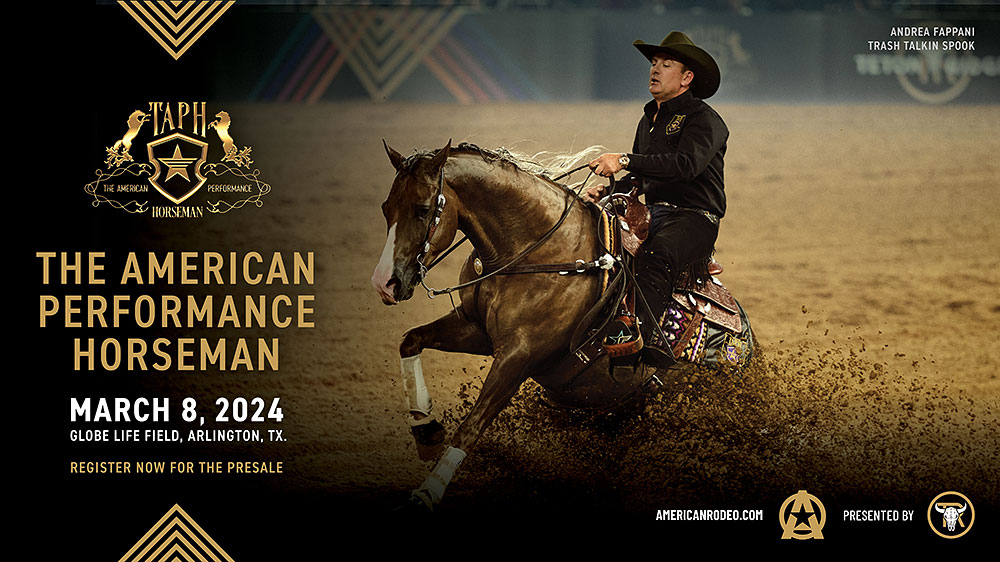 Teton Ridge will also proudly partner with Concerts West and AEG Presents to produce the event in 2024 and bring fans world-class musical talent. Concerts West and AEG Presents are leaders in the music and entertainment industries with an unparalleled commitment to artistry, creativity, and community. Their tentpole festivals – including Coachella Valley Music and Arts Festival, British Summer Time Hyde Park, and New Orleans Jazz & Heritage Festival – continue to set the bar for the live music experience. Global tours include The Rolling Stones, Roger Waters, Celine Dion, Luke Combs and more.
For the first time ever, the top five year-end money earning professionals from the National Reined Cow Horse Association (NRCHA), National Cutting Horse Association (NCHA) and National Reining Horse Association (NRHA) came together at the 42,000-seat Globe Life Field at the event's debut in March of 2023.
The competitive exhibition format, created by Teton Ridge, fuses the elements of history and competition in an ode to the past, present, and future of western performance horse sports. The unprecedented team concept pairs five teams of three athletes, partnered with some of the most well-known and respected horses in the industry.
Each team consists of a reining, reined cow horse and cutting professional in a breathtaking display of talent, precision, and horsemanship. Teton Ridge, the event producer that developed the qualification criteria, will release details and a current leader's list next week.
With $1 million in prize money again up for grabs, the competition will be fierce in 2024 as remarkable industry athletes push the boundaries of their disciplines. Spectators will be captivated as they see the remarkable bond between horse and rider demonstrated, showcasing the sheer power, agility, and finesse that make these equine athletes so awe-inspiring.
With support from the American Quarter Horse Association (AQHA), American Paint Horse Association (APHA), National Reining Horse Association, National Cutting Horse Association (NCHA), and the National Reined Cow Horse Association (NRCHA), The American Performance Horseman is the first event to shine the spotlight on each of these three western performance disciplines in the same night at the same venue.
"Incredible is an understatement when describing the energy and talent showcased at this event," said NRCHA Professional Adan Banuelos, who was on the winning team at the inagural event and placed first in his discpline. "Whenever I won the [NCHA] Futurity, I didn't know what was next and Teton Ridge came out with something that created so much energy. I can't tell you how blessed and lucky we are. This was an arena full of talent."
Banuelos further expressed his gratitude, stating, "It's unbelievable to be on a stage like this and have the world see what we do."
The American Western Weekend is a true celebration of Western heritage, culture, and entertainment. From the nonstop action at The American Rodeo to top-tier musical entertainment and more, the weekend delivers an immersive experience that will transport visitors to the heart of the American West while delivering western sports to a national audience.
Ticketing information for The American Western Weekend 2024, headlining music talent lineup and on-sale dates for March 8-9, 2024 will be announced later in 2023. Fans can subscribe to Teton Ridge Plus for alerts, advance ticketing offers and exclusive pre-sales.
For more information on March 8-9, visit www.americanrodeo.com or follow along on social media at @tetonridgeperformancehorses for the latest behind-the-scenes content.
###
Teton Ridge/ The American Western Weekend Media Contact:
Mandi McCary / mandi@mmgnv.com
Cally Anderson / cally@mmgnv.com
About The American Western Weekend:
The American Western Weekend at Globe Life Field in Arlington, Texas features action-packed entertainment, world-class talent and western sports that culminates with the Teton Ridge-owned The American Rodeo. Hailed as The Crown Jewel of Rodeo™, The American Rodeo is an unrivaled celebration of the pioneering spirit of the American West. The national sporting event offers fans a unique choice – to cheer on western sports' finest, champion athletes, or root for the underdog "Contenders" chasing a $1 million bonus – through every rodeo, roping and riding effort. Added to the festival line-up in 2023, The American Performance Horseman brings together the western equine sports disciplines of reining, reined cow horse and cutting for a $1 million prize. For more information on The American Western Weekend, please visit americanrodeo.com or @TheAmerican.TR on Instagram @TheAmericanTR on Facebook and Twitter.
About Teton Ridge:
Teton Ridge is the first omnichannel Western lifestyle and entertainment company that brings the best the American West has to offer, altogether in one place. Teton Ridge brings audiences and businesses together through content, products and experiences originating from the great American West. Teton Ridge operates across several business lines including a 24/7 digital media network with www.tetonridgeplus.com at the company's core; content production and distribution for scripted and non-scripted programming; print publishing through Cowboys & Indians magazine; fantasy gaming with Professional Fantasy Rodeo; apparel and fashion including Hyer Boots; western sports experiences with featured event The American Rodeo, ownership of the Arizona Ridge Riders Professional Bull Riding team, and Rodeo Vegas, the premier after-party of National Finals Rodeo; an exceptional American Quarter Horse breeding and training program informed by technology-leading equine genetics from Etalon Diagnostics; and a dedicated commitment to youth and indigenous-focused initiatives. For more information about Teton Ridge, please visit tetonridge.com or @tetonridge on Instagram @tetonridgeusa on Facebook.
The National Reining Horse Association is not responsible for the information contained in this press release. Please contact the author or submitting organization for further information, requests, or questions.