Oh! What A Night!
The Jim Norick Coliseum was rocking on Friday, Dec., for the Finals of the 2022 National Reining Horse Association CINCH Non Pro Futurity. The night was filled with all the emotions one could want in a finals, and the roar of the crowd indicated its approval.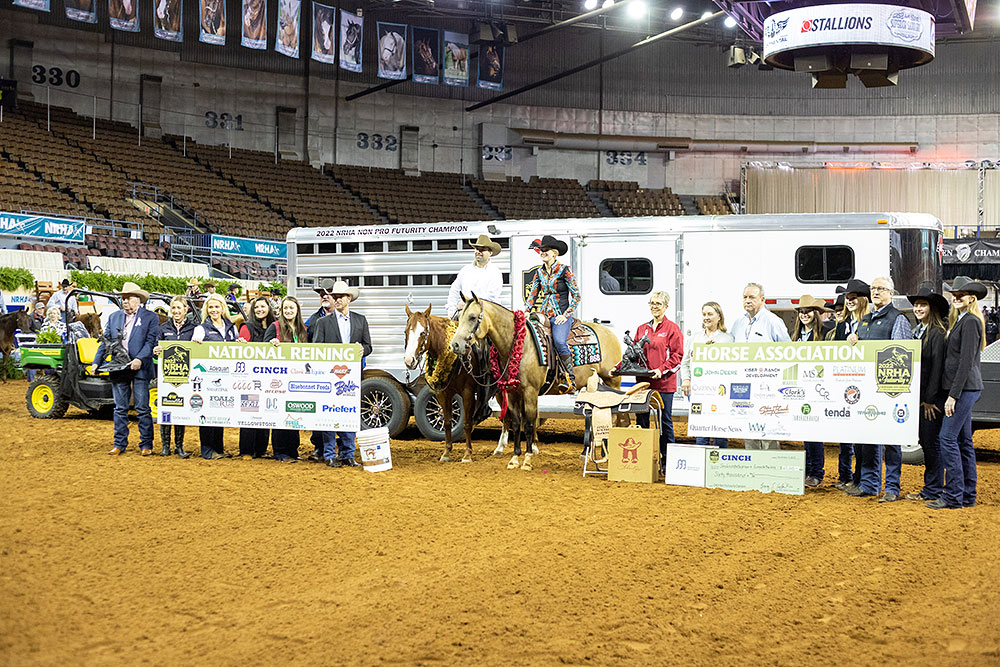 CINCH Non Pro Level 4 Co-Champion, Levels 3, 2, & 1 Champion – William Clutter and Smokinintheboyzroom
William Clutter and Smokinintheboyzroom put on a show on Friday night in the Jim Norick Coliseum, marking a 222.5 to tie for the CINCH Level 4 Non Pro Championship and take sole ownership of the wins in Levels 1, 2, and 3. All totaled, the pair won $119,895, with $5,994 going to nominator Alicia Rapp.
While Clutter was the man at the reins, he was adamant he wasn't the only one in the arena.
"Kelle Smith and I have worked together all year, every day. I ride six days a week with Kelle and Sam," Clutter said, speaking of two-time NRHA Non Pro Futurity Champion Kelle Smith, who passed away earlier this week but not before qualifying for yet another Non Pro Finals. "Kelle told me all year long that we're Team Smith and that if I stumbled, she would pick me up, and if she stumbled, I would help her up."
He took a pause and collected his thoughts. "Tonight, we helped each other. There is no doubt that Kelle took care of me tonight. It wasn't easy seeing her horse in the arena tonight during the memorial. She earned it, and she deserved that, so it meant the world to me to be there for Sam. This wasn't about me. This was for my friends, Sam and Kelle," he said. "I'm just honored to be the guy that got to go in there and do this for them."
Clutter and the flashy mare, by Eight Million Dollar Sire Magnum Chic Dream out of Green Smokin Jacket, ran into the arena with authority.
"I wanted to get in that gate, and I wanted to let the judges know I came to play. This mare was a 21 in the first round, and I knew there was a little more in the tank, and I needed every bit of it. I also needed some luck and some help," he said. "And I definitely had luck and help tonight."
Clutter and his father, Jay, purchased Smokinintheboyzroom a year ago, the Sunday after the Open Futurity Finals, from Max Morin. "We watched her work for five minutes, and it was a no-brainer," he recalled. "I think now she's going to get a little time off to eat some grass, and we're going to try to get some embryos out of her. Her heart is so big, and I know what she's going to produce. We'll get these babies and get her ready later on in the year, but right now, we're just going take her home, pet on her, love on her, and get a couple babies."
Clutter made sure to thank the people closest to him. "My mom and dad are my biggest supporters. I thank my wife, my kids…and, like I said, Sam and Kelle mean the world to me. She and Sam pushed me, and didn't take any less. Also, Max did an awesome job with this mare as a two-year-old. He told me 'You did amazing,' but I said, 'No, we did amazing. You put the first year on her. We finished her up and I got her shown. It was a team effort all the way."
Tying for second in the Level 3 with scores of 220 were Indy Roper on Pretty Alrightt and Charles Wiederholt on Ima Magnum Survivor.
Roper and Pretty Alrightt, by NRHA Twelve Million Dollar Sire WImpys Little Step out of Justanother Dun It, also finished fourth in the Level 4 for total earnings of $44,593. Pretty Alrightt, owned by Tim Roper, was nominated by Lewisville Development, LP, who received $2,229 of the earnings.
Wiederholt and Ima Magnum Survivor, by Magnum Chic Dream out of Golden Survivor, also finished fourth in the Level 4 and won the Non Pro Prime Time for total earnings of $46,784, with $2,229 going to nominator Deana Nell.
Molly Morgenstern took the Level 2 Non Pro Reserve Championship on Aphrodites Gotvoodoo with a 217.5. The pair also finished just outside the top 10 in the Level 4 and fourth in the Level 3, for total earnings of $29,592. Aphrodites Gotvoodoo is by NRHA Two Million Dollar Sire Shiners Voodoo Dr out of One Might Aphrodite and was nominated by Double Run Farm, who was awarded $1,479.
There was another tie for Reserve, but this time in the Level 1, between Drew Collins and Chalyce Head, who both marked a 215.
Collins rode Miss Lil Joe, by NRHA Two Million Dollar Sire Lil Joe Cash out of Custom Tag. Collins and the mare earned $11,918 thanks to additional placings in Levels 3 and 2. The mare was nominated by Darling 888 Ranch, who received $595.
Head teamed up with Whiz I Was A Walla, by NRHA Four Million Dollar Sire Walla Walla Whiz out of My Tucker Surprize, to not only take the L1 reserve co-title but also place in Levels 2, 3, and 4. All totaled, the pair earned $18,088, with $904 going to nominator Jenna Kellmer.
CINCH Non Pro Futurity Level 4 Co-Champion – Gina Marie Schumacher and Gunnin For The Nite
Gina-Marie Schumacher captured her first NRHA Non-Pro Futurity Title Friday night, Dec. 2, during a high-energy CINC Non Pro Finals. Marking a 222.5, NRHA Million Dollar Rider Schumacher tied with William Clutter for the win. Schumacher earned $60,000 for the feat and an additional $28,707 on her other two horses.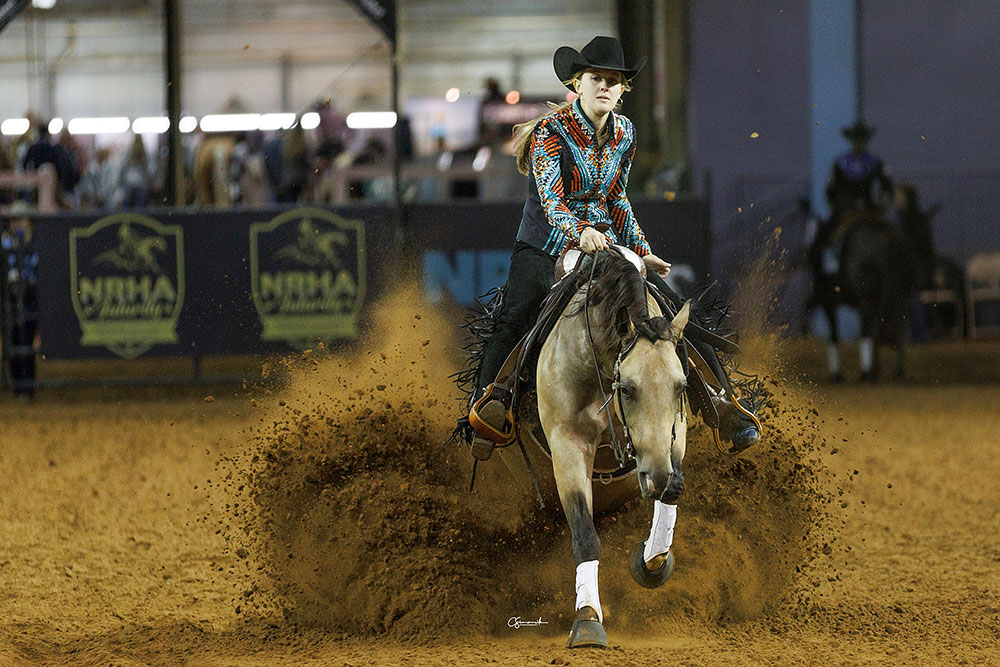 "I just rode," Schumacher said of Gunnin For The Night. "I didn't want to push him too much because he decides what he wants to do. I was going to go with what he wanted to do."
The night before the finals, Schumacher wasn't pleased with how 'Bucky' rode. So, her expectations were up in the air as she ran down the alley in the Jim Norick Arena.
"I was thinking, 'That [stop] was pretty good.' And then after his first turn, I thought, 'Well, that's OK,' and after the second turn, I thought, 'Well, it's over. I messed up; I'll keep riding,'" Schumacher said.
Schumacher navigated through the pattern just as she had done on her other two horses, CS O Bingo (Snip O Lution x Bingo Juicy) and CS Face The Shine (Shine Chic Shine x Face Of A Gun Model), but a bobble in her second turn had her thinking she was out of it.
The judges thought otherwise – tying her with Clutter.
Gunnin For The Nite is a gelding bred and nominated by Toyon Ranch, who received a nominating check for $3,000. He's owned by XCS Ranch LLC and sired by NRHA Eight Million Dollar Sire Gunnatrashya and out of Dun It Fri Dee Nite.
According to Schumacher, Gunnin For The Night is a special and opinionated horse that gets upset easily. If he gets riled up during a training session, Schumacher shelves training for the next day.
"He has his own way of doing things sometimes. He's very special, he can get upset about little things you don't expect a horse to get upset about. Like there is a guy taking out the trash across the arena," Schumacher said.
Despite his idiosyncrasies, the colt, nicknamed Bucky, surely redeemed himself with a $60,000 check.
"I thank everybody. The whole crew – they've been working hard all year," Schumacher said. "They've been exhausted, tired, and they just keep pushing. I thank Ian, my mom, and my dad."
CINCH Non Pro Prime Time Futurity Champion – Charles Wiederholt and Ima Magnum Survivor
The CINCH Non Pro Prime Time Futurity Championship went to Charles Wiederholt and Ima Magnum Survivor with a score of 221.5. For the win, Wiederholt earned $2,190. The pair also won fourth in the Level 4, for total earnings of $46,784, with $2,229 going to breeder and nominator Deana Nell.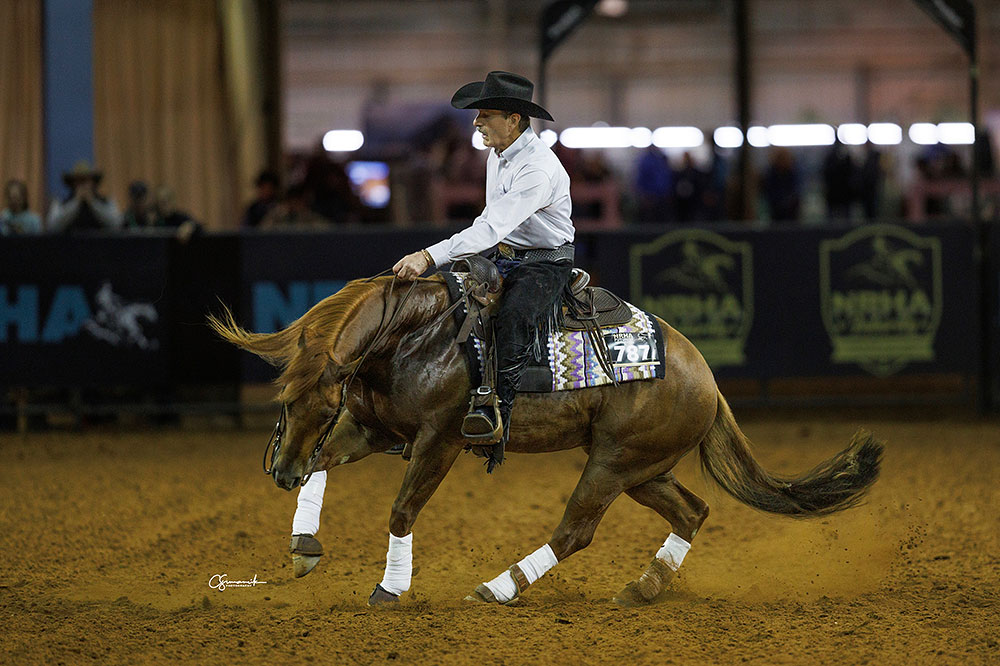 "I got him in August of his 2-year-old year, and he was a really green two-year-old. I gelded him and started training on him, and he's trained up really well," Weiderholt said. "He's good in his mouth, and when they're good in their mouth, it seems like they're easy to train."
Throughout the pattern, Wiederholt said Ima Magnum Survivor, by Magnum Chic Dream out of Golden Survivor, was with him every step of the way.
"I thank Dallas Cunningham and Brandon Freihait," Wiederholt said.
CINCH Non Pro Youth Champion – Lane Colston and HA Chic
Lane Colston brought home the CINCH Non Pro Youth Championship on HA Chic with a score of 219.5, worth $1,316. The pair finished seventh in the Level 4 as well, worth an additional $19,023 in earnings. Breeder and nominator, Hills Akin Family Partnership, received $951.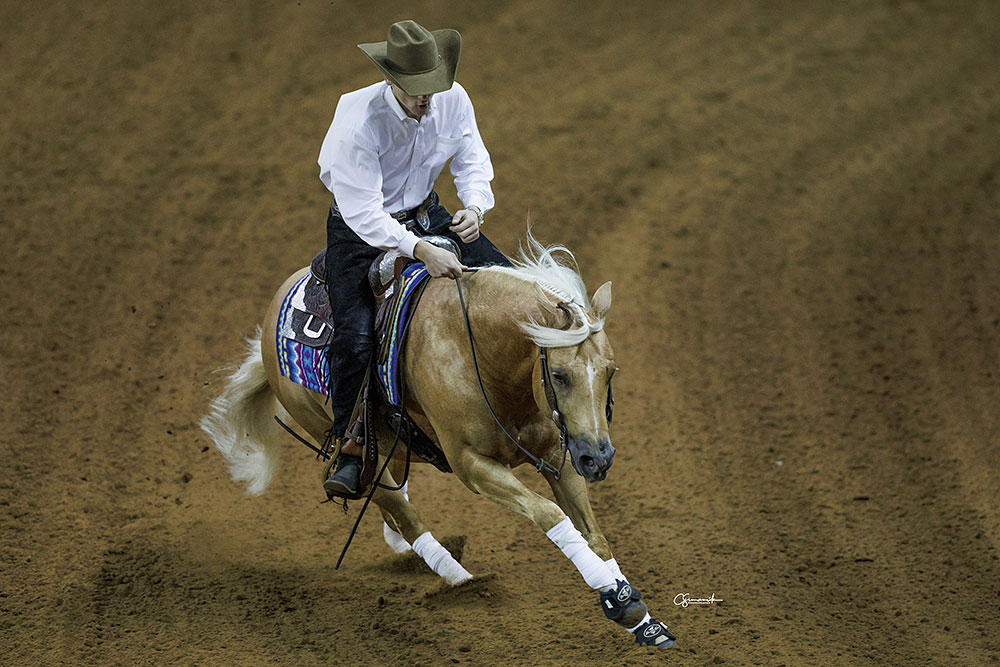 "My trainer, Jake Ballard, said, 'Just put your hand down and go show your horse. It's either going to go well, or it's not,'" Colston said.
HA Chic was with Colston every step of the way, loping off with his head down and letting Colston wrap his legs around him.
"My dad bought him as a yearling, and I told him I didn't know why he bought him," Colston recalled. "[Later] I told him, 'I'm glad you bought him because he's the best 3-year-old this year.' He's really talented, and he's a great horse. When we started him, he was a bit smaller, but he's growing to be a nice horse."
HA Chic, owned by Lane's father, Kevin, is sired by HF Mobster and out of HA Chic A Tune. The colt is a graduate of the NRHA Markel Futurity Sales.
"I thank my parents and Jake Ballard, our trainer. And everyone else who has helped along the way," Colston said.