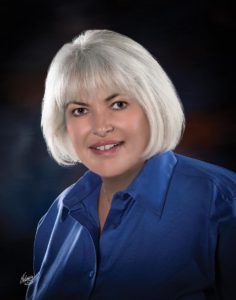 For Immediate Release – February 19, 2020 – Oklahoma City, Oklahoma – Congratulations to National Reining Horse Association (NRHA) Hall of Fame inductee Rosanne Sternberg for becoming the second-ever NRHA Two Million Dollar Owner. After reaching the NRHA Million Dollar Owner milestone in 2010 and being inducted into the NRHA Hall of Fame in 2017, she's remained dedicated to producing quality reining horses while consistently striving for the next level of achievement.
During the 2019 show season, Sternberg's horses earned more than $77,000 in combined NRHA Lifetime Earnings (LTE), culminating at the NRHA Futurity. The success of Shines Like Spook (Smart Spook x Ebony Shines) at the NRHA Futurity, ridden by NRHA Professional Martin Larcombe, pushed Sternberg past the $2 million mark. Larcombe topped the Prime Time Open Futurity finals, finished third in Level(L) 3 Open, and placed 10th in L4, earning more than $42,600 toward Sternberg's milestone.
"I knew Rosanne when I lived in Europe and worked with reiners," Larcombe shared. "I continued that relationship when I came to the U.S., and she's had horses with me for the past few years. She understands the game because she's been in it that much. She knows how it can be—the highs and the lows. She's been a great support, and she trusts me with her horses."
Sternberg splits her time between Sterling Ranch in Aubrey, Texas, and her home in Great Britain. Her European-based mare—Ebony Spook (Smart Spook x Ebony Whiz)—was the 2014 NRHA Open World Champion under the guidance of NRHA Professional Ann Fonck.
"I am thrilled that after 34 years of owning, riding, breeding, and enjoying reining horses I've passed the milestone of becoming the second NRHA Two Million Dollar Owner," Sternberg said. "I've been lucky enough to own many exciting and talented horses and have enjoyed seeing not only family show and enjoy my horses, but also have had the privilege of working with some of the world's top trainers based in both the U.S. and Europe."
With over $86,000 in personal NRHA LTE, Sternberg has competed as a non pro rider at the highest levels, both in the U.S. and abroad.
Sternberg anticipates continuing her tradition of excellence of owning, breeding, and showing reining horses as she pursues her next milestone: becoming an NRHA Three Million Dollar Owner.
Standout horses throughout Sternberg's career include:
Nijomi Sonny Reb (Sonny Brownburn x Marina Del Reb): over $63,700 LTE; her mount as part of the British team at the 2002 FEI World Equestrian Games in Jerez, Spain
Smart Spook (Smart Chic Olena x Sugarplum Spook): over $403,100 LTE; NRHA Hall of Fame inductee and NRHA Six Million Dollar Sire; winner of the 2004 NRHA L4 Open Futurity and 2005 NRHA L4 Open Derby championships
Tinsel Nic (Bueno Chexinic x Holly Tinseltown): over $165,600 LTE and over $381,000 offspring LTE)
Ebony Shines (Shining Spark x Ebony Whiz): NRHA Hall of Fame inductee and first-ever NRHA Million Dollar Dam