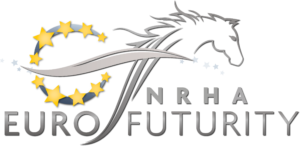 Cremona, 03.11.2020 — Provided by Simona Diale/IHP — Thanks to the new-born partnership between the Italian Reining Horse Association (IRHA) and Maria Cecilia Fiorucci's Elementa, the National Reining Horse Association (NRHA) European Executive Board voted unanimously to run the NRHA European Futurity concurrently with the IRHA/IRHBA/Arcese Futurity & Italian Championship Finals in Cremona on November 20-28.
Due to the spreading of the coronavirus (COVID-19) in Northern Italy, particularly in Cremona where the 2020 NRHA European Futurity was to be held, last month the NRHA European Executive Board decided to postpone the show. In an effort to ensure that the event's rescheduling was handled efficiently, the European Executive Board reviewed potential dates and venues. Roberto Cuoghi, president of the European Council and IRHA, sealed the deal — approved unanimously by the Board — to host the European Futurity in Cremona during the IRHA/IRHBA/Arcese Futurity & Elementa Italian Championship finals thanks to Elementa's generous 200.000euro sponsorship for the Euro Futurity. On top of the NRHA Nomination Program money (200.000euro subject to change in nominations), the total added money rises to 400.000euro. "In this very difficult situation we are all facing, I took it upon myself to personally visit with Cecilia [Fiorucci] focusing on what is best for our NRHA members and our sport," said NRHA Hall of Fame Inductee Cuoghi. "Our passion is what moves us and this is the result of our passion. I would like to thank NRHA and our European Board for their trust and of course Cecilia for investing in our industry and our programs." Fiorucci's main goal has always been that of promoting the 4-year-old futurities and this is the perfect transition toward the Elementa Masters Circuit, added Cuoghi. The European Futurity will run concurrently with the IRHA 4-year-old Futurity [details to be determined].
This year Elementa will also be the presenting sponsor of the 150.000euro-added IRHA Italian Championship finals. By hosting the NRHA European Futurity, the 2020 IRHA/IRHBA/Arcese Futurity [which includes the 250.000euro-added 3-year-old Futurity] will once again make the headlines by offering a total purse of 800.000euros.