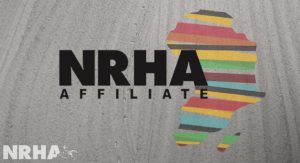 For Immediate Release – February 25, 2020 – Oklahoma City, Oklahoma – The National Reining Horse Association (NRHA) welcomed South Africa as the newest international affiliate this fall. Greg and Lizelle Garland, NRHA members from South Africa, toyed with the idea of starting an affiliate for about three years before diving in headfirst.
Officially recognized in July 2019, the South African affiliate hosted three shows in a span of just two months: the first in August and two more in October.
"Within three months of inception, we've had three shows; it's been amazing," Greg said. "We're still small, with a limited number of members, but it's definitely something that everyone is excited about, and we're looking forward to growing."
Historically, to begin the process of starting a new affiliate, 25 NRHA members had to support the undertaking—a daunting task for a country where reining-ready horses are extremely hard to come by.
"When some of the staff from NRHA came to visit us, we found out about a new rule that said we only needed 10 NRHA members to get started since we are a developing country," Greg said.
That's all Greg and Lizelle needed to kickstart the process. The Garlands carry the torch for reining in South Africa as they bring in clinicians and horses to generate interest in the sport.
"With the creation of the developing affiliate level, we were able to introduce reining at the grassroots level to countries that may not have been able to jump in with 25 members," said Samantha Oldfield, director of competition & education and European liaison at NRHA. "This level gives them a chance to introduce the sport to potential members and to grow and build a strong base they can expand upon to their other affiliate levels."
NRHA currently recognizes more than 90 associations representing 16 different affiliates around the globe. Competing in an affiliate is truly reining at the grassroots level. To find an affiliate in your region and to learn more about the program, visit nrha.com/affiliate.