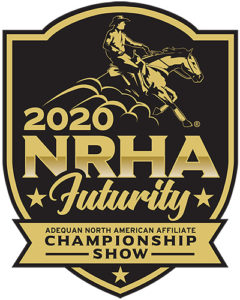 For Immediate Release – February 7, 2020 – Oklahoma City, Oklahoma – The National Reining Horse Association (NRHA) made the landmark announcement today that the 2020 NRHA Futurity champion will receive a quarter of a million dollars! The news came during the association's Annual General Meeting and was accompanied by the additional announcement that the NRHA Non Pro Futurity Champion will receive $60,000, and added money for the Adequan® North American Affiliate Championship (NAAC) will be doubled.
The stunning hat-trick announcement came after a special task force formed and met during the Annual NRHA Winter Meeting in Denton, Texas, to discuss a pathway to increasing the payout at the NRHA Futurity, beginning with the 2020 event. Chaired by NRHA Vice President Rick Clark, the task force was created to answer a challenge that he, along with NRHA Past President Frank Costantini and former NRHA Board Member Doug Carpenter, had given the board to begin to grow the NRHA Futurity winners' rewards.
Serving on the task force along with Clark are John Tague, Mike Hancock, Mark Blake, Ginger Schmersal, Rosanne Sternberg, and Shane Brown.
The NRHA Futurity has seen many significant milestones in its storied past. This included the move to a guaranteed $100,000 prize for the Open Futurity Winner in 1983 and the creation of the nomination program, which now helps fund all levels of the event. Since then, the first-place check for the Level 4 Open Champion had increased to $150,000.
The named increases are, according to the task force, based on independent funds raised from individuals interested in boosting the industry and shining a brighter light on the NRHA Futurity. Those funds came from five-year support commitments from Tim Anderson and Kim Niven, John and Nancy Tague, Rick Clark, Bob Santagata, Craig and Ginger Schmersal, Mark Blake, Joao Marcos, and Mike Hancock, and are, in the words of NRHA President Mike Hancock, a starting place in the goal of establishing the NRHA Futurity and Adequan® NAAC as one of the most prestigious events in the horse world. It has certainly done that, boosting the NRHA Futurity winner's payment to exceed those of all other futurities in the Western performance horse industry.
"This was spontaneous combustion in the best way," said NRHA Commissioner Gary Carpenter. "It came together because the right people were in the right place at the right time. So many factors around the world influenced this development. We all recognize that the horses bred for the NRHA Futurity will become the horses of the future for all levels of competition. The increased purse in both the Futurity and the Adequan® NAAC illustrates our commitment to these horses and the people who breed, own, train, and ride them."
Hancock agrees about the positive ripple effect of this evolution of the sport.
"This year's quarter of a million is just the first step," Hancock said. "This committee foresees additional support opportunities becoming available for this endeavor in the future. We don't know where it is going to end yet, but we are excited for the future."