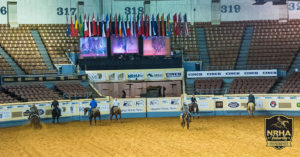 The futurity season for reining horses is nearing completion, and in less than 24 hours, the best riders in the world will begin the intense preliminary competition at the National Reining Horse Association's premier and most prestigious event, the NRHA Futurity. They'll be competing for a piece of a purse that exceeds $2,000,000, highlighted by a record-breaking $350,000 check for the Champion.
Under the lights in the historic Jim Norick Coliseum, the mettle of talented 3-year-old reining horses will be tested as they're navigated through the signature circles, spins, and sliding stops the event is known for.
While there are several futurities throughout the year, only one is known simply as "The Futurity." Since its debut in 1966 in Columbus, Ohio, the event has grown from a handful of entries to what will be a record-breaking 599 + in 2021.
The payout has grown, and to say it has done so significantly would be an understatement. This year's Level 4 Open Champion will leave Oklahoma City $350,000 richer and in possession of the largest limited age event championship check in the western performance horse industry. That is thanks to the generosity and dedication of a group of reining enthusiasts who created the Futurity Challenge.
Not only that, but this year's Level 4 Open Reserve Champion will win a guaranteed $150,000, and third is also guaranteed $100,000. With that kind of money on the line, it's not surprising that the entry lineup is not only the largest in the event's history, it's also stacked with horsepower and horsemen.
For stats and facts about this year's Open Futurity entries, take a look at the Open Roster Rundown.
Winning the Level 4 Open Championship is a three-step process. All Open entries compete in the first round, which begins tomorrow, Nov. 25, with the top 75 (plus ties) advancing to the Not Ruf At All Level 4 Open Semi-Finals round on Dec. 1. There, the top 30 (plus ties) move on to the clean-slate MS Diamonds TX Level 4 Open Futurity Finals on Dec. 4.
Open riders in Levels 1, 2, and 3, who are in the top 75 of their levels (but not in the top 75 of the Level 4), will compete in the Semi-Finals Round on Nov. 30. The top 30 in each of those levels (plus ties) will earn a spot in the first section of the Open Finals on Dec. 4.
Tickets for the event are on sale now and can be purchased here.
Complete information can be found at NRHAFuturity.com.