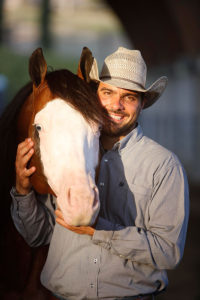 Gennaro Lendi recorded his first earnings in the National Reining Horse Association in May 2004, when he won the Non Pro class at the Italian Reining Horse Association Derby on OT Taris High. Less than two decades later, Lendi joined the elite list of riders who have won more than one million dollars in competition.
Recent wins at the 2020 European Futurity, the Austrian Futurity, the German Breeders Futurity, the IRHA Maturity, and ARTA Futurity propelled him past that milestone.
"As I got closer to the million, it became all the more stressful as I wanted to surpass that mark as fast as I could. I put pressure on myself – especially after the pandemic stopped our shows – and it affected my performance in the show pen," Lendi admitted.
Lendi was less than $8,000 from achieving that goal prior to the NRHA European Derby and the NRHA Germany Breeders Derby. "My focus was mainly to show my horses to the best of my ability," he said. "I finally made it in Germany, and on top of it being a hugely emotional moment, I was thrilled I had managed to show my two 3-year-olds well and allowed them to demonstrate their talent. They gave me all they had."
What made the moment even sweeter was that Lendi had made the breeding decisions that resulted in the two talented reiners. "Both OT Taris Yankee (Yankee Gun x OT Tarisme), owned by Cornelia Valentin, and OT Dont Miss To Wish (Dont Miss My Guns x OT Taris Wish Miss), owned by Dominico Giannitti, were also both trained by me," he explained.
Lendi's love for horses was fostered by his father, Rino, who bought him his first pony. "My parents simply have always had a passion for animals, even though they were not involved with horses. I decided when I was a child that I wanted to be a horse trainer," he recalled.
He was still in single digits when he first saw a reining horse. Lendi's father took him for lessons every weekend, and at the end of each lesson, he would go home to train his pony. "I taught him all the reining maneuvers, except for sliding stops because, of course, he didn't have sliders. I would wait for it to rain so that, when the ground was slick, I could say 'whoa' and get him to stop and slide," he said.
The first professionals to truly impact Lendi and his career were Cliff Jayhall and Dario Carmignani, and he now regularly works with leading NRHA riders Shawn Flarida and Andrea Fappani. "I truly believe that all those who have helped me along the way managed to have an impact on me because I am passionate about what I do, and I put the passion into every single moment. I think that is the secret to my success," he shared.
Lendi was quick to give credit to the equine athletes that he's ridden throughout his career, specifically a few special ones. "My Showbiz Whiz (Topsail Whiz x Hollywood Stunt Girl), owned by Arcese Quarter Horses USA at the time, was the 2009 IRHA Open Futurity Champion, and Piccolo Spanish (Spanish Snapper x Jokin Peppy), owned by Sabatino Quarter Horses, was the Open Reserve Champion that year. They left an indescribable mark," he said. "In this list, I have to add Spatatino and Colonels Dancing Gun, two stallions that allowed me to express reining the way I saw it in my head. I like to see the class and finesse and style in the maneuvers; these are the characteristics I look for in horses I train and ride."
"The fact that I accomplished this without coming from a horse-oriented family makes me even prouder. I had no one in my family to help in this profession I chose. Even though my family has always supported my passion and my choices, I never had any help. That's probably the best thing that could have ever happened. They left me free to make my choices and mistakes," he said. "Of course, they are super happy since this is such an important achievement in Europe, and particularly Italy."
Lendi added there are several people who have helped him throughout his career. "I have always been very fortunate to have owners that trusted me with their horses and my program. This list is long, and I thank all of them," he said. "I thank my family, including my father Rino, mother Marianna, my brother Francesco, and my girlfriend, Steffi, who have always been close to me in good and bad times."
Not resting on his laurels, Lendi is looking ahead to the next career milestone. "In celebrating this million, my aim is now for two million. One goal I have is to qualify for The Run For A Million," he shared.