A Full Day of Horse Showing at the NRHA Derby presented by Markel

For Immediate Release – June 14, 2020 – Oklahoma City, Oklahoma – Day two of the National Reining Horse Association (NRHA presented by Markel Insurance is in the books, with more than 176 entries competing in the horse show classes. Once again, large class sizes dictated the split to two arenas for the classes, with the Open horse show classes being held in the Adequan® Arena, and the Novice Horse Non Pro exhibitors competing in Arena Six.
Fappani and Piper Tie for Win of Open (1)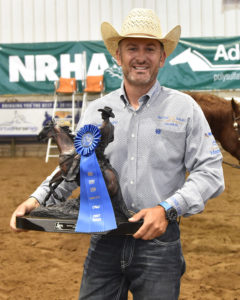 Andrea Fappani and Nathan Piper tied for the win of the $6k added Open (1) class. Fappani was riding Shine Plum Shine, while Piper rode Ruff Spook, with each winning $1,846.
The decision to show in the Open was a last-minute one for both Fappani and Piper. Piper had planned to show Ruff Spook at another large event. "We were going to show in the Shootout. When they canceled that, I decided to bring him here to show in this Open here," Piper said.
"This horse is still derby eligible, but it was a last-minute deal, so I figured I'd bring him and show him in this class. It's great that the NRHA put a $6k open in here. We decided to go for it, and it worked out even though it was last minute," Fappani shared.
Shine Plum Shine, by Shine Chic Shine and out of Plum Reyning, is owned by Rancho Oso Rio. "I showed this horse the last couple years and he's been pretty successful. We had a little bobble on the second stop. The ground is a little more slick than what we have in Arizona, and we've only been on it one day so it will take a few more days to adjust. Other than that I was really happy with him. He was with me the whole time," Fappani said. "I thank the owners Jim and Pat Warren of Rancho Oso Rio. I manage the ranch they always make sure I have nice horses to show. Thank you to my whole team. It's always a team effort, and I appreciate them."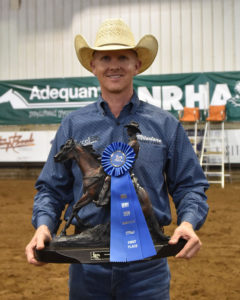 While Fappani is confident about his Derby entries, he's glad this is his second event back. "We had a show in Arizona a couple weeks ago. It was the first time we showed, and it was a good thing because I was a little rusty. Hopefully, I'm ready now," he said with a laugh. "I'll show in the Derby, and Luca is showing a couple in the Non Pro, and then we have a couple other non pros, but it's pretty chill and we're going to enjoy it. We're definitely happy to be showing again."
Ruff Spook, by Smart Spook out of Ruffle Me Up, is owned by Shannon and Hershel Reid. "He's an 11-year-old stallion, and he's had a lot of experience. This was the first time for me to show him and he was great. I've had him about three weeks, but he's a machine, so it was pretty easy out there," Piper shared. "I thank my Lord and Savior, my family, and everyone who works for me. It takes a village."
This was also the second event for Piper. "We went to a show in Hamilton, Texas, and were very happy to have that. It will be interesting to see how it goes in the Derby. I had a system for myself, but I could see getting lost on how to prepare these last few months," he said. "We brought 19 head of horses here. We have people showing in almost every class."
Debbie Brown and A Glorious Nite Top Intermediate Open (1)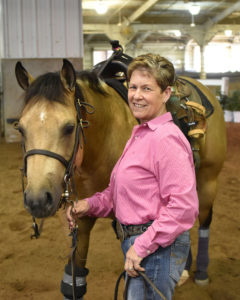 Debbie Brown piloted A Glorious Nite to a 146 to pocket $503 for the Intermediate Open (1) win. The five-year-old mare, by Gunners Special Nite out of Glory B Whiz, is owned by David Silva. "She was very good. She's not been in the pen a bunch showing even though she's five. She was really good in the maneuvers. She turned, ran, and stopped really well, and had no penalties, so it was really good," Brown said.
Brown is a trainer at Tom McCutcheon Reining Horses and will be spending most of her week at the Derby helping out the crew. "We have a great team. I thank Tom and Mandy McCutcheon. They're fantastic to work for. I thank the owners, David and Bonnie Silva, who have been fantastic over the years. They have such great horses and are great supporters," Brown said.
The NRHA Derby presented by Markel Insurance, is the first big event back for Brown. "It's nice to be getting back to the normal routine," she said.
Wade McDonald and Smart Lil Velvet Win Limited Open (1) and Rookie Pro. (1)

With a score of 142.5, Wade McDonad and Smart Lil Velvet took the top spot of both the Limited Open (1) and the Rookie Professional (1). The dual wins came with more than $616.
Smart Lil Velvet, by Smart Like Juice out of Velvet Pistol, is owned by Bruce Koefoot.
Courtney Battison and Corona Tag Win Novice Horse Non Pro Levels 1 & 3 (1)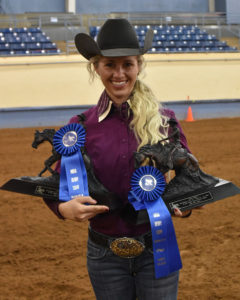 With COVID-19 protocols in place, Courtney Battison did not think there would be an awards ceremony in the arena, so after competing on Corona Tag in the Novice Horse Non Pro classes, she made the short trip home to Purcell. She and her mare had marked a 143, so when she got the call from Trevor and Laura Dare that there would be awards, she headed back to Oklahoma City. "I rushed back up and made it just in time," she said. Battison and Corona Tag not only won Levels 1 and 3, they also finished reserve in the Level 2, for checks totaling $1,724.
Battison has owned Corona Tag, by Whiz N Tag Chex out of Kachina Oak Olena, for a few years. "She had a little soundness issue, but she's all fixed up now so we're back at it. I showed her last year and now this year," Battison said. "She's the same almost every time, and we had a great run today. I think my stops were a little bit better than the last time we showed. We've improved on that."
Battison will stay busy this week with two horses entered in the Non Pro Derby. "I'll also show this mare again on Wednesday. This is the first time I've gotten to show. We went to Tulsa to a horse show in March, and that's been it. It's great to be out showing again." She added, "I thank Trevor and Laura. They've helped me a lot this year."
Indy Roper and Lil Whizzer Gun Take Top Honors in Novice Horse Non Pro Level 2 (1)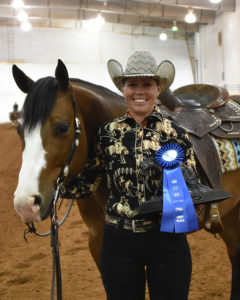 Once Indy Roper got off work last Friday, she and her dad loaded up to make the 14-hour drive to Oklahoma City. "We're here now and we're ready to go," she said. Roper is off to a great start, having won the Novice Horse Non Pro Level 2, and $631, with a 144 on Lil Whizzer Gun.
"He was excellent. I took him to an Indiana horse show last weekend and schooled him a little bit. I was hoping that he would come here and be good, and he showed off his maneuvers today," she said.
Lil Whizzer Gun, owned by Tim Roper, is by Lil Gun and out of Sugar Baby Whiz. "We bought him as a three-year-old and showed him in some derbies. He's a horse I have at home to help me stay tuned up for my other derby horses. I have two derby horses to show this week, and then I hope to show this horse again, too," she said. "I went to the Mother's Day Slide in Arizona, and that was my first time back out showing. It felt great to be showing again. We put in all that hard work, and now it's time to be at a horse show. We're all smiles."
Roper had several people to thank, including her father and family back home. "They're great cheerleaders. I also thank Marco Ricotta, who has been instrumental in tuning me up and giving me pointers while we're here," Roper said.