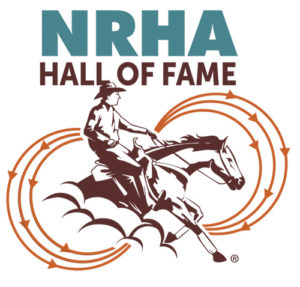 The National Reining Horse Association's Hall of Fame is a collection of exceptional individuals, both human and equine. These industry pillars have contributed to the reining industry through immeasurable avenues. In the NRHA Hall of Fame, their accomplishments and extraordinary contributions of time, expertise, financial support, and commitment live on as their legacies.
The 2021 Hall of Fame inductees will be formally recognized during Sliders' Night Out presented by Toyon Ranch. This very special event will be held December 1 during the NRHA Futurity and Adequan®­ North American Affiliate Championships.
NRHA Hall of Fame Committee Chairman Mike Hancock takes his position very seriously. "When I look back at all the previous Hall of Fame members, I am proud to say I knew most of them and saw most of the horses show," he said. "They defined our industry, and it is important to remember them."
The honor bestowed on these individuals by inclusion in the Hall of Fame is as immense.  Inducted into the NRHA Hall of Fame in 2017, Rosanne Sternberg remembers the emotional moment well. She said, "Being recognized by induction into the NRHA Hall of Fame is such a massive and cherished honor for a member. The association has been a wonderful organization to be part of. Meeting, learning from and working with many talented and dedicated people, who are fellow enthusiasts of the sport, give a lifetime of invaluable memories which accepting this honor commemorates."
The deadline to nominate an individual or horse is June 1. Reining Horse Foundation Executive Director Leslie Baker explains the selection process.  "From the applications, the committee determined the nominees and then the NRHA Board and Hall of Fame members select people and horses worthy of reining's highest honor. It is then the privilege of the Reining Horse Foundation to celebrate these individuals at our annual gala event. It is a wonderful collaboration."
The path to nomination is rigorous in order to uphold the integrity of the Hall of Fame and the honor of the title. Hancock commented, "The criteria allow significant people and horses to be recognized for their contributions in and out of the arena. Coaches, breeders, outstanding sires or dams, owners or major influencers in the industry are all considered in the selection process. However, it is important that all are measured by the criteria that was established by the NRHA Board of Directors."
Individuals are nominated by NRHA members, and the Hall of Fame Committee screens the nominees. Qualifying nominations are then brought before the NRHA Board of Directors and previous Hall of Fame inductees. Their attributes will be weighed against those of other nominees and a two-thirds majority vote must be achieved. The Nomination Criteria and Hall of Fame Nomination Forms can be found at nrha.com/forms.