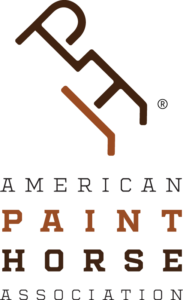 The American Paint Horse Association's popular Chrome Cash incentive program will add $5,000 exclusively for registered Paints at the 2022 National Reining Horse Association Futurity, set for November 24-December 3 at State Fair Park in Oklahoma City, Oklahoma.
Chrome Cash classes will be offered as part of the Level 4 Open Futurity and the Level 4 Non Pro Futurity, with $3,000 and $2,000 added, respectively. Both solid and regular registry Paints can compete in the Chrome Cash classes, which are paid out according to the NRHA payout schedule. 
NRHA Commissioner Gary Carpenter said, "Our industry moves forward on the strength of innovation. Adding Chrome Cash to the NRHA Futurity just builds on the excitement that American Paint Horses having been bringing for many years."
APHA Executive Director Billy Smith agreed. "APHA shares that spirit of innovation with NRHA. Chrome Cash represents new opportunities for everyone who registers their reiners with APHA and appreciates flashy horses," he said.
Entering the Chrome Cash incentives is easy:
Both solid and regular registry Paints are eligible to win
Both the owner and exhibitor must be current APHA members
Enter by marking the "Chrome Cash" option on the NRHA Futurity Rider Designation Form
Any horse with at least one APHA-registered parent (with the other being a registered Paint, Quarter Horse or Thoroughbred) can be registered with APHA, whether the horse has qualifying white markings or not. An AQHA-registered horse can be registered with APHA if they meet minimum requirements based on white markings. Either way, APHA registration makes a horse eligible for more opportunities.
To check if a horse is registered, update ownership, or inquire about the possibility of registration, email Chrome Cash program director Sunny Bates at sbates@apha.com or get a free, no-obligation registration quote from APHA by clicking here.
Learn more about Chrome Cash and how to register your Paint at apha.com/programs/chromecash.
The American Paint Horse Association is the world's second-largest international equine breed association, registering more than a million horses in 59 nations and territories since it was founded in 1962. APHA promotes, preserves and provides meaningful experiences with Paint Horses.