In 1984, Tom McCutcheon recorded his first earnings in the National Reining Horse Association while competing in an event in St. Paul, Minnesota. In 2006 he passed one million dollars in lifetime earnings, and then in early August 2022, crossed the next million-dollar milestone.
That achievement was reached at the North American Reining Stakes, held at the World Equestrian Center in Ocala, Florida. The Aubrey, Texas, trainer piloted Gold Star Gunner (Gunners Special Nite x Belle Starr Dun It), a horse he owns with his wife, Mandy, to the Level 3 Open Championship and a fourth-place finish in the Level 4, collecting more than $28,000. Those earnings alone would have been enough to pass two million, but McCutcheon also finished in the money on his and Mandy's other entry, Best Jac (Jacs Electric Spark x Snip O Chex), for an additional $3,771.
"What makes this accomplishment special to me is that the majority of money I have won has been on horses we've bred, raised, or are by stallions we stand," McCutcheon shared.
McCutcheon grew up in the horse business, but his was not a world filled with elite athletes like it is today. Back then, McCutcheon's father, Bob, and brothers Scott, Jimmy, and Terry were always training and showing. Bob McCutcheon was known for being able to salvage horses that others couldn't make work.
"We trained everything that was marketable at that time. If barrel horses were hot, we trained barrel horses. If rope horses were hot, we trained rope horses. We rode a lot of cutters," he recalled.
The youngest of the McCutcheon brothers by 10 years, Tom rodeoed from an early age and qualified for the National High School Rodeo Finals in calf roping, bull dogging, and cutting. When he was just 18 years old, McCutcheon went into business for himself, renting his own place. He chose to focus on reining because "anything that involved cattle seemed too expensive."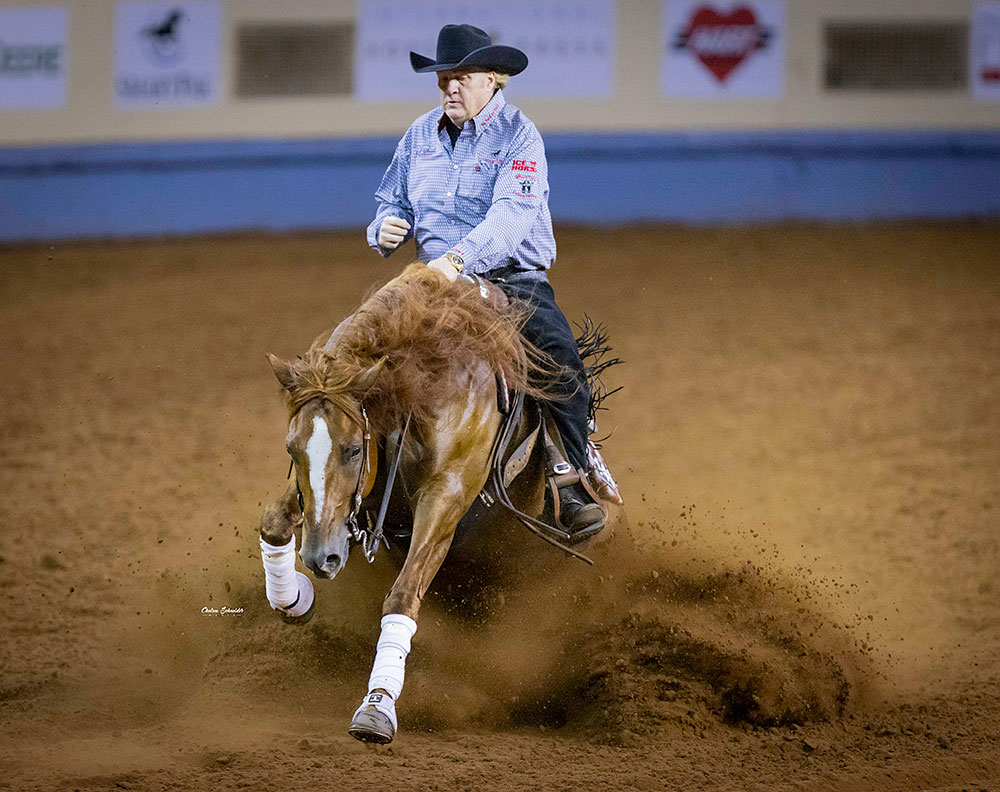 McCutcheon eventually moved to Italy to train for several years, joining friends who made the same move, including Duane and Dean Latimer, Dale Harvey, Jim Kiser, and Mike Davis, as well as his brother, Jimmy McCutcheon.
When McCutcheon returned to the United States, he relocated to North Texas. He knew he wanted to focus on good horses, so in 1993, when NRHA Professional Gary Putman showed him a two-year-old named Lil Ruf Peppy (Peppy San Badger x Rufas Peppy), it was a quick sale. Tom's customers Antonio and Lia Foti purchased the colt, and McCutcheon bought him from them a year later.
Advancing to the Quarter Horse Congress Open Futurity Finals in 1994, McCutcheon and Lil Ruf Peppy hit their stride in 1995, earning the NRHA Derby Level 4 Open Reserve Championship and winning the Limited (Level 2) Open.
Lil Ruf Peppy went on to become an NRHA Three Million Dollar Sire. That was the start of McCutcheon's breeding program, and he, along with Mandy, are both NRHA Million Dollar Owners.
The couple operates Tom McCutcheon Reining Horses out of Aubrey, Texas. Their training facility is home to several respected NRHA Professionals, including son Cade, also an NRHA Million Dollar Rider, Debbie Brown, Jeremy Gates, Dakota Guthridge, and Antonio Aramburo.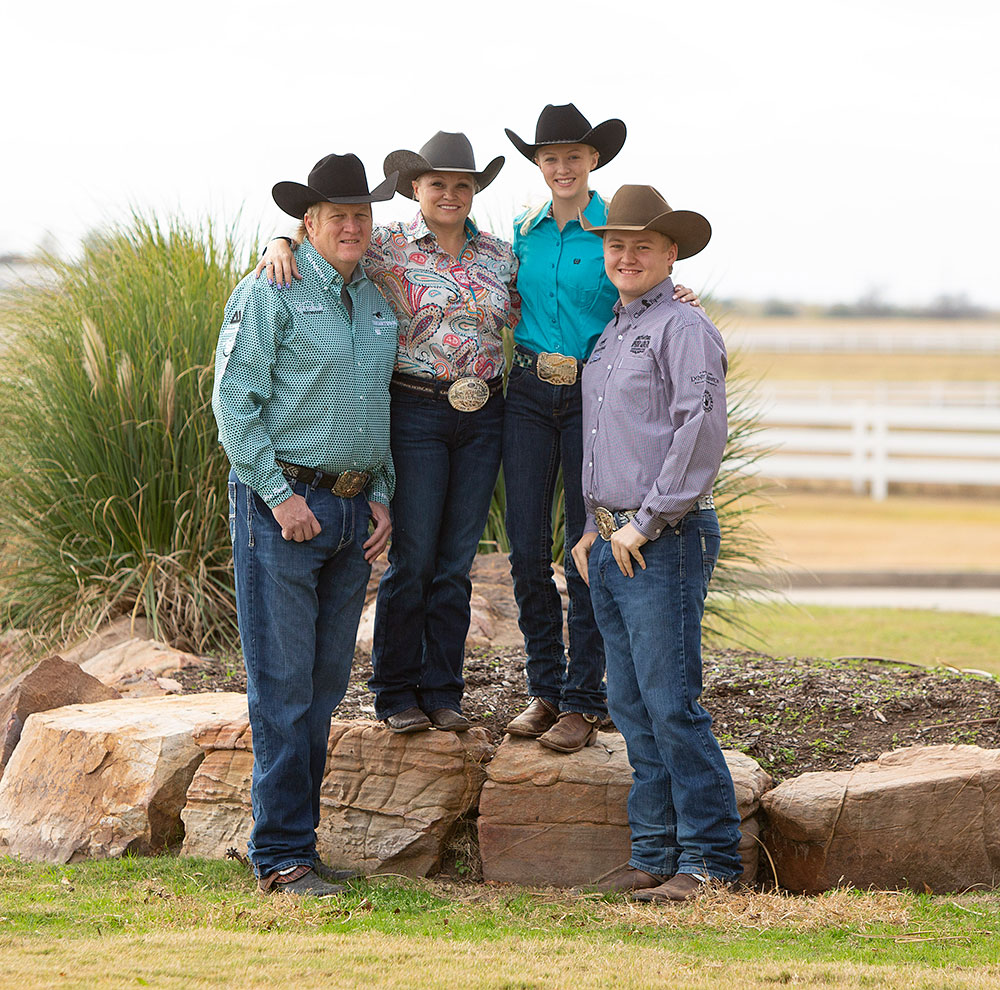 Supplementing the training aspect of the farm is an Equine Spa & Rehabilitation Center and, of course, the breeding program which features 10 resident stallions. Stallions currently standing at Tom McCutcheon Reining Horses include NRHA Five Million Dollar Sire Gunners Special Nite, Lil Dreamin Magnum, NRHA Million Dollar Sire Lil Joe Cash, Rufanicki, Gunners Tinseltown, Mr Fahrenheit, NRHA Million Dollar Sire Smart And Shiney, Super Marioo, and Blo Gun.
McCutcheon's biggest wins include:
2001 NRHA Futurity L4 Open 3rd place – $74,877 on Sailin Ruf
2016 NRBC L4 Open Reserve Championship – $51,000 on The Wizster
2001 NRBC L4 Open Championship – $50,000 on Smartest Chic Olena
2019 The Run For A Million 7th place – $35,000 on Gunna Cash Ya
2013 NRHA Futurity L4 Open 7th place – $33,434 on Dont Miss My Guns
2006 NRHA Futurity L4 Open 7th place – $30,047 on Lil Ruf Gay Badger
2018 NRHA Futurity L4 Open 8th place – $29,589 on Gotta Good Nite
2006 NRBC L4 Open 8th place – $25,037 on Major Jesse
2013 NRBC L4 Open 8th place – $22,000 on Dun Git A Nicadual
2015 NRHA Futurity L4 Open 9th place – $21,601 on Sunglasses At Nite
Learn more about Tom at TMReining.com, or follow him on Facebook.
Photos courtesy of Chelsea Schneider.