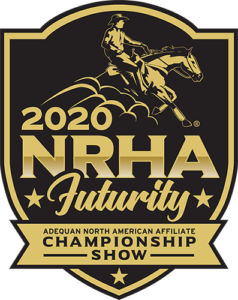 When the National Reining Horse Association Board of Directors met on July 2, a key discussion involved the qualification route for affiliate reiners hoping to compete in the 2020 Adequan® North American Affiliate Championships (NAAC) at the NRHA Futurity November 26–December 5.
With the looming possibility of COVID-19 restrictions impacting future shows, along with the number of events having already been cancelled, the Board approved the Affiliate Committee's proposal that anyone receiving a score higher than a zero at an Affiliate Regional Championship be eligible to enter that class at the NAAC. It was felt that this solution would encourage people to attend the ARCs and support the affiliate program without limiting the number of horses that will attend the NAAC.
The Board also removed the existing stipulation that if someone competes in a class at an ARC, they are unable to compete at another ARC. So, for 2020, riders will be allowed to participate in multiple regional championships with one exception. If they win a class, they cannot compete on the same horse in the same class in another ARC (for example, a horse and rider that won the Non Pro ARC class at the Northwest Affiliate Regional Championships would not be allowed to compete in the Non Pro ARC class at the Southwest Affiliate Regional Championships).
"We feel that this is a positive solution that protects all the different components of the affiliate program," said NRHA Affiliate Committee Chairman Kelly Brummett. "We're still supporting the ARCs by requiring that people attend one to qualify. The clubs and affiliates that commit the work and effort every year are an essential and very appreciated part of this program, and we want to do all we can to help their events."
Another benefit for exhibitors is, since qualification from the ARC is not limited to the top 10, people will not be bumped out of qualifying in their own ARC by people coming from other regions to compete.
Affiliate Committee Staff Liaison Sara Honneger is excited about the possibilities created by these measures. She said, "If you have ever thought you wanted to be a part of the NRHA's Affiliate program, this is the year to see what it's all about. 2020 has been a difficult year for so many, but maybe these new rules will give NRHA members a chance to try this program that we are so passionate about. We hope to see everyone at the Adequan® North American Affiliate Championships at the NRHA Futurity."