The 2021 6666 National Reining Horse Association Derby presented by Markel kicked off Saturday, June 19, with a full day of horse show action. Increased entry numbers for the event necessitated a few shifts and adjustments to the schedule and location, so the first slate of the Non Pro NRHA classes was moved to Arena 6, while the first section of the American Quarter Horse Association and American Paint Horse Association Open classes were held in the Adequan® Arena.


Morris Kulmer & NVR What A Lucky Joe – Non Pro (1) & Prime Time Non Pro (1)

It's the last year of Derby eligibility for Morris Kulmer's standout gelding NVR What A Lucky Joe, and the pair seem primed for success after marking a 145.5 to win the first slate of the ancillary Non Pro and Prime Time Non Pro on Saturday. The two collected checks totaling $1,131.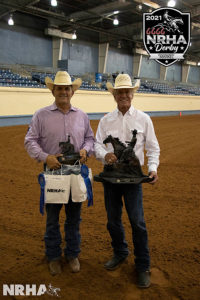 "My plan going in the arena today was to just have a nice, smooth ride and wait until he made a mistake, then correct him if I needed to," Kulmer shared. "It was a nice, smooth ride and we didn't make any mistakes. I hope he carries that over to the Derby, but you never know. There are always last-minute things to change, but we were simply happy to show and bring it home."
NVR What A Lucky Joe is the highest money-earner by NRHA Million Dollar Sire Lil Joe Cash and is out of What A Lucky Hit. "I thank my good friend Andrea Fappani who got me this horse. Of course, I thank my trainer Dan Huss and everyone at Huss Performance Horses. They do a great job taking care of my horses and getting them ready. I also thank my farrier, my vet, and the NRHA," Kulmer said.
After the Derby, Kulmer will set his sights west. "We will go to Reining By the Bay, and then in August I'm excited for the Run For a Million. The reining industry is exciting right now. There is a lot of excitement, and everyone is looking for great horses, including me," he said.
Tristan Bagby took second in the Non Pro (1) on Shina Gun (Gunner x Shiner Light) with a 144. Mindy Grey finished second in the Prime Time Non Pro with a 141.5 on Concealed Guns (Guns R For Shootin x Sweet Lena Shine).


Kalyn Sanders & Got That Iowa Shine – Int. Non Pro (1) & Ltd. Non Pro (1)

With a score of 142, Kalyn Sanders and Got That Iowa Shine took the win for the first slate of the Intermediate Non Pro and Limited Non Pro. The duo also finished third in the Non Pro, bringing their take for the day to more than $1,349.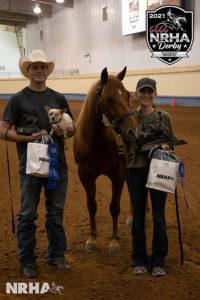 Sanders is looking ahead to the $15,000 Added 8 & Up Maturity, which will be held in the Adequan® Arena on Wednesday. "We have a few things to smooth out before then to be ready, but I think we will be ok by then. Regardless, I'm just pleased at how today went," she said.
"He was really good today. To be honest, I wasn't expecting this at all. We haven't had a lot of opportunities to practice since the NRBC, but as usual he took care of me and did his job," Sanders said of "Dillon," an 8-year-old gelding by Smart And Shiney out of SLJ This Is My Juice.
A Business Development Manager for Chewy.com, Sanders hasn't been able to ride Dillon as much to prepare. "I thank my fiancé, Josh Murphy, as well as his assistant Daniel Lopez who has kept Dillon legged up and ready for me when I couldn't ride much because of work," she said.
Finishing second in the Int. Non Pro was Paul Queen on Outta Dough (Gallo Del Cielo x Dough Olena) with a 141. Mindy Grey finished second in the Ltd. Non Pro on Concealed Guns (Guns R For Shootin x Sweet Lena Shine) with a 141.5.

Ancillary action continues Sunday with the first slate of the NRHA Novice Horse Non Pro and Open classes. A complete schedule, results, link to the live webcast and more can be found at NRHADerby.com.