The temperatures were high, and the runs were equally scorching on Sunday, June 20, at the 2021 6666 National Reining Horse Association Derby presented by Markel. While the marquis event doesn't begin until Monday, the horse show was in full swing in the Adequan® Arena and Arena 6, with Non Pro and Open exhibitors showing throughout the day.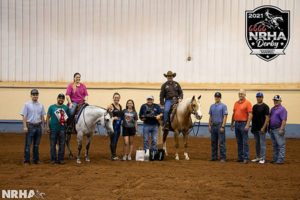 Franco Bertolani & Masked Gun – Open (1) Champions

Franco Bertolani went one-two in the first slate of the ancillary Open on a pair of incredible athletes owned by Cardinal Hill Training Center. The NRHA Million Dollar Rider won the class with a 148 on Masked Gun and took second with a 147 on Dun It For Whizkey.
"They were pretty good. Both of these horses were off for a year for rest, and then I brought them to the Redbud and here," Bertolani said. "I didn't have any problems with either horse, which was great. I just try to do my job and stay out of the penalty box. They are both nice horses."
Both Masked Gun and Dun It For Whizkey are out of the blue hen NRHA Million Dollar Dam Dun It For Chex. Masked Gun is by NRHA Twelve Million Sire Gunner while Dun It For Whizkey is by NRHA Twelve Million Sire Topsail Whiz.
Bertolani added, "I thank all my crew. I thank Joao Marcos of Cardinal Ranch for letting me ride those two great horses. I thank all my family and team for supporting me at this big show."
While Dun It For Whizkey has aged out of Derby competition, Masked Gun still has a year of eligibility left. "I'm not sure where we will go next. I want to go home and look at the schedule. We will have the Run for the Million Shootout, so we will see. I might try to show Masked Gun at some derbies," Bertolani said.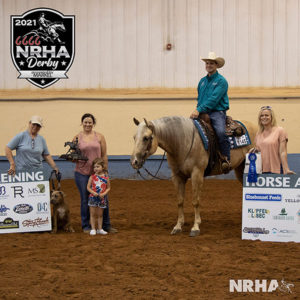 Joshua Crawley & Lil Sancho Joe – Int. Open (1) Champions

With a score of 145, Joshua Crawley and Lil Sancho Joe took the top spot of the first slate of the Intermediate Open, winning $582. The pair also finished fourth in the Open, worth an additional $816. "He's been really good and he was really well-trained when I got him. He's been in some good barns and programs, and I just got to enjoy it," Crawley shared. "He turned really well both ways, circled smooth, and changed leads well today. He was great."
Lil Sancho Joe is by NRHA Million Dollar Sire Lil Joe Cash and out of Miss Rey O Shine. The 6-year-old is owned by David Hobbs. "We have just been getting him ready for David to show. David showed him at the Redbud, and I got to pilot him today," Crawley said. "David will show him this week in the Rookie classes. I thank David and Denise for their support. They have been with me since the beginning. They have truly been a blessing. Of course, I thank my wife Kelsey and my daughter Sadie and my team. They do a great job for us."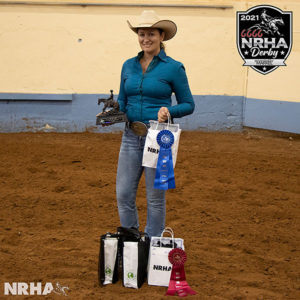 Heather Servies & Gunners Genes – Ltd. Open (1) Champions

With a score of 144, Heather Servies and Gunners Genes won the Limited Open and took second in the Intermediate Open, earning more than $830. "He felt good warming up and I just knew going in I could put him where I needed in the maneuvers. He was just there for me, and stayed exactly where I wanted in every maneuver," she said.
Owned by Sheri Aaberg, Gunners Genes is by NRHA Twelve Million Sire Gunner and out of the prolific producer Taris Designer Genes. "I have had him for a couple clients now. He has been a great little horse," Servies said. "I'll be showing him again in two novice classes, and then his owner is going to show him in the green classes later on in the week."

Servies added, "I thank his owner, Sheri Aaberg. She has been incredibly supportive of me showing him and has been a great client. I also thank the place that I work for, Creekside. They are really wonderful and I'm really happy to be representing them."
There was a tie for Reserve between Adam Johnson and Jason Franks. Johnson rode Rock On Wimpy (Wimpys Little Step x Spot On N Sassy), owned by Dana Wetherell, while Franks competed on CBK A Nu Kinda Spark (Jacs Electric Spark x HR Wright On Cash), owned by Patricia Ann Jackson.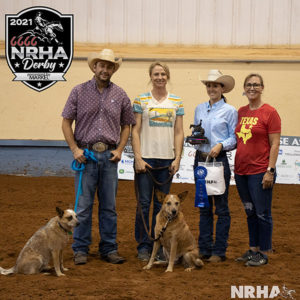 Sumer Opinker & Concealed Guns – Rookie Professional (1) Champions

Concealed Guns has already had a successful week at the 6666 NRHA Derby presented by Markel. On Saturday, the 4-year-old gelding finished second in the Limited Non Pro and Prime Time Non Pro with owner Mindy Gray. He returned to the show pen on Sunday to win the first slate of the Rookie Professional, as well as fourth in the Limited Open, with trainer Sumer Opinker.
Opinker works for NRHA Professional Mirjam Stillo. "Sumer has been showing him quite a bit lately. She showed him at NRBC and did really well," Stillo said of the colt, by Guns R For Shootin out of Sweet Lena Shine. "He's just been really good. He's stepping up and is really turning into a good show horse. He's getting more consistent and better each time. We are really happy with him."
Concealed Guns can't rest on his laurels, as he will be showing again in the second slate of the Rookie Professional and Limited Open.
Second in the Rookie Professional was a tie between Emilie Lind and Katherine Davis, who both marked a 140. Lind rode CTC Go Daddy (HF Mobster x Miss Danakanic), owned by Heather Carta, while Davis piloted Chicsdundreamin (Magnum Chic Dream x Goody Goody Dun Drop), owned by Nancy Stillwell.

Jessicah Keller & Its Snippin Time – Nov. Horse Non Pro Level 2 (1) Co-Champion/Level 3 (1) Champions

Riding Its Snippin Time, Jessicah Keller tied for the win of the Novice Horse Non Pro Level 2, pocketing $557. Its Snippin Time is by Shine Big Time out of Snip O Satellite. The talented mare was bred and is owned by NRHA Million Dollar Owner Hilldale Farm. The duo also took sole possession of the win in the Level 3, worth an additional $561.
Kyla Thurlow and Kachina Olena Tag took reserve honors in the Level 3 with a score of 144. Kachina Olena Tag is by NRHA Two Million Sire Whiz N Tag Chex and out of Kachina Oak Olena.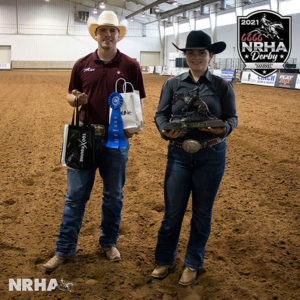 Raeanna Thayn & Roseswhiz – Nov. Horse Non Pro Level 2 (1) Co-Champions

NRHyA member Raeanna Thayn optimized her time in the Adequan® Arena, using her runs to prepare for the Non Pro preliminaries which begin Monday.
On her 4-year-old mare Roseswhiz, Thayn scored a 144.5 to tie for the win of the Novice Horse Non Pro Level 2. "She was really good today. We were just schooling before the preliminaries. I just wanted to have a clean run. Since she's only four, I wanted to let her do what she wanted to do," Thayn said of the mare by NRHA $3 Million Sire Spooks Gotta Whiz out of Rose Electric Step.
In addition to being entered in the Non Pro Levels 4, 3, 2, and Youth, Thayn and Roseswhiz will also compete in the new Colston Paving, Inc., Non Pro Stakes. Thayn purchased the mare through the 2018 Marketplace Sale at the NRHA Markel Futurity Sales. "I have only showed her a few times. I thank my parents, as well as my trainer Josh Murphy for helping me out," she said.
Thayn recently won the Graphic Design division of the NRHyA Art and Photo contest and finished third in Photography. She said, "It is good to have a different outlook on the industry and all of the scholarship opportunities that NRHyA has. A couple of my friends did photography when I was younger, and I got to watch so I picked it up from them." Raeanna plans to visit her artwork, displayed at the National Cowboy Museum and Hall of Fame, this week.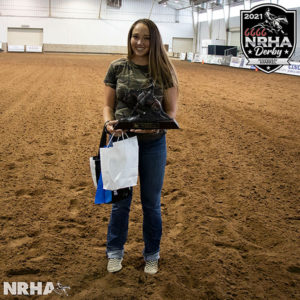 Lisa Bricker & Lotta Mobster – Nov. Horse Non Pro Level 1 (1) Champions

With a score of 143.5, Lisa Bricker won the first slate of the Novice Horse Non Pro Level 1 on Lotta Mobster.
Bricker began showing Lotta Mobster, by HF Mobster out of Alottachic N Lilwhiz, a year ago. "He has been really fun to ride and show. He was a little green when we got him, so my dad and I showed him a lot and my dad spent a lot of time on him. Everything is starting to click these last few shows," Bricker explained.
Lisa added that her father, Donnie Bricker, has been her trainer her whole life. "There have always been horses that are sort of projects, and it's fun seeing it all come together. When I come back from school, they always improve so much with him riding them. It's so rewarding when it all does come together," she said.
Bricker attends Texas A&M at College Station, Texas. "I get to show reiners while I'm in school, so riding is automatically built into my schedule," she explained. "I am lucky because I know that it's not the case for everyone who grows up riding."
Bricker and Lotta Mobster also finished fourth in the Novice Horse Non Pro Level 2 and third in the Level 3 for total earnings of $1,196.
Sarah Armenta and Hangin On The Line took second in the Novice Horse Non Pro Level 1 with a 143, earning $514. Hangin On The Line is by Shine On Line out of Spooks Hangten.