The 2022 National Reining Horse Association Futurity, set for November 24 through December 3, is the premier reining event in the world. Fans travel to Oklahoma City from around the globe to watch NRHA's top trainers and riders make the big stage debut for elite 3-year-old reining horses.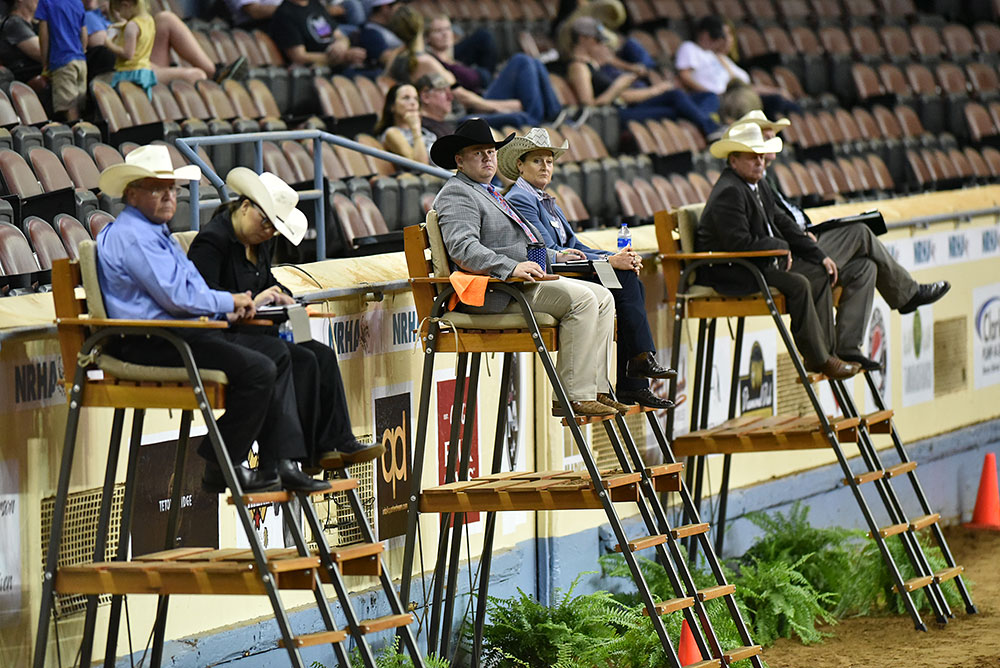 The landmark event will pay $350,000 to the Level 4 Open Champion and $75,000 to the Level 4 Non Pro Champion, and will also determine the Adequan® North American Affiliate Championships. Not surprisingly, being chosen to score the performances of the exhibitors as a judge is both an honor and a serious responsibility.
The individuals chosen to officiate at the NRHA Futurity this year blend veteran experience with freshman enthusiasm. For the Open Futurity in the Jim Norick Arena, the team includes Sandy Jirkovsky from Mississippi, Van Luse of Texas, Italian Manuela Maiocchi, Kim Myers of Pennsylvania, and Mark Turner from Indiana.
Evaluating performance for the Non Pro Futurity will be Buddy Fisher from Pennsylvania, Oklahoman Don Flohr, Margaret Fuchs of Ohio, Hiram Resende Silva Filho from Goias, Brazil, and Pat Wickenheiser from California.
Jan Dublin of Texas, Linda Hitt from Colorado, and New Yorker Kelly Hedges are the judges chosen for the NAAC classes in the Adequan® Arena.
Ed Cridge and Jeff Buckley, both from Texas, will serve as Equipment Judges in the Jim Norick Arena and the Adequan® Arena, respectively. Monitors for the event will be Eugenio Latorre of Spain and Doug Allen of Arizona.
The group includes four first time Futurity judges, including Maiocchi, Dublin, Hedges and Buckley.
The Futurity Show Steward team is headed by Ed Bricker. He will be joined by Lyle Jackson, Alessandro Dezzutto, Walt Larson and Marlin Holroyd.
"The Judges and Stewards committees take the task of Futurity Judge, Monitor and Steward selection very seriously. These are key positions that move the reining industry forward and set the standard for future competition. We are proud of this year's lineup of officials and look forward to an exciting event," said Patti Carter, NRHA Senior Director of Education & Officials.