While important events are held throughout the year, the National Reining Horse Association Futurity, slated for November 24–December 3, is heralded as reining's premier event. For 3-year-old reining horses, the Futurity's spotlight shines on the horses in their first year of competition, and all eyes are on the Jim Norick Coliseum to see which ones will begin to write their names in the history books of the sport.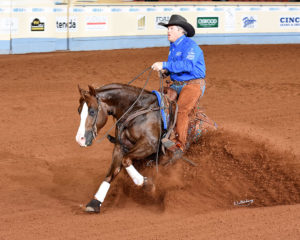 Ten Thirty, All Bettss Are Off, Super Marioo, and A Vintage Smoke are the most recent Level 4 Open Champions from the Futurity, and when any of these horses' names are called, spectators flock to the fence to watch at derbies throughout the world.
The NRHA Futurity has continued to grow in both size and prominence since it was first held in Columbus, Ohio, in 1966. On the eve of the fourth payment deadline (August 1) for the 2022 Futurity, the world's largest reining event is shaping up to be another record breaker, as the number of entries with at least one payment made is up from the prior year.
Once again, the Level 4 Open Futurity Champion will leave the Oklahoma State Fairgrounds $350,000 richer, and the Level 4 Non Pro Champion will be presented a check for $60,000. The total payout will likely once again surpass $2.6 million.
Those numbers are expected to continue rising, as late entries are typical. First payments can still be made until August 1 with just a $600 late fee, and those made between August 1 and October 1, will incur a $1,000 late fee.
The deadline to be included in the draw for both the Open and Non Pro Futurity is November 1.
All entry forms can be found at NRHAFuturity.com, and entries can be made online or mailed.