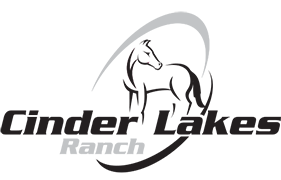 Cinder Lakes Ranch has long been a supporter of not only reining, but the western performance horse industry as a whole. The facility, which focuses on reproduction and horse sale services, has been a National Reining Horse Association Corporate Partner in the past. In late 2021, Cinder Lakes Ranch once again joined NRHA's Corporate Partner family.
"It is an honor for NRHA to join with Cinder Lakes Ranch on a corporate partnership level, once again! Thank you to Rick and Jade for continuing to support NRHA in service and sponsorship," noted Sammi Miller, NRHA Senior Director of Corporate Relations and Communications.
Cinder Lakes Ranch, located in Whitesboro, Texas, is owned by Rick Ford and ran by Rick and his wife, Jade. "Our primary focus is stallions, and we are a full-service management company. We export all over the world, and cover every continent. I think the only major country we haven't shipped to is China," Ford explained. "We also do mare management, sale fitting, and just try to be full service for our clients."
In fact, Cinder Lakes Ranch shipped more than 750 shipments of frozen and just under 3,000 shipments of cooled semen in 2021. "It's kind of funny, we had a meeting with FedEx recently and have an in-person account manager that came to visit." He laughed, and added, "Apparently we bumped up to a higher shipping bracket."
Rick has been involved with horses his whole life, beginning with 4H. "I guess I'm kind of old school with how I got into it. My first trainer was Darren Stancik when I was a youth. I kind of wanted to do something a little more, and then my parents actually got the breeding part of it going. When we moved to Texas, I took that over," he recalled.
The Cinder Lakes Ranch business model has evolved over the years. "In the beginning, when we were first a Corporate Partner, we were more of a private operation. Now that we've come back, we're more of a commercial operation. That has allowed us to better service our customers," Ford explained.
Cinder Lakes Ranch stands several heavy-hitting stallions from the reining, cow horse, and barrel racing industry, headlined by NRHA Two Million Dollar Sire Spooks Gotta Whiz, whose NRHA lifetime earnings exceed $346,000. Joining Spooks Gotta Whiz in the lineup are ARC Gunna Sparkya, PS Mega Shine Chic, Snip O Lution, Wimpys Littlecolonel, Hey Joe, Jacs Electric Spark, Reysin On The Rocks, Spatatino, What A Wave, and Shiners Voodoo. Other stallions in the lineup are A Dash Ta Streak, A Streak Of Fling, Al Cappone, Barue, Bullseye Bullion, Heavenly Firewater, Jets Smashin Cash, JKL Raynin Firewater, JL Dash Ta Heaven, and Tres Fortunes.
Learn more about Cinder Lakes Ranch, its services, and stallion line up at CinderLakesRanch.com.