Cedar Ridge Stallion Station, created and owned by NRHA Million Dollar Owner Casey Hinton and his wife, Kathy, has been a mainstay in the reining industry. The ranch has produced, through both the breeding and training programs, countless winners and has been home to some of the most elite sires in the reining industry.
Now, with new owners Josh and Kelsey Crawley, the ranch has elevated its support of reining with a Ranch Partnership with the National Reining Horse Association.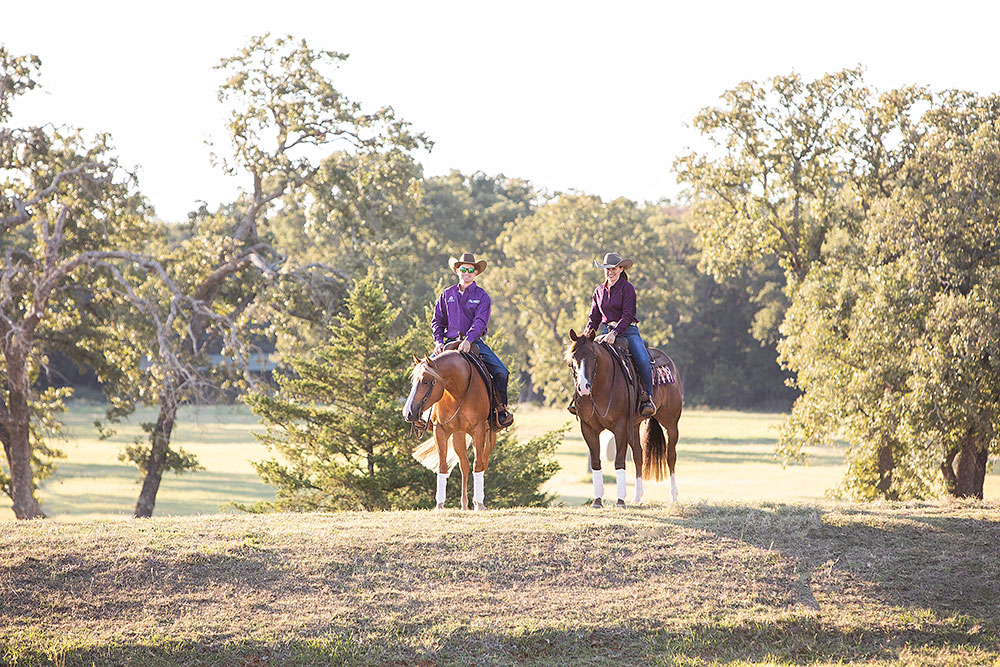 "On behalf of NRHA, I am excited to welcome Cedar Ridge Stallion Station as a new NRHA Ranch Partner," said Christy Landwehr the Senior Director of Corporate Relations for NRHA. "They stand wonderful stallions and provide excellent mare care."
The Crawleys have a long history with Cedar Ridge Stallion Station, as both worked for the ranch for several years – Josh as an assistant trainer to former owner Casey Hinton and Kelsey as the breeding manager. "It's wonderful because it has kind of come full circle. We have put so much time and effort here and lived here for ten years or so," Kelsey shared.
Josh, an NRHA Professional, added, "I started Crawley Performance Horses in 2018, and we had begun looking for a place of our own. We have some partners in the business, and it just happened that the opportunity came up to buy Cedar Ridge, and we were in the right place at the right time. It just felt right."
The Crawleys noted they look forward to building on the solid foundation and reputation that Cedar Ridge Stallion Station boasts. "We are putting as much time and effort into it as we can to help it grow. Just last year, we were able to get in some great new stallions that will fit our program," Kelsey shared. "While our focus is primarily reining, we do have several great stallions from other disciplines, from roping to cow horse."
The couple also plans to continue providing mare care and training services and intends to add sale prep services as well. "The ranch is one of the few places that has a setup where we can really offer services in all aspects of the industry. We can breed the mare, foal her out, raise a yearling, prep it for a sale, or, if the owner wants, we can train it and make it a show horse, and then repeat that cycle," Josh explained.
Cedar Ridge Stallion Station, located in Whitesboro, Texas, is home to an impressive stallion lineup which in 2023 will include Not Ruf At All, In Like Flinn, Gotta Twist It Up, Gunnabebigtime, Rubys Radar, Justa Swinging Gypsy, High Roller Whiz, and Spooks Gotta Outfire. Find more information about the Crawleys and Cedar Ridge Stallion Station at CedarRidgeStallions.com
To find out more about the National Reining Horse Association, please visit nrha.com and to see the full list of NRHA Partners visit nrha.com/partners