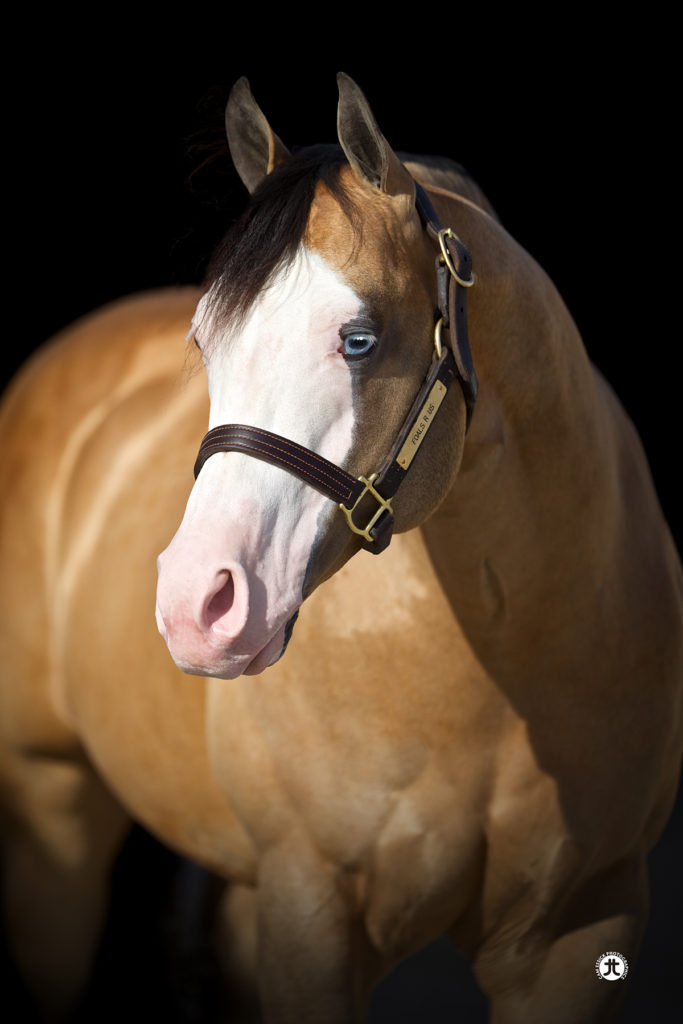 (Spooks Gotta Whiz x Dolittle Lena)
Sale: 2015 Futurity Prospect
Consigner: Garth W. Brown, Gainesville, Texas
Purchaser: Gus and Gaynia Revenberg, Oldcastle, Ontario
Even the most magical place on earth couldn't keep Gaynia Revenberg away from the 2015 NRHA Markel Futurity sales—especially with a prospect like Spooks Gotta Spark available. In previous years, Revenberg spent hours scanning the list of consigned horses, watching preview videos, and discussing prospects. But in 2015, all she wanted was to enjoy a vacation at Disney World with her husband, Gus.
"I was sitting on the balcony at Disney when Shawn Flarida called me and said, 'There's a horse here you have to buy,'" Revenberg recalled. "My husband said, 'Book the flight.' So, we went to the sale, and Shawn was absolutely correct."
Since then, Spooks Gotta Spark has held a special place in Revenberg's heart. "I decided to bring him home so I could ride him myself," she shared. "I really like this horse, so I asked [NRHA Professional Loris Epis] here in Ontario to show him."
But as the inaugural Run for a Million in Las Vegas approached, Revenberg knew she couldn't keep her all-star in Canada much longer. Although she received three inquiries about using her horse in the Million Dollar Invitational, Flarida's lucrative history with the buckskin stallion made the NRHA Six Million Dollar Rider the obvious choice for Revenberg.
"He didn't have much time to get him ready, but he did an amazing job," she said of Flarida's performance in the Million Dollar Invitational. Spooks Gotta Spark marked a 228, which landed Flarida and the stallion a fourth-place finish and a $65,000 payout.
In February 2020, Bill and Patty Fingland of Rogersville, Mo. purchased the flashy buckskin. With them, he placed in the Top 10 at the 2020 NRHA Open Derby presented by Markel and went on to place 13th in the Level 4 NRBC Open Classic.
It was at the NRBC that Spooks Gotta Spark caught the eye of Kevin Truax and the two bonded instantly. Not long after the team returned from the show, Truax was celebrating the purchase of the most talented reining horse he feels that he has ever owned. "We brought him to our barn the week we bought him. Derek, my daughter, Kiersten, and I each got on him for a bit. He was just so incredible to ride." Truax said.
As Truax rushed to arrange for Spooks Gotta Sparks's quickly approaching debut in the breeding barn, Heitland rode the stallion to a Level 2 AQHA Senior Reining World Reserve Co-Championship, and at the 2020 Adequan® NAACs, the talented reiner earned Heitland the NAAC Limited Open title.
Lorenzo Lotti at Foals R Us, in Whitesboro, Texas, made quick accommodations for Spooks Gotta Spark to stand there, and Cam Essick took care of advertisements.
With Spooks Gotta Spark's future as a sire in the works, Flarida opened up another opportunity for the pair to compete for a million dollars. "Once the next Run For A Million was announced, Shawn worked out a training schedule with Lorenzo. We took Spooks Gotta Spark to Ohio in February and bred with him up there while he was getting in shape." Truax shared. "In Arizona, we felt good about the qualifier until we found out we were draw number one. I knew it would be tough, so figured we would likely be on the bubble and be nervous all day. After Shawn went, we felt great about qualifying, then realized we may actually win it after abo 70 horses went. To get the high score with all that firepower was unbelievable. Being able to stand in the win picture with all the big names around us was a true dream come true."
Perhaps Truax's connection to Spooks Gotta Spark runs even deeper. He said, "My father died last June, so I do feel this has been guided in some way by him. We have been reining for 40 years, but never at this level. We hope to have one more ride in August to really see what he can do. My goal is to have lots of his babies on the ground for others to enjoy."
For breeding information about Spooks Gotta Spark, go to foals-r-us.com/spooks-gotta-spark/.