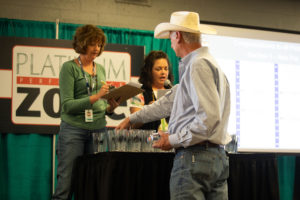 National Reining Horse Association Corporate Partner Platinum Performance® has supported the reining industry over 20 years. That support continues in 2021, with a much-anticipated, in-person Welcome Party and Non Pro Draw Party to be held during the NRHA Derby Presented by Markel.
The slow return to normalcy has everyone abuzz with excitement and this event is another step in the right direction. Attendees will enjoy a delicious catered meal, drinks, and all of the nail-biting enthusiasm of the Non Pro Finals Draw and after missing a year due to Covid, the popular Reiners Rope dummy roping will be also held. The Party will be held at 5:30 pm on Wednesday, June 23.
"As long-time partners of NRHA, we are excited to sponsor the Platinum Performance® Welcome Party featuring the Non Pro Finals Draw as well as the Platinum Performance® Virtual Open Draw Party at the 2021 NRHA Derby," said Lauren Thompson, Equine Marketing Manager. "We look forward to maintaining our commitment to provide superior nutrition and unmatched personal service to the valued NRHA membership."
The support of Platinum Performance® extends well beyond the Party. The company will also provide the exhibitor bags given to every NRHA Derby competitor. In addition, Platinum Performance® will sponsor a Virtual Open Draw Party Friday, June 25 at 10 a.m. The decision was made to keep the Platinum Performance® Open Draw Party virtual so that trainers could be available to their non pro finalists.
The 2021 NRHA Derby presented by Markel takes place at State Fair Park in Oklahoma City June 19-27. For more information about this premier event, visit NRHADerby.com
Platinum Performance® believes in the power of nutrition and supplementation and remains committed to providing formulas that produce superior results in the horse. For 25 years, Platinum has continued to research the role of nutrition with regards to wellness and performance and is committed to providing equine veterinarians, horse owners and trainers the nutritional tools they need to benefit from cutting edge equine nutrition. Horse health is the Platinum Performance® mission, and we look forward to helping you find your Platinum. Learn more at PlatinumPerformance.com.