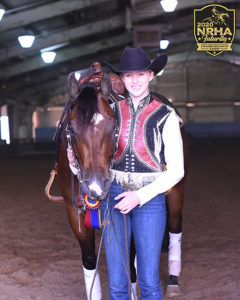 The Adequan® North American Affiliate Championships, held during the National Reining Horse Association (NRHA) Futurity, culminated Saturday afternoon with the Youth 14-18 competition.
Carlee McCutcheon and The Wizster, by NRHA Four Million Dollar Sire Gallo Del Cielo and out of Miss Whizard Jac, posted a 223 to top the NAAC Youth 14-18 and the ancillary Youth 14-18 for total earnings of $327. Owned by Turnabout Farm, Inc., The Wizster is a 2010 bay gelding with more than $207,000 in NRHA Lifetime Earnings (LTE).
"I started showing him in Tulsa at the NRBC. He's super easy to show and I enjoy showing him so much. He's a lot of fun to have," McCutcheon said.
"He was really good today. He was with me every step. He knows his job and he tells me what to do more than I tell him," McCutcheon said, adding, "My dad showed him as a derby horse and since he's aged out I get to show him a little bit."
The 15-year-old homeschooled equestrian balances her time between a heavy competition schedule showing hunter-jumpers for 10 months out of the year and showing reining horses at the highest level.
"I'd like to thank Debbie Brown for everything, she's my trainer and she has gotten me to where I am. She's taught me a lot. I definitely want to thank my parents, and my grandparents, Tim and Colleen McQuay, and my brother too—a little bit," she laughed.
The Adequan® NAAC Youth 14-18 Champion was awarded a Continental Saddlery Saddle, a Custom Montana Silversmith's Trophy Buckle, a 10-lb. bucket of Platinum Performance, a Classic Equine Fleece Cooler, a Bluebonnet Feeds Gift Certificate, SmartPak SmartTherapy Quick Wraps, a garment bag from Brandt Blanket Company, Eqvalan from Dr. Joe Carter, a champion's vest from Adequan®, and a Platinum Performance champion's jacket.
The National Reining Horse Association is a nonprofit organization dedicated to promoting and enhancing the sport of reining through a core mission: "Respect the Horse. Respect the Sport." Founded in 1966, NRHA now has nearly 15,000 members and sets the standards for reining worldwide. Reining is an international sport and continues to grow year after year by offering opportunities for horse enthusiasts of all ages.
Media Contact:
Lindsay Humphrey
Manager of Public Relations & Communications
National Reining Horse Association
lhumphrey@nrha.com
(405) 946-7400 x 136
###