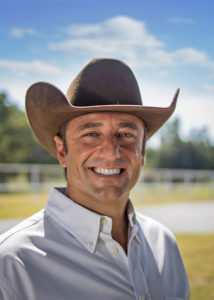 For Immediate Release – August 23, 2020 – Oklahoma City, Oklahoma – The Reining Horse Foundation Board of Directors has elected Andrea Stillo of Pilot Point, Texas, to serve on the Board of Directors. Under RHF Bylaws, the recommendation was reviewed and approved by the NRHA Board of Directors at the August meeting.
Stillo is an NRHA judge and steward and competes in reining as an NRHA Non Pro, serving as chairman of the NRHA Non Pro Committee. He has professional and volunteer experience in the fields of law, business management and fundraising. He is recognized as a 2020 RHF Reiners Club Contributor and provided volunteer support for the 2019 Sliders' Night Out benefiting RHF. He is married to NRHA Professional Mirjam Stillo.
"I intend to support the important role of the Foundation in our industry and help to continue the growth and development of its core," Stillo said. With his election, the RHF Board has 19 members, one shy of the maximum allowed under the bylaws. Elections for the 2021 Board are set to be held in September 2020.
The RHF Board meets via conference call at least quarterly. There are working committees and subcommittees to advance the work of the Foundation and make recommendations to the Board. Under the Bylaws, the Board is split to serve rotating terms, with members elected to serve for terms of three years.
Generally speaking, directors are eligible to serve two consecutive full, three-year terms before retiring for a minimum of one year. Officers may continue to serve while on the Executive Committee.
If you have an interest in serving, contact Tim Anderson, RHF president, at rhf@nrha.com.