Following the presentation of the National Reining Horse Association (NRHA) Hall of Fame Committee's recommended nominees, the Board of Directors and past Hall of Fame inductees voted to approve Sally Brown and Jerry Kimmel for induction into the NRHA Hall of Fame, a project of the Reining Horse Foundation (RHF). Induction is recognized as the sport's highest honor.
Also announced was the selection of Oklahoma City Convention and Visitors Bureau President Mike Carrier as the NRHA Dale Wilkinson Lifetime Achievement Award recipient for 2020.
These honorees will be recognized during the 2020 NRHA Futurity and then formally celebrated at a future banquet after COVID-19 restrictions are lifted.
Sally Brown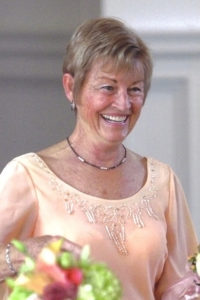 Sally Brown was first involved in breeding cutting horses but when she switched to reining, she changed the industry forever. Her vision, innovation, knowledge of pedigrees, and innate management style put her far ahead of her time, in an era when reining breeding programs did not yet exist.
Although an accident left her unable to ride, she impacted the industry with leadership and influence that will continue for generations. Of course, she is known for co-owning Hollywood Jac 86, reining's first Million Dollar Sire, but as singular as he was, that was just the tip of the iceberg.
When Sally and lifetime partner Buck Hazledine moved her operation to Maple Plain, Minnesota, establishing Fox Meadow Farm, things began to take shape. With guidance from neighbor and friend NRHA Three Million Dollar Rider Tim McQuay, who counseled that having a great stallion was only part of the equation, Sally and Hall of Famer Richard Greenberg formed the Jac Pac breeding partnership. The Jac Pac alliance did center around Hollywood Jac 86, but it also included broodmares brought to the partnership by both parties.
Sally continued actively working to promote reining in Minnesota and supporting the local NRHA Affiliate, the North Central Reining Horse Association. She is credited, along with Tim and Colleen McQuay and Jim Robins, with initiating the NRHA Derby in St. Paul. Former Fox Meadow head trainer Troy Heikes said, "Many members told me that when they were putting that show together the question would come up, 'How are we going to pay for that?' and Sally would reply, 'I've got that covered.'"
The ensuing decades brought more success and laurels to Fox Meadow Farm. Hollywood Jac 86 would ultimately be inducted into the NRHA Hall of Fame. In 1999, Whizard Jac, a product of Sally's breeding program, won the first United States Equestrian Team (USET) Reining Championship in Gladstone, New Jersey.
Her breeding program continued after Hollywood Jac 86's passing as she booked her great mares to sires such as NRHA Four Million Dollar Sire Shining Spark and NRHA Twelve Million Dollar Sire Topsail Whiz. Sally was known for supporting local trainers throughout the area – and across the US. She wanted to give everyone and their career a chance with a good horse. Her generosity gave a jump-start to the careers of many young professionals.
She became the NRHA's Leading Breeder and her program produced champions of every major reining competition and program that existed, but she remained humble about the accolades. No matter whether they were a champion or beginner, Sally always took the time to talk about horses with anyone she met. She wanted nothing more than to bring new people into reining and her kindness and love for the industry is still remembered – both in the hearts of reiners and on the pedigrees of great horses.
In 2008, the year after her passing, Sally was honored as the recipient of the first NRHA Dale Wilkinson Lifetime Achievement award in recognition of her contributions to and support of NRHA across so many platforms.
Jerry Kimmel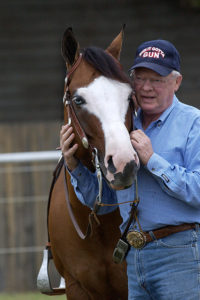 Jerry Kimmel is the hundredth inductee into the NRHA Hall of Fame. An extremely successful businessman who immersed himself into the horse world upon retirement, not even his vision could have predicted the impact he would have on the reining industry.
Jerry was born and raised in Marshall, Michigan, where he began a business called Kevco Inc. with his friend Bill Everett. Over three decades, the business expanded to become one of the country's leading distributors of plumbing and building materials, and its headquarters were moved to Fort Worth, Texas. It continued to grow and went public in the 90s. Jerry thrived in the corporate world but after decades of hard work, retired and settled down with his wife, Carmen, on a 225-acre ranch in Granbury, Texas.
Shortly after his retirement began, Jerry got involved in the world of western pleasure with trainer Cleve Wells. He may not have stayed with that discipline, but its moniker accurately defined exactly what he got from horses – sheer pleasure. He once stated, "I retired totally from business. For me, horses are just fun."
After making his mark in the western pleasure pen, Jerry began to pour his heart, soul, and wallet into the reining world.  Along the way, his love for horses created a legacy of friendship and goodwill that has seldom been replicated.
It all started with one reining horse, Indy Star Dun It, which Jerry showed in NRHA Non Pro competition, but it was soon apparent that one would never be enough. He loved showing as a Non Pro, and a finalist slot earned at an event like the National Reining Breeders Classic (NRBC) would have him bubbling with excitement. Through Jerry's ability to make friends and the success of his horses, Kimmel Reining Horses became well known to reiners worldwide. His longtime relationship with NRHA Three Million Dollar Rider Tim McQuay and McQuay Stables centered around showing and breeding great horses and ultimately focused on his two beloved stallions, Dun Gotta Gun and Mister Nicadual.
His home base, J Bar C Ranch in Granbury, Texas, worked in tandem with McQuay Stables to produce top reining horses. Jerry and Carmen lived on the property and their granddaughter Lindsey Raymond subsequently oversaw much of the breeding and fitting operations.
Jerry's love for the discipline expanded and he became an avid supporter of reining and reiners at all levels. Whether it was an auction for youth activities or a fundraiser for a fellow reiner in need, he was all in. His dream for reining was to have full stands and engaged fans, as he wanted to give others an opportunity to enjoy the horses he loved. Jerry became involved with horse show production, partnering with Ray Roles to found the Scottsdale Classic Futurity and Quarter Horse Show. Later he joined Colleen McQuay and Anne-Marie Burns in creating Global Reining Sport Group, which produces the Tulsa Reining Classic. He also was a donor to RHF and a member of its Reiners Club in recognition of his unrestricted annual gifts. In 2014, he was honored with NRHA's Dale Wilkinson Lifetime Achievement Award.
A defining moment for Jerry came with the 2006 Fédération Equestre Internationale (FEI) World Equestrian Games when he paid for Team USA to travel to Aachen, Germany. His son, Greg Kimmel, recalled. "They couldn't raise all of the money for the trip, and Dad said, 'We're going. We're doing this.' He told everybody on that team, 'Pack your bags. We're going!'"
It was the trip of a lifetime. With Tim McQuay aboard, Kimmel's stallion Mister Nicadual won team gold and an individual silver. It was a treasured honor and a proud moment for the unassuming man who had literally made it happen from behind the scenes.
The man who "loved horses and the people who love them" passed away this year at the age of 82 but his impact on the reining horse world will live on forever. Kimmel Reining Horses is still in operation thanks to Jerry's daughter, Chris Pearce, who relocated the business and its horses to her ranch in Weatherford, Texas, in 2018.