The late Wind Her Up Shiner posthumously joined the short but elite list of National Reining Horse Association Million Dollar Dams in 2022. The 1998 mare by Shining Spark out of Wind Her Up Doc was purchased by NRHA Million Dollar Rider José Vazquez as a 3-year-old through a series of events that look a lot like fate.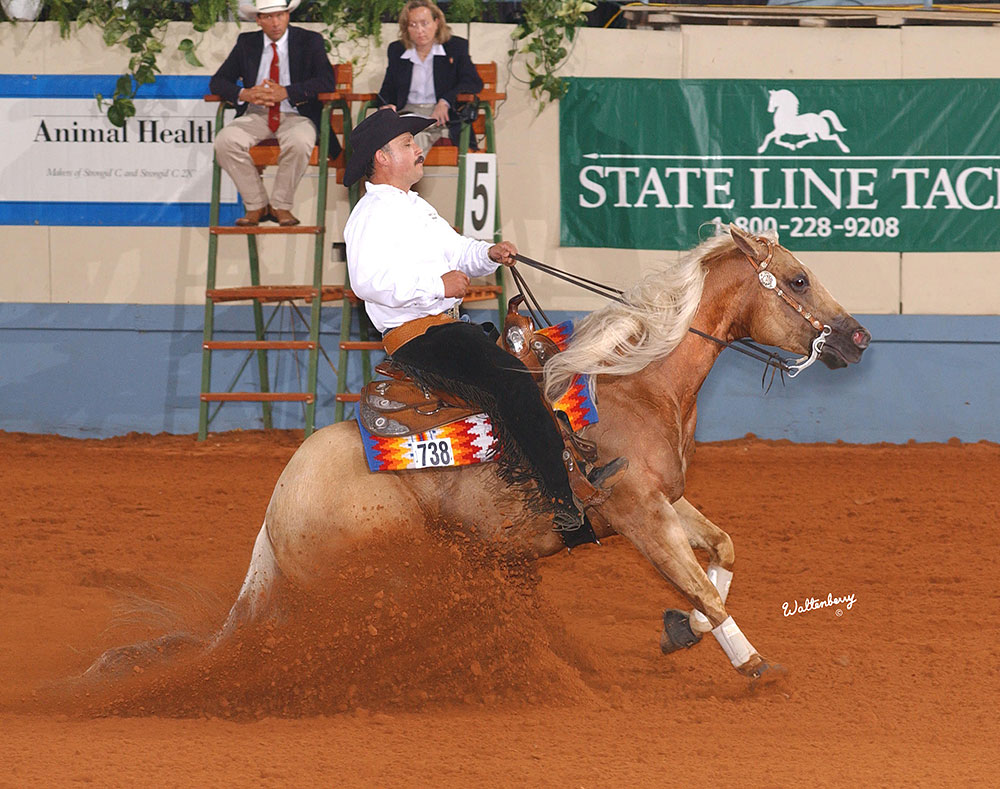 Wind Her Up Shiner lived in NRHA Professional Ed Fear's barn, where Vazquez rode as a non pro. The mare was offered to him as a 2-year-old, but he passed her up because he already had all of the coming 3-year-olds that he wanted. A tragic incident changed that when one of Vazquez's futurity prospects died suddenly. With a spot open for another youngster and the mare up for sale again, Vazquez sealed the deal.
"I ended up lucky one more time," Vazquez said with a laugh. "When the spot for another 3-year-old opened up, I was lucky that she was the right one."
As far as the mare's show career goes, Vazquez says that she was great but laments that he didn't do her justice as her showman. "Unfortunately, I was too green, myself, showing. I was a rookie. I had a guy come to me and say that I should send her to him to show, and she could win $100,000 or more. I joked with him that if I gave him my best horse, how could I be as good as I wanted to be? I wanted to beat Mandy [McCutcheon], you know?
"We were always joking around about her, and he said one day, 'You know, with more earnings, her babies will be worth a lot of money, too.' I said, 'Will they ride different?' He said, 'No.' I said, well then, I'll keep the babies, too!"
This, he staunchly held true to, only selling the geldings and keeping and showing all of the mares. "I probably let her down as a producer, also," Vazquez mused. "If I had put those horses in the right hands, we would probably be celebrating two million right now instead of one!

"I do feel bad for the mare, though," He continued. "She had potential to win way more money than she did, but she put me on the right track to show. She taught me what it takes to win. I think it was bad for her that I kept her to show myself, but it was very good for me. She taught me a lot. She was an amazing mare."
Despite Vazquez's perceived shortcomings, Wind Her Up Shiner earned nearly $34,000 in her own show career, and as a producer, she certainly shined. Interestingly, the mare has only been bred to the late Smart Like Juice, an NRHA $4 Million Sire that was also owned by Vazquez. The magic pairing produced 25 living foals, and 24 of them are NRHA money earners thanks to Vazquez's faith in the breeding. There is no doubt that Wind Her Up Shiner's prepotency contributed much to Vazquez's achievements as a $2 Million Owner (under Smart Like Juice, Inc.)
The first foal of the magic cross, SLJ Smartlikewhinny, suffered a major injury when her leg got caught in the round pen fence. A veterinarian said that she would never be shown; however, Vazquez saw to the filly's rehabilitation and earned more than $53,000 on her. The twenty-fifth foal is currently two years old, and Vazquez looks forward to making the most of her show career when she comes of age to ensure the offspring of Smart Like Juice and Wind Her Up Shiner are 100% money earners.
Wind Her Up Shiner's top five earners are:
Like Shiner – $187,483
Moonshine Juice – $122,366
Moonshine N Juice – $$113,776
Wound By Juice – $112,369
SLJ Corazon Valiente – $108,216
Vazquez thanked all of the trainers who have helped him over the years so that he and his horses could reach such notoriety, along with his NRHA family with whom, over the course of his 25 years in reining, he has had the opportunity to have a lot of fun and secure many friendships.