Teams and individuals qualify for the IHSA National Championship Horse Show in Lexington.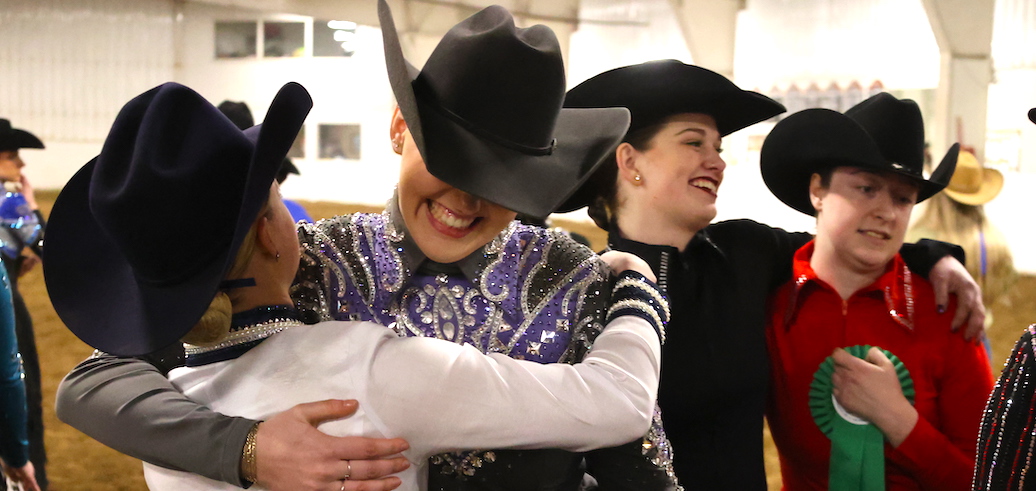 Gladys, Va.– March 22, 2023 – The Intercollegiate Horse Shows Association (IHSA) held its Western Semi-Finals, sponsored by the National Reining Horse Association (NRHA), March 18-19. Hosting the events were the University of Findlay in Findlay, Ohio, hosted by Western Area 61, Mississippi State University, hosted by Western Area 52, and at Grand Oaks, Florida, hosted by Western Area 50. Western Semi-Finals is the qualifying event to determine which Western teams and individuals will compete at the IHSA National Championship Horse Show in the Alltech Arena at the Kentucky Horse Park in Lexington, May 4-7.
From each Semi-Finals, the top-four individuals per division and the top-four teams advance to Nationals. In previous years, the top-three teams qualified, but new this year, the top-four teams from each will comprise the top-12. Alumni Athletes placing first through fourth qualify for the Alumni Tournament of Champions to be held at the USET Foundation headquarters at Gladstone, New Jersey, May 21.
Semi-Finals Hosted by the University of Findlay
At Semi-Finals hosted by the University of Findlay, the host team, coached by Spencer Zimmerman, clinched the overall team win with 40 points. Ohio State University (Columbus), coached by Abbie Noble, took the second spot with 32 points. The Lori Jaixen-led University of Nebraska-Lincoln squad was third with 22 points and SUNY Morrisville was fourth with 18 points. All top-four teams are National Championship-bound. Gretchen Mathes and Charlene Carter officiated the Ohio Semi-Finals.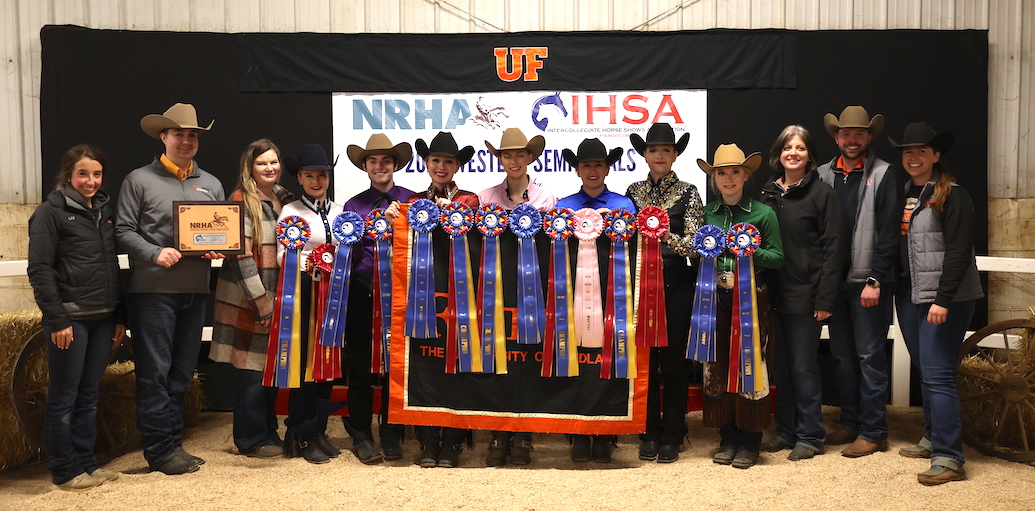 The University of Findlay team won their hosted Western Semi-Finals. Photo courtesy of the University of Findlay team.
The University of Findlay won the trophy and Western team honors in 2001, 2005, 2007, 2009, 2010, 2018 and 2019. In 2022, individuals qualified but the Findlay team did not qualify to contest their 2019 championship at Nationals (the COVID-19 pandemic resulted in the cancelation of the 2020 and 2021 Nationals). This Semi-Finals win shows that they are back in a big way.
"Our riders were prepared," Zimmerman said. "They've been working hard. They always work hard. Unfortunate things happened that kept us back last year. But this year we put all the pieces together at the right time and it worked out for us."

Zimmerman said that his students put in so much time to host the show, getting the facility and the horses ready. They were pleased with the response from the visiting schools.

"Our home program, all of our team of coaches and support system, the students that aren't on the team, parents ¬– everybody plays an important role," Zimmerman said. "We couldn't do all of it without their support. It's a team effort."

In NRHA Individual Reining, the judges' top pick was Sarah Eberspacher, University of Nebraska-Lincoln. The second-place prize went to 2022 IHSA Western High-Point Champion Nigel Lancaster from Ohio State University, who contributed to the Ohio State team's second position by winning the Team Open Horsemanship. Maggie Herbert from SUNY Morrisville was third and Ashton Knerr of the University of Findlay team was fourth.
In Individual Open Horsemanship, the University of Findlay's Knerr earned the top podium finish. Lancaster was the second-place finisher for Ohio State University, Hannah Belich from Lake Erie College was third and Eberspacher took fourth. All punched their tickets to Lexington.
Semi-Finals Hosted by Mississippi State University
Mississippi State University hosted its first IHSA Western Semi-Finals competition. Judges Kendra Weis and Tom McBeath presided over the event.

The overall Team championship went to the Conner Smith-led Midway University. The reserve honors went to West Texas A&M University, coached by Amanda Ellis. The Middle Tennessee State University team, coached by Ariel Higgins, finished third and Berry College, led by Head Coach Margaret Knight Ellington, was fourth. These four teams are all IHSA Nationals-bound.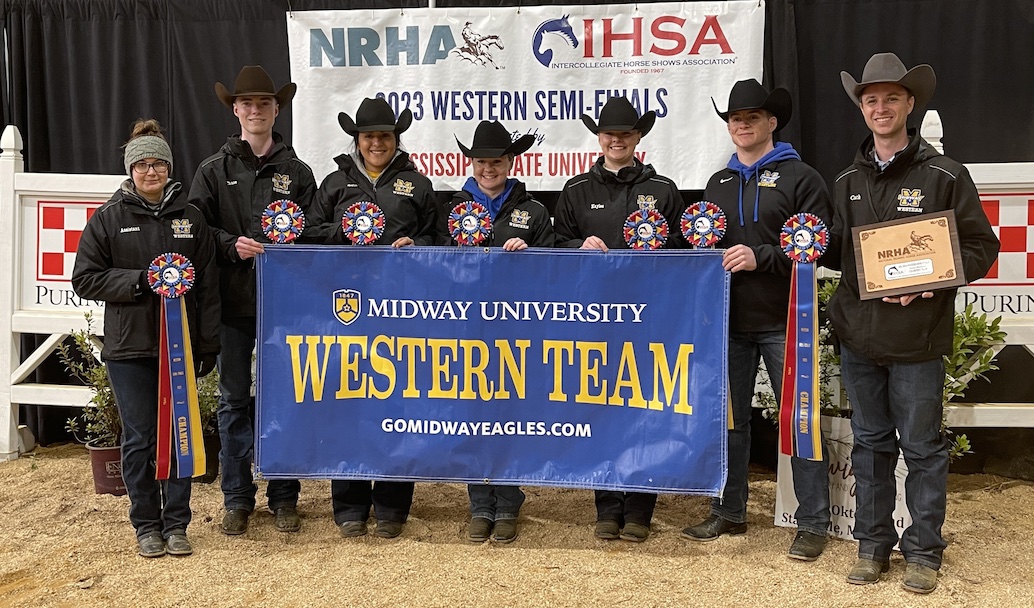 The Midway University team won their Semi-Finals hosted by Mississippi State University. Photo courtesy of Midway University
"First and foremost, I have to thank my team," Smith said. "You know, this is because of them. It's not because of me. I also credit their teamwork, their energy, togetherness, work ethic and everything behind it!"
Smith says that he is fairly confident that this is Midway University's first-ever IHSA Semi-Finals championship.
"I want to thank Midway University, the support from our administration and so many different departments at the university," he added. "They're an integral part of the success." Smith also noted that he uses mentors and guests lecturers and tries to raise their standards by networking with the industry to strive to be the best they can be.
"Mississippi State did an exceptional job," Smith said. "I was very proud to be there to see a new host take this on and to see their commitment to the IHSA and the dedication it takes to make a good horse show. We saw it from the moment we got through the gates, with them helping us unload, to the late nights, staying with horse selection through the stewards' meetings. They were very hospitable and a great host all the way around."
Middle Tennessee State University's Jordan Martin won the first-place slot in the Individual Open Horsemanship at Mississippi State University Semi-Finals. She will be joined by second-place finisher Kaitlyn Praisler from Morehead State University at Nationals. Third-place finisher Olivia Williams from Purdue University, and fourth, Rette Solomon, from Berry College, will also make the trip to Lexington.

Athletes from three Kentucky universities rocked the NRHA Individual Open Reining, with Midway's Kaylee Tingle nabbing the win and Brook Sullivan from Western Kentucky University in second. Madison Gales, from Texas Tech University, repeated her third-place finish from 2022 and Shelby Carrico from Morehead State University, also a Kentucky school, was fourth.
Semi-Finals at Grand Oaks, Florida
The IHSA 2022 Western Champion Team, Black Hawk College, coached by Rebekah Irish, won their second consecutive Semi-Finals in a third event held at Grand Oaks, Florida. St. Andrews University, coached by the venerable Carla Wennberg, was second. Adrian College, in their first-ever team representation at Semi-Finals, according to Coach Jody Prime, reached another milestone by qualifying their team for IHSA Nationals. Oregon State University competition, led by Coach Dawn Ross, will progress to the IHSA National Championships at the Kentucky Horse Park. Allen Mitchels and Bonnie Miller judged the event.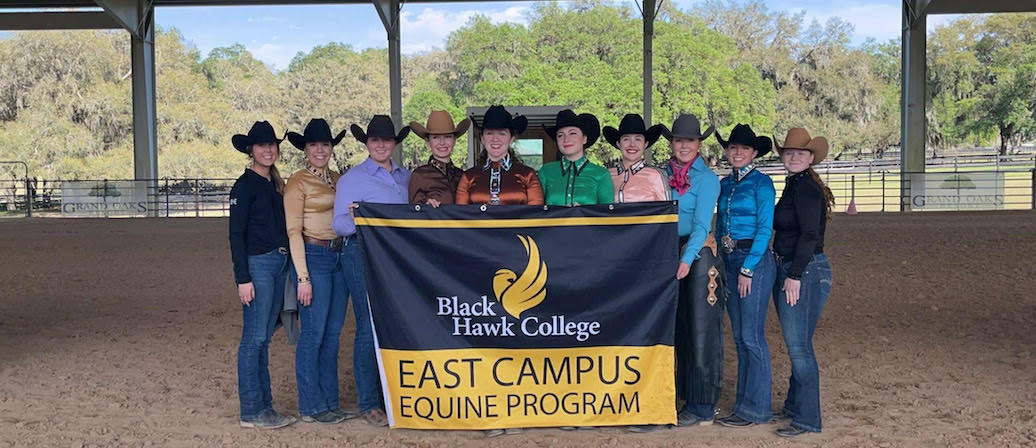 The 2022 IHSA National Champion Western Team won their Semi-Finals held at Grand Oaks, Florida. Photo by Caitlynn Marit

"I credit the success of this team to each member's dedication and hard work, their continued belief in themselves and their team, and their ability to hold each other to the highest standards in and out of the arena," Irish said. "This is a team sport. The horse and rider team, the team of riders from each institution, and the team of coaching colleagues that continue to drive the mission of the IHSA and collectively work to grow this amazing association."

Irish commented on her experience in Florida. "The Black Hawk College Equestrian Team is incredibly grateful to all of the horses and the providers who worked tirelessly to prepare them," she said. "This sport would not be possible without the horses who allow us to compete on them.
"It was wonderful to see IHSA founder Bob Cacchione (who attended the Florida Semi-Finals)," she continued. "His vision so many years ago created a place for all of us to compete, no matter our level of experience or our socioeconomic background. We are grateful for the opportunities that are made available through the IHSA."
She expressed thanks to Black Hawk College graduate Caitlynn Marit for making the trip to Florida and their support network at the college.
Belle Sand from the University of Minnesota, Crookston brought her game to the hotly-contested NRHA Individual Open Reining division, finishing in front. Second place went to Hannah Wright-Riley from Delaware Valley University. Both Lauren Johnson from Missouri State University and Black Hawk College's Autumn Carey, finishing third and fourth, will also compete in NRHA Individual Open Reining at IHSA Nationals.

In Individual Open Horsemanship, Lori Girrbach from Adrian College took the blue ribbon. Michaela Long from North Dakota State University earned red ribbon honors. St. Andrews University's Sarah Beth Felker was third and Jessica Theobald from Iowa State University was fourth.

"This year's Semi-Finals included exciting results from all across the country," said IHSA Executive Director Peter Cashman. "It's great to see schools like Adrian College take their teams to Nationals for the first time. Strong programs, great coaching, hard work and a little luck of the draw all play a part. Many thanks to our title sponsor, NRHA. A special shout-out to SmartPak and Back on Track and all our sponsors. Thank you to all the host schools, judges, riders and coaches. We look forward to Zones for our hunter seat riders and our National Championship Horse Show in Kentucky the first weekend in May."
The National Reining Horse Association is not responsible for the information contained in this press release. Please contact the author or submitting organization for further information, requests, or questions.