Last month, only three horses were known as NRHA $10 Million Sires. However, after a full summer of premier events within the reining community, two more elite stallions have etched their names in NRHA history again—Gunnatrashya and Magnum Chic Dream.
Gunnatrashya
A mere five months after crossing the last milestone, Gunnatrashya is now an NRHA $10 Million Sire. With his superior breeding, it's no surprise to see the 2023 NRHA Hall of Fame Inductee among the top of the record books. Sired by NRHA $14 Million Sire Gunner and out of Natrasha, Gunnatrashya was bred by Katarina Dorminy of Georgia. Arcese Quarter Horses USA has owned the 2006 stallion since the beginning and has seen him achieve great success both in and out of the breeding shed.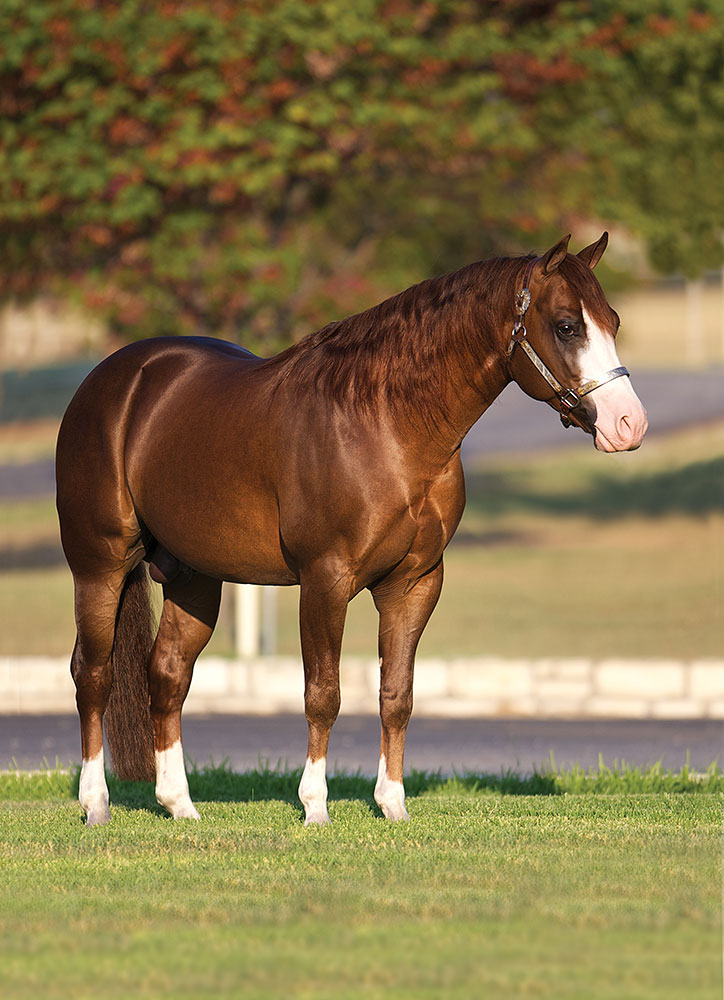 Gunnatrashya had a short but prosperous career within the show arena. With NRHA Seven Million Dollar Rider Shawn Flarida at the reins, the stallion amassed nearly $220,000 in NRHA lifetime earnings (LTE). The duo's top wins came during the 2009 NRHA Futurity and subsequent NRHA Derby, where they were crowned the Level 4 Open Champions at each event.
Within his breeding career, Gunnatrashya has sired numerous offspring—with 17 having more than $100,000 in NRHA LTE, including Gunna Stop (out of Stop Little Sister), who is NRHA's Third All-Time Leading Horse. At this year's 6666 NRHA Derby presented by Markel, 20 of the stallion's progeny made the finals in open and non pro competition and averaged more than $7,000 in earnings. One of these incredible offspring was Gunnabebigtime (out of Big Time Jazzy). With NRHA Three Million Dollar Rider Jason Vanlandingham at the reins, the stallion earned over $52,000—taking home the Level 4 Open Reserve Championship.
Vanlandingham and Tami Nelson's bred and owned Gunnabebigtime went on to add even more to Gunnatrashya's earnings. The duo won big again in Vegas during The Run For A Million (TRFAM) Open Shootout, taking home the Reserve Championship and $17,551. Then the pair added nearly $30,000 more to the sire's earnings at the 100X Reining Classic in Tulsa, OK, where they won the Level 4 Open Derby Reserve Championship, the NARS Level 4 Open Derby Reserve Championship, and the Open Mare Power Championship. Vanlandingham and Gunnabebigtime added approximately $100,000 to Gunnatrashya's offspring earnings and helped him officially become an NRHA $10 Million Sire.
Gunnatrashya's highest-earning offspring are:
Gunna Stop (Stop Little Sister), owned by Amber Gokey and bred by Toyon Ranch, LLC, earning $672,762
Andiamoe (Wimpys Little Chic), bred and owned by Arcese Quarter Horses USA, earning $430,302
Ten Thirty (Dainty Little Step), owned by Rancho El Fortin and bred by Brooke Wharton, earning $418,788
Super Marioo (HA Chic A Tune), owned by Tom & Mandy McCutcheon and bred by Hillis Akin Family Partnership, earning $338,891
Trash Talkin Spook (I Spook), owned by Marilyn Overgaard and bred by Vicki Dias, earning $320,085
Magnum Chic Dream
Magnum Chic Dream achieved his first million with NRHA in 2010. Bred by Guy Du Ponchel and owned by Jack and Viola Scott, the 1996 stallion has been one of NRHA's leading sires for 23 years. Less than a year after crossing the nine million dollar mark, Magnum Chic Dream is an NRHA $10 Million Sire—only the fifth in the association's history.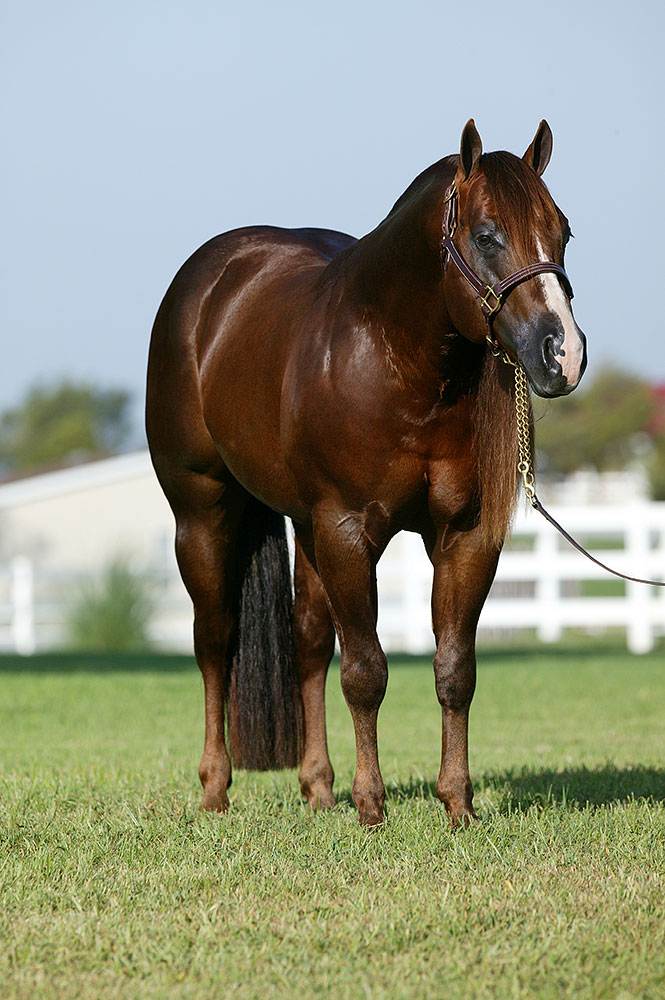 Magnum Chic Dream earned over $44,000 in NRHA LTE during his show career. NRHA Professional Patti Brownshadel rode the stallion during his first three years in competition. Then, owner Viola Scott took the reins before passing him off to NRHA Million Dollar Rider Casey Hinton. Hinton piloted the horse to the Senior Reining Championship at the 2004 American Quarter Horse Association World Championship Show.
From there, the elite stallion began a full-time breeding career. The NRHA Hall of Famer has 23 offspring with more than $100,000 in NRHA LTE and has nearly 700 offspring with earnings registered with the association. With such a successful set of progeny and increased event payouts, the stallion had several horses to help push him over the $10 million mark.
"Magnum" reached this milestone after impressive performances at the 100X Reining Stakes, where his offspring earned $184,531. Magnum With Addytude (out of Dunit With Addytude) took home the 100X Stakes Level 3 Open Championship and fifth place in Level 4 with NRHA Professional Josh Tishman at the reins. Bred by Bruce Koefoot and owned by High Medow Ranch, LLC, Magnum With Addytude added $62,000 to his sire's offspring earnings.
Customize My Dream (out of Gunna Be Custom) and NRHA Four Million Dollar Rider Casey Deary added another $40,000 after taking 3rd in the 100X Stakes Level 4 Open. This was straight off their 6th place performance at TRFAM Open Shootout, where they earned a paycheck of over $8,000 and secured a spot in the 2024 Run for a Million Competition for Deary. Bred and owned by Devin Warren, it's only fitting that Customize My Dream and Deary would be an integral part of helping Magnum cross the $10 million after ushering the stallion to his last milestone with their Reserve Championship at the 2022 NRHA Level 4 Open Futurity.
Magnum Chic Dream's top-earning offspring are:
Msdreamy (A Gal With A Gun), owned by Rick Christen and bred by Jana Simons, earning $263,131
Mr Farenheit (Wimpy Little Girl), owned by Morin and Vandorp and bred by Peter Morgan, earning $256,526
Chic Dreamin (Skeets Red Dunit), owned by Silver Spurs Equine and bred by Casey Hinton, earning $248,880
Made By Magnum (Ready Make Cowboy), owned by Lucinda Human and bred by Lagle & Savage LLC, earning $200,586
Taris Dreamer (Taris San Cutter), owned by Ron Thompson and bred by Werner Hermus, earning $194,312