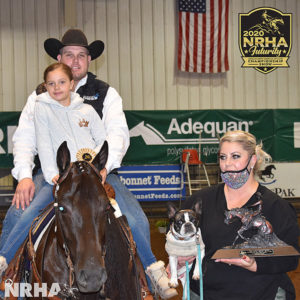 Riders not advancing to the National Reining Horse Association (NRHA) Futurity Finals had the option of entering the $1,000-added Honorable Mention Futurity. Emerging as champion was The Voodoo That U Do ridden by Trapper Lowndes, of Whitesboro, Texas, for owner Sally Wendy Padey. The pair marked a 219 to top the class for $427.
"We bought her as a 2-year-old from Trevor Dare up at Silver Spurs Equine. We've had her this past year and she's been a really fun horse. We'd like to continue on and show her as a derby horse, try to win some more money on her and make her a mama pretty soon," Lowndes said.
The Voodoo That U Do, by NRHA Million Dollar Sire Shiners Voodoo Dr out of Starlet Revolution, was nominated by Jeanine Stovall.
Lowndes says his goal in the Honorable Mention Futurity was to relax and make a penalty-free run, which he was confident would allow the mare's incredible ability to shine.
"I really tried not to try," Lowndes said. "We had a lot of penalties over in the big pen earlier this week, so I just tried to let her be what she is and she's a really, really nice horse. The more I stay out of the way, the better she is."
Lowndes, who has shown more reined cow horses lately, expressed appreciation for his family as well as a few horsemen in the reining world who've helped him with The Voodoo That U Do.
"I have the world's best owner, Miss Sally, who has been wonderful to us and very trusting and provided such a nice horse. My family, my wife. There have been several horsemen help me through the year with her; I've stepped away from the reining for almost eight years, so it's been really important that those guys have been so gracious to come forward and help me."
Reserve in the Honorable Mention Futurity was Sharee Schwartzenberger and Spooks Matrix with a 215.5. Spooks Matrix, by Smart Spook out of Mates Matrix, is owned by Inga Guernsey and was nominated by Adh-Mor Ranch.
Riders Advance from CINCH Non Pro Futurity Consolation
Although the preliminary round of the NRHA CINCH Non Pro Futurity concluded Tuesday evening, the Consolation round, which took place in Adequan® Arena on Wednesday, December 2, provided a second chance to those who missed initial qualification. In the Consolation, the top five, including ties, from each of the four Levels move on to Friday's competition.
Kim Muehlstaetter and Gunnaoutdunya topped the CINCH Level (L)4 Non Pro Consolation with a 218. Gunnaoutdunya, owned by Kim L. and Martin Muehlstaetter, is by Gunnatrashya and out of Stop Little Sister. Gunnaoutdunya was nominated by Arcese Quarter Horses USA.
James Morgan, DVM, guided his horse Trash Talking Tim to the high score of the L3 Non Pro with a 215. Trash Talking Tim is sired by Gunnatrashya and out of Awhiz Called Wanda, and was nominated by James Morgan, DVM.
Finishing with the high score in the L2 Non Pro was Jacob Zimmerman and Rufin Up The Chics, owned and nominated by Justin Zimmerman, with a 214.5. Rufin Up The Chics is by Not Ruf At All and out of Ms Playalotta Chic.
Marking the high score of the L1 Non Pro was Courtney Brooke Battison and her horse Marvelous Sixtysix with a 212.5. The nominator of Marvelous Sixtysix was Janna Imrie.
The cutoff scores to advance to the CINCH Non Pro Futurity Finals on Friday, December 4 from the Consolation were 214.5 for the L4, 210.5 for the L3, 209 for the L2, and 210.5 for the L1.
Draw positions for the finals will be decided during the Platinum Performance Virtual Draw Party, which takes place via the webcast Thursday, December 3 at 10 a.m. CST.