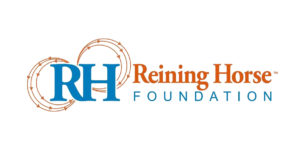 Since its creation in 2001, the Reining Horse Foundation has existed to help reiners in need, preserve National Reining Horse Association history, create opportunities for youth, and shine a positive beacon on the entire reining industry. In 2020, the organization may have missed out on holding its signature Sliders' Night Out fundraiser presented by Toyon Ranch, but its direction remained the same, as did the needs of the many programs it supports.
Notwithstanding the challenges of the year, the philanthropic arm of NRHA kept its focus on expanding fundraising and continuing its mission. Helping reiners through the Dale Wilkinson Memorial Crisis Fund, providing youth leadership development and scholarships, and perpetuating the sport's history through the NRHA Hall of Fame were made possible by a variety of fundraisers.
Opt-in donations, Affiliate fundraisers, memberships in the Reiners Club, Foundation grants, Facebook birthday donations, AmazonSmile support, and memorial gifts breathed hope in troubled times and kept the spirit of giving alive.  Additionally, NRHA Professionals gave in unprecedented numbers and there was an increase in international giving.
It was an opportune time for new avenues of giving as the pandemic created challenges for a cross-section of the reining industry. "Every day, we see the need within our industry. By giving, individuals and businesses have the power to make such a difference in the reining community. Gifts of every size are meaningful," said Reining Horse Foundation Executive Director Leslie Baker.
"In my case, one simple $25 donation to the Reining Horse Foundation led to a $100 donation and then to more," said Tim Anderson, president of the volunteer-led RHF Board of Directors. "I began by wanting to help other reiners enduring a tragedy of some sort. What I discovered is that helping others gives me an overwhelming feeling of goodness and purpose. When you are doing your holiday shopping and year-end giving, I hope you will remember the reining community that we all love."
Besides topping off your Christmas list, there are plenty of reasons to give before the end of the year, including new tax benefits. The CARES (Coronavirus Aid, Relief and Economic Security) Act enacted this year expands charitable giving incentives and allows taxpayers who take the standard deduction to make up to $300 of charitable contributions to qualified charities. For those who itemize their deductions, the new law allows for cash contributions to qualified charities to be deducted up to 100 percent of their adjusted gross income for the 2020 calendar year. Donors who make year-end gifts to the 501(c)3 nonprofit Reining Horse Foundation by December 31 may gain the maximum benefit of these tax incentives.
Giving to the Reining Horse Foundation is easy. Gifts can be made digitally in ReinerSuite, by texting "RHF" to (405) 300-5919, or via PayPal or credit card at reiningfoundation.com/donate, or simply by mailing a check to the NRHA office at 3021 W. Reno Ave., Oklahoma City, OK 73107.
For more information, visit reiningfoundation.com, or email rhf@nrha.com.