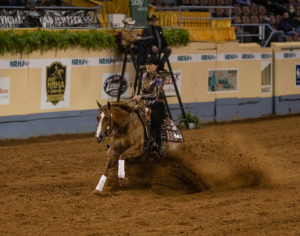 For Immediate Release – December 31, 2020 – Oklahoma City, Okla. – It was a night chock full of million-dollar accomplishments during the 2020 National Reining Horse Association (NRHA) CINCH Non Pro Futurity Finals on Friday, Dec. 4. With a first-place finish in the CINCH Non Pro Level (L) 3 Futurity, Tish Fappani solidified her NRHA Million Dollar Owner status aboard Joes Genes (Lil Joe Cash x Electric Genes).
Hailing from Scottsdale, Arizona, Fappani is no stranger to million-dollar milestones. She's the wife of NRHA Six Million Dollar Rider Andrea Fappani. Partners when it comes to the business of horses and reining, the couple shares the workload at home and the limelight when it shines in their direction.
The team dynamic has been a longstanding strategy for Tish, but it first began with her parents, Bob and the late Sue Wood.
"My mom had me on horses before I could even walk," Tish said. "My mom used to do a lot of the American Horse Show Association (AHSA) and stock horse events. When I was 6, I went to ride with Glenn Gimple. It was cool because my mom rode with him, and he was 'The Man' when it came to equitation and stock horses."
From Covina, California, Tish's family always had around 10 horses at home. Tish remembers feeding and cleaning stalls every morning before school, and she would help her mom get horses ready for lessons in the afternoon. Those hours in the barn funded Tish's time in the saddle in Arizona where her affinity for reining blossomed.
"When I was 15, I was lucky enough to start riding with Brett Stone and John Slack in Arizona," Tish remembered about her official entrance into the world of reining. "That was the year Boomernic won the Futurity."
It was those long, sliding stops that initially caught Tish and Sue's attention for reining. The style and finesse sealed the deal for Tish and is perhaps the reason she's now an NRHA Million Dollar Owner.
"My mom was a huge part of my life with horses; she always made sure I had the best opportunities and she put me with the best trainers," Tish said. "I was very lucky to have both of my parents in my corner."
Today, Tish finds partners in Andrea and their oldest son Luca. The three have been swapping horses in the show pen for the past few years. Titles in the open, non pro, and youth, all on the same horses, speak volumes about the caliber of horses in the Fappani reining program.
"I'm really proud of raising horses that we can all ride and compete on," Tish said. "I remember the first horse Andrea and I bought together–Lean With Peppy Chex–we bought him as a 2-year-old before we were even married. Andrea showed him at the 2002 Futurity and then we sold him as a 4-year-old."
Eight years later, the Fappanis bought that gelding back, and now 'Scooter' is a permanent resident in the retirement pasture. If it were up to Tish, she'd keep them all.
"I get sentimental and think we need to keep all of them," she said with a laugh. "Andrea isn't a huge fan of all these geldings in our backyard, but we've had a lot of special horses together: Premier Diamond, Spooks N Jewels, Ice Cube, and Joes Genes, the mare I showed at the Futurity, just to name a few."
Tish is excited to breed her mare and see what kind of foals she can throw for the Fappanis to show in all three levels in a few years.
"I always want all of our horses to do their best, but there's something special when we own one and are able to get it shown," Tish said. "I'm super shocked by this accomplishment. It's huge. I'm proud to have raised and shown these horses, it's super rewarding but it also takes a team to get it done."
Photo by Carolyn Simancik