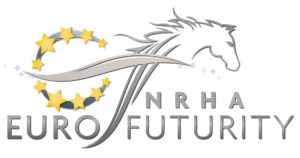 $344,514-Added AMBPT/BO Ranch NRHA European Futurity Presented by Markel Insurance:
La Chapelle-la-Reine, May 3—Originally scheduled to be held in Austria, BO Ranch's proposal to host the 2022 edition of the NRHA European Futurity was accepted in February this year. The response from sponsors in support of the event held in France—as well as the work done by the BO Ranch team— has been huge and includes the addition of NRHA Corporate Partners Toyon Ranch and MS Diamonds TX who extended their contribution to NRHA owned events outside North America.
NRHA Corporate Partner Markel, Official Insurance Partner of NRHA, Presenting sponsor of the NRHA European Futurity, Derby, and European Affiliate Championships, has invested in NRHA European owned events since 2009. Cardinal Reining Horses, gold sponsor for European events, decided to 'go global' in 2014.
Toyon Ranch, owned by John and Nancy Tague, is one of a few major NRHA North American sponsors who have increased their support to include Europe. "We sell horses all over the world, both through auctions, such as the NRHA Markel Futurity Sales, and privately on the ranch. It feels appropriate to extend our brand and support in a tangible way so that our international customers recognize we're actively supporting the business, not just at our home, but where they live as well," John shared about Toyon Ranch's Platinum Sponsorship of the two major European events.
Oded Fein of MS Diamonds TX, Official Diamond Jeweler of NRHA and sponsor of the NRHA Open Futurity Championship Ring, has extended his sponsorship to the Italian Reining Horse Association Open Futurity and Elementa Masters Championship Rings in the past years. "I felt it was important to be part of the NRHA global sponsors as we believe our Futurity Champions worldwide should be awarded a Championship ring reflecting the NRHA ring and we look forward to presenting the inaugural trophy ring at BO Ranch," said Fein about MS Diamond TX's Euro Futurity Level 4 Open Presenting Sponsorship.
A special thank you to all the 2022 AMBPT/BO RANCH NRHA European Futurity Sponsors: You make it happen and we look forward to seeing you all at BO Ranch, May 23-29.
PLEASE NOTE THE EUROPEAN FUTURITY DEADLINE ENTRY DATE HAS BEEN POSTPONED TO MAY 9
For further information: nrhaeuropeanfuturity.com
NRHA European Futurity Media Contact
Simona Diale/International Horse Press
internationalhorsepress@gmail.com
The National Reining Horse Association is not responsible for the information contained in this press release. Please contact the author or submitting organization for further information, requests, or questions.