The Southeastern Reining Horse Association's Main Event, slated for May 27–29 at the Senator Bob Martin Agri Center in Williamston, North Carolina, will be extra special in 2022. That's because the show has elected to designate four derby classes as Reining Horse Foundation events.
"SERHA has been blessed with many members who have been supported by the Reining Horse Foundation, either by way of the Dale Wilkinson Memorial Crisis Fund or by youth scholarships," noted Terri Mainey, SERHA Secretary. "In our gratitude for the RHF's assistance, we hope to bring a light to the RHF's mission with our members and those in our communities."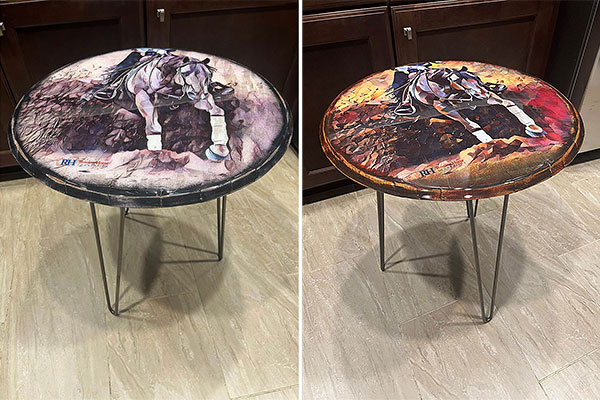 To work toward that goal, SERHA will donate $5 for each individual rider entry in the Open and Non Pro Derbies to the RHF. Classes included are the Reining Horse Foundation Open and Non Pro Derbies in Levels 4 and 2, and the Reining Horse Foundation Open and Non Pro 8 & Up Derbies in Levels 4 and 2. Championship buckles, sponsored by Steven Marbry Performance Horses, will be presented, and the Level 4 Open and Non Pro Champions will win tables designed and made by Phillip and Michelle Waugh.
As a challenge to attract more entries, Terri and her husband, John Mainey, have pledged to match the donation made to the RHF.
"We applaud the Southeastern Reining Horse Association for this fundraising effort," said Leslie Baker, executive director of the RHF. "Their leadership will help introduce the RHF to a broader audience, and the derbies are sure to be a fun addition to the Main Event show. We cannot overstate our appreciation for everyone involved in creating ways to give back to the reining community."
There will be several new additions to the 2022 event, including:
Six Smokin Bones will be cooking for the Annual SERHA meeting. Six Smokin Bones will also provide dinner following the Derby on Saturday. Paying homage to Mike Hancock's Carolina Classic tradition, there will be "Breakfast for Supper."
The Youth and Para-reining entries are sponsored, and all youth will receive ribbons and prizes.
The Youth will enjoy a free meal on Saturday evening.
Langdon Farms will sponsor an ice cream social by Sisters II.
Championship buckles, sponsored by George and Carol Bell and the SERHA Board, will be awarded in the Green Reiner 1 and 2.
Trophies will be presented in the Rookie 1, 2, and Prime Time.
The event includes a raffle, with SERHA Youth in charge of raffle ticket sales.
"The reining community is coming together to make this a tremendous show. There are many exhibitors on the East Coast who are not familiar with the RHF, and we hope that by presenting a quality show with the Reining Horse Foundation as the named benefactor, these exhibitors will learn how our industry works together in helping reiners in need through the Dale Wilkinson Memorial Crisis Fund, providing scholarships for continuing education, and perpetuating the sport's history through the NRHA Hall of Fame," Mainey said.
Mainey added there are several sponsors of the Main Event Reining Horse Foundation Derbies, including Tim Anderson and Kim Niven, Rick Clark and Clark's Pump N Shop, Mirjam and Andrea Stillo, Mike Hancock and Family, Jillane and Wesley Brown of Browe Construction, Lucinda Human of Star H Equine, George and Carol Bell Performance Horses, Platinum Performance, Matt Murphy and Bar M Performance Horses and Parker Minchin.
For more information about the SERHA Main Event, visit serha.org/may-show