On May 15, 2022, National Reining Horse Association Hall of Famer Dick Pieper passed away at the age of 82.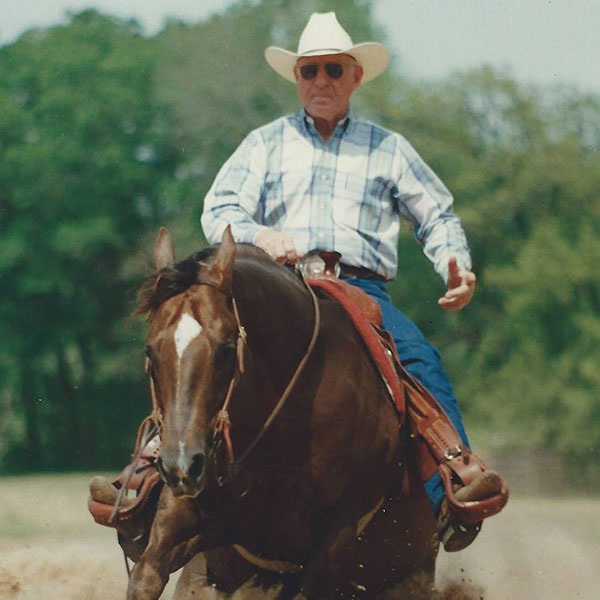 Dick was born on his family's farm in Southern Ohio, where they raised cattle, sheep, and horses – both draft and saddle horses – that were used on a daily basis. Upon high school graduation, Dick attended Ohio State University and served a tour of duty in the United States Navy.
While life kept him busy, he still spent every spare moment riding and training horses. Early on, he turned to reining horses and held NRHA member number 113.
In 1977, he won the NRHA Futurity on Spanish Mountain, then returned two years later, in 1979, to take Co-Reserve Championship honors on Cee Blair Masota.
Between 1976 and 1995, Dick rode 23 NRHA Futurity finalists and was a top twenty money earner for many years following. In 1985, he showed Miss Cee Blair to the title of NRHA World Champion Open Horse, setting a record for money earned in one year that was not broken until 1994 when her son, Cee Blair Sailer, also trained by Dick, established an even higher record. In 1991, Dick showed Texas Kicker to American Quarter Horse Association World Champion Junior Reining Horse setting another record score of 228 in the finals.
Dick held judges cards for the NRHA, AQHA, National Cutting Horse Association, and the National Reined Cow Horse Association.
During his career spanning four decades, Dick won or placed in every major reining event on the North American Continent and several in Europe. His last recorded NRHA event was in 1996, and he held NRHA lifetime earnings exceeding $225,000.
Dick served the industry in a variety of ways, including a tenure as NRHA President. He was at the helm of the organization when the association adopted its judging system, as well as when it moved its marquis event, the NRHA Futurity, moved to Oklahoma City in 1986.
When Dick purchased cutting stallion Playgun in 1993, his attention shifted to NCHA, and he earned more than $350,000 in the sport. Playgun, an $8 million sire, and AQHA Reining World Champion Texas Kicker both made their home at the Pieper Ranch in Marietta, Okla.
Dick was a master horseman and well-respected in the industry. He shared his wisdom, insights, and techniques through books, videos, and with anyone who wanted to learn. Cheryl Cody, who co-wrote The Language of Horsemanship with Dick, said, "His love of horses, the horse industry and people defined him. Sharing his knowledge was as natural as breathing, and he was a master storyteller who never failed to see each new day as an opportunity for adventure."
Services for Richard "Dick" Pieper:
Wednesday, May 18
5-6 p.m. – Visitation at Smith Funeral Home in Crowell, Texas.
6:30 – 8:30 p.m. – Fellowship and meal following at the Circle Bar Lodge.
Thursday, May 19
8 a.m. – Breakfast before services at 8 a.m. at the Cookhouse, across the road from the Lodge.
10 a.m. – Graveside service at Circle Bar Cemetery
For any questions, please contact Eugenie at 940-655-8065