With a record payout exceeding $2.8 million, the National Reining Horse Association Futurity & Adequan® North American Affiliate Championships made history. Thanks to that historic payout, it also unofficially pushed multiple horses and individuals into new tiers of earnings, including sires Smart Spook and Shiners Voodoo Dr.


Smart Spook – Seven Million Dollar Sire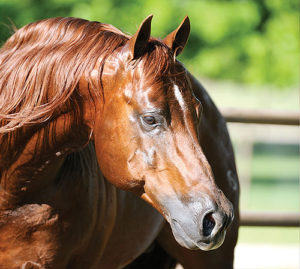 With Daniel Schloemer and Tracy Burmley's earnings in the first section of the NRHA Futurity Open Finals, Smart Spook unofficially became NRHA's newest Seven Million Dollar Sire. Prior to the Open Futurity Finals, Smart Spook was approximately $5,000 away from that achievement, then Schloemer and Bar Hoppin Spook (out Gunners Bar Fly) and Brumley and Spy Games (out of Little Lectric Spark) won more than $10,000 across three Levels.
Smart Spook, a 20-year-old stallion, is by NRHA Six Million Dollar Sire and Hall of Fame inductee Smart Chic Olena and out of Sugarplum Spook. Owned and bred by Rosanne Sternberg, the sorrel stallion was inducted into the NRHA Hall of Fame in 2015.
Before entering his career in the breeding shed, Smart Spook enjoyed a successful career within the show pen, earning more than $403,149 in NRHA Lifetime Earnings. The stallion's top finishes include:
2004 NRHA Level 4 Open Futurity Champion ridden by Shawn Flarida
2005 NRHA L4 Open Derby Champion ridden by Flarida
2005 AQHA Junior Reining World Champion ridden by Flarida
2007 & 2009 FEI World Reining Masters Gold Medalist ridden by Rudi Kronsteiner
The stallion's first class of money-earning offspring was foaled in 2006. Since then, the sire has produced 15 foals with more than $100,000 in NRHA LTE including five NRHA Futurity Champions and one NRHA Derby Champion.
Smart Spook's top-performing offspring include:
Custom Spook (Custom Spinderella) $235,749
Patriot (Dunit A Lil Ruf) $232,998
Shine N Spook (Ebony Shines) $219,826
Spooks N Jewels (Whiz Jewels) $200,115
Red Stripe Spook (Ms Red Capri) $179,766
Shiners Voodoo Dr – Two Million Dollar Sire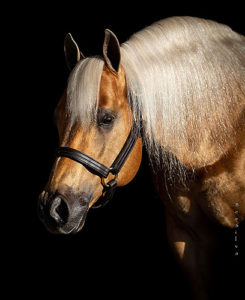 Shiners Voodoo Dr became an NRHA Million Dollar Sire during the 2019 NRHA Futurity, and his offspring have continued to perform and win in reining competition. Prior to the MS Diamonds TX Level 4 Open Futurity Finals, the flashy palomino stallion was $36,000 from reaching the next rung on the Million Dollar Sire ladder.
While four Shiners Voodoo Dr offspring competed in the first section, there was only one who would compete in the Level 4 Finals – but it was a good one.
The foal, Shiner On My Eye (out of Flashy Lil Step), was trained and shown by NRHA Six Million Dollar Rider Shawn Flarida. The pair had already earned more than $31,000 for the year, including the All American Quarter Horse Congress Open Futurity Reserve Championship. When the results were tallied, Flarida and Shiner On My Eye (owned by Robert Santagata) had tied for fourth in the Level 4 and took reserve in the Prime Time for total earnings of $72,205. The pair's success secured Shiners Voodoo Dr's spot on the Two Million Dollar Sire list.
By NRHA Four Million Dollar Sire Shining Spark and out of Voodoo Chic, Shiners Voodoo Dr, fondly referred to as "Voodoo," earned more than $85,900 in NRHA Lifetime Earnings during his show career. The stallion, bred by Rogers Heaven Sent Ranch, is owned by Silver Spurs Equine.
Shiners Voodoo Dr's top-performing offspring include:
Shiner On My Eye (Flashy Lil Step) $106,609
Xtra New Pal Voodoo (Wimpys New Pal) $81,893
Warlocks Last Step (SDP A Lasting Step) $81,432
Shiners Voodoo (BR China Rose) $75,354
Smart Voodoo Doctor (Smart As Sister) $62,376
Researching sire records is easy, just go to ReinerSuite.NRHA.com to sign up or log in.