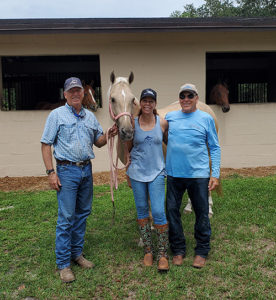 For immediate release — December 11, 2021 — Oklahoma City, OK — The National Reining Horse Youth Association recently kicked off one of the biggest fundraisers of the year, the 2022 Buy-A-Pro Auction. This year the auction runs through 9 a.m. CST on February 1 and offers buyers a chance to purchase a two-lesson package with their choice of nearly 60 NRHA Professionals.
 
The all-star lineup includes several The Run For A Million Champions, NRHA Million Dollar Riders, stars from The Last Cowboy, NRHA World Champions, NRHA Horsemen and Women of the year, expert non pro coaches, and other proven professionals.
 
A winning bid grants riders an exceptional opportunity to travel to their chosen professional's facility and polish their riding skills, their horse's training, or, in some cases, try reining for the first time on a horse provided by the professional. From beginners to accomplished riders, everyone can gain from acquiring one of these private training packages.
 
"Dave Moore was so awesome, and it was great to have the opportunity to take a couple lessons from him," said 2021 Buy-A-Pro participant, Heather Maxwell. "My husband owns a home not too far from Dave's barn in Florida and the two of them really hit it off. Charlie will be bringing his horse down to Dave for the winter so he can train year-round. All in all, I have to say winning your auction was truly fantastic for all of us!"
 
Each of the participating NRHA Professionals donates two training sessions per package, with 15% of the proceeds benefiting their designated NRHA affiliate. The remainder of the funds are allotted directly to NRHyA to provide scholarships and other opportunities for young reiners.
 
Historically, this fundraiser has generated significant funding to support NRHyA. With participating professionals located all over the country, there are options to best suit the needs of each buyer. Before bidding, be sure to check if your selected Professional offers the amenities you need, such as lesson horses, stalls, or RV hook-ups.
 
With the interest generated from The Last Cowboy and the Run for a Million, the members and Board of NRHyA hope new reining fans from across the country will take advantage of this unique opportunity to take a reiner for a spin while also benefitting a great cause.
 
To view the NRHA Professionals available and place your bids today, visit 32auctions.com/2022BuyAProAuction.