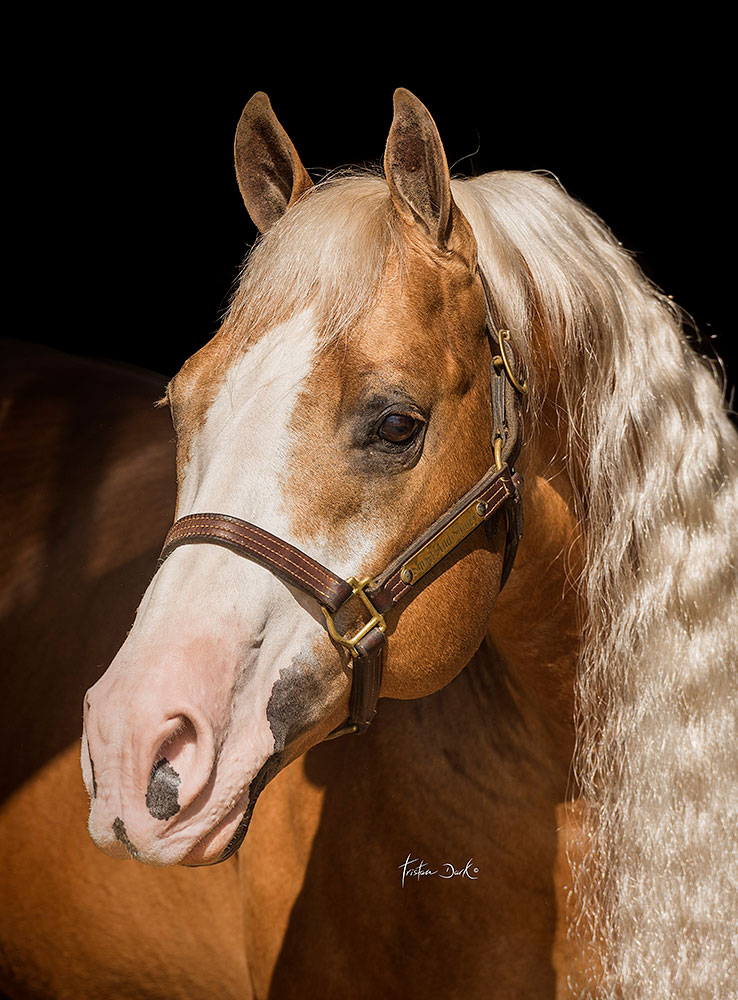 His flowing white mane is a stark contrast against his shining golden body, making Smart And Shiney one of the easiest stallions to recognize in the reining industry. The stunner recently reached a new career milestone when he became a National Reining Horse Association Million Dollar Sire.
Bred by Jack Kelley and born in 2003, the stunning stallion is by NRHA Level 3 Open Derby Champion Smart Shiner and out of Tronas Pearl, who produced multiple winners in the western performance horse industry. The colt was bred to do great things.
NRHA Hall of Famer and Three Million Dollar Rider Tim McQuay purchased the colt in 2006 and then partnered with longtime friend and client, Lyle Lovett, later that year.
McQuay trained and showed the colt for most of his career, in which he amassed earnings of more than $151,000. He was an NRHA Futurity Finalist, won the preliminary round of the National Reining Breeders Classic and finished in the Top 10 of the Finals, and was also a Top 10 finisher at the NRHA Derby.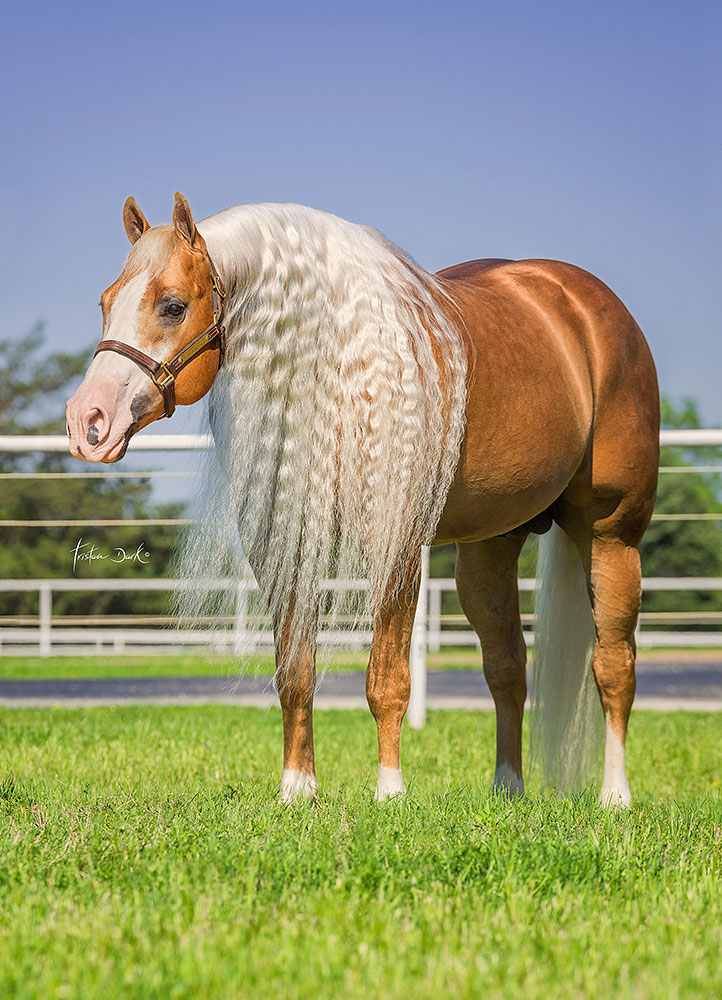 "He was very easy to be around, and just so good-minded all the time that it was easy to train him. He was pretty green when I bought him in March of his 3-year-old year, but he let me teach him and would figure things out," McQuay recalled. "I was ecstatic when we made the Futurity finals because he had been so behind, but it was because of his attitude that we were able to."
In 2010, NRHA Professional Marco Ricotta took the reins at the World Equestrian Games, and the pair helped earn a Team Bronze Medal.
That same year, Lovett purchased McQuay's share of the stallion, and in 2011, showed him in the Non Pro Classic Challenge at the NRBC, placing in the Top 10 or higher in all levels entered. "Lyle's schedule kept him from being able to come ride much, and then he was still able to do well with him at the shows," McQuay explained. "That's a testament to that stallion's mind that they were still able to be successful."
Smart And Shiney's biggest wins in the performance arena are:
2009 NRBC Level 4 Open 9th Place – $26,000 with Tim McQuay
2006 NRHA Futurity Level 4 Open 12th Place – $17,079 with Tim McQuay
2009 NRBC USEF Level 4 Open Champion – $12,352 with Tim McQuay
2008 NRHA Derby Level 4 Open 9th Place – $11,375 with Tim McQuay
2007 NRBC Level 4 Open 15th Place – $10,625 with Tim McQuay
Smart And Shiney's first limited foal crop was born in 2008 and included standout performers Shiney Tinseltown (out of Dun It In Tinseltown), earner of $44,660, and Shiney Enterprise (out of My Royal Enterprise), who has won more than $73,690.
Smart And Shiney's highest money earner is Shiney Workboots (out of Reminic At Work), who was bred by NRHA Million Dollar Owner David Silva and is owned by Tim and MaryBeth Ruckman. The gelding, whose lifetime earnings top $114,000, has been ridden to wins by several riders, including NRHA Million Dollar Riders Matt Mills and Dr. Jim Morgan, Ginger Schmersal, Addisyn Schmersal, McQuay, and MaryBeth Ruckman.
Just a few hundred dollars behind Shiney Workboots is Designed With Shine (out of Taris Designer Genes). The mare, bred by NRHA Two Million Dollar Owner Rancho Oso Rio, has won $114,294 with 11 different riders. Most recently, the mare finished as Reserve Champion at The Run For A Million in the Non Pro with McKinnon Larcombe.
McQuay added, "I've been able to train and show some of his foals, and the best thing about them is that they were all good-minded like he was. They may not all be superstars, but they're going to try their best."
Smart And Shiney now stands at Tom McCutcheon Reining Horses in Aubrey, Texas. He was immortalized as a Breyer Horse in 2014.
Smart And Shiney's Top Earners:
Shiney Workboots (Reminic At Work) – $114,908
Designed With Shine (Taris Designer Genes) $114,294
Shiney Enterprise (My Royal Enterprise) – $73,690
Got That Iowa Shine (SLJ This Is My Juice) – $63,762
Shiney Little Queen (Tivios Little Queen) – $52,810
Shiney Tinseltown (Dun It In Tinseltown) – $44,660
All About Business (Anne Get Your Gunner) – $41,045
Berry Shiney Gun (Miss Honey Gun) – $37,106
KR Billy Bob (KR English Tee) – $33,950
Smart Red Jackie (Great Red Jackie) – $25,438
For more information about Smart And Shiney, visit tmreining.com/stallions/smart-and-shiney/ or follow the stallion's social media account at Facebook.com/SmartAndShiney