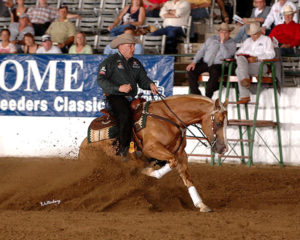 For Immediate Release – January 12, 2021 – Oklahoma City, Okla. – During the 2020 National Reining Horse Association (NRHA) Futurity and Adequan® North American Affiliate Championships (NAAC) Show, Shine Chic Shine became one of the association's newest Million Dollar Sires. Owned by Amabile & Strusiner of Grandview, Texas, Shine Chic Shine is by NRHA Seven Million Dollar Sire Smart Chic Olena and out of the NRHA's first Million Dollar Dam, Ebony Shines.
Shine Chic Shine, bred by Manntana LLC, was purchased through the NRHA Select Yearling Sale. "His full brother that year (Shiners Chic) was showing in the Futurity and doing fantastic. That horse is still showing now at 15 years old, and is still amazing, so that was a good tell," John Amabile explained. "I also really liked his (Shine Chic Shine's) breeding and confirmation."
He had impressive looks and lineage, and the next step was to pair him with a great trainer, NRHA Six Million Dollar Rider and Hall of Fame Inductee Shawn Flarida. Shine Chic Shine was set for success. In 2010, the flashy palomino stallion took a commanding lead in the first go at the NRHA Futurity. The stallion and the NRHA's top earning rider Flarida seemed poised to win it all, but a bit of bad luck kept them out of Championship contention.
"During the Finals, he slipped over by the gate and fell out of lead," Amabile recalled.
Although disappointing, Shine Chic Shine and Flarida rebounded impressively, winning the 2011 National Reining Breeders Classic (NRBC) in spectacular fashion. During the Finals, the pair marked a 229.5 to tie for the lead with Todd Sommers and Whiz It A Chic. With so much money up for grabs, the riders decided to run-off, and Flarida and Shine Chic Shine upped their performance to a 231 to take the win.
"He was awesome for me," Flarida recalled. "Personality-wise, he was kind of a clown and enjoyed life, but when it was time to be serious, he came to the party."
Shine Chic Shine was only shown at six events, but in that time amassed more than $150,000 in NRHA Lifetime Earnings (LTE). "Shawn Flarida was instrumental in his success, and a did a great job with him," Amabile said. "We retired Shine early because we wanted to get him to the breeding shed, and we were very protective of him."
Shine Chic Shine's first foals arrived in 2012. His top earner is PS Mega Shine Chic with $219,655 in NRHA LTE, including an American Quarter Horse Association (AQHA) World Championship in 2020, as well as the Run For a Million Shootout Championship.
Shine Chic Shine also sired Shine Colt Shine, who, with Flarida at the reins, took the NRHA Futurity Reserve Championship in 2019. Shine Colt Shine was the 2018 Markel Insurance Prospect Sale high seller, and to date has won $113,248. Flarida noted that Shine Colt Shine, like many of his siblings, share similarities with their sire. "Shine Chic Shine's sons and daughters are doing really well. Every one of his babies can run and stop a country mile," he shared.
Beginning in 2021, Shine Chic Shine will be standing at Toyon Ranch, a move about which Amabile is excited. "They have some of the best mares, and they're going to be breeding some to Shine. They have a great program, too, and I know this will make reaching the next million dollars a lot easier," Amabile shared.