The stakes are higher than ever before at the National Reining Horse Association Futurity, with a record-breaking number of Open entries and $2,010,040 up for grabs in the Open alone. The first round of Open competition concluded Saturday, Nov. 26, with more than 400 riders vying for a spot in the Semi-Finals.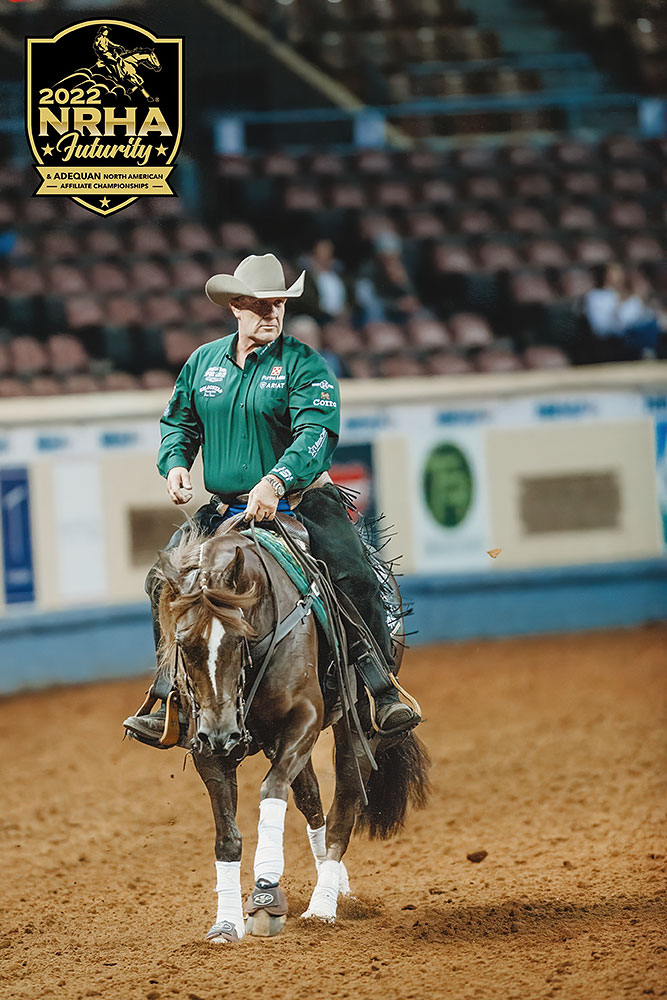 The top 75 from the Level 4 will advance to the L4 Open Semi-Finals sponsored by Not Ruf At All on Wednesday, Nov. 30, while the top 75 from L3 and L2, and the top 50 from L1, will compete in the Semi-Finals round on Tuesday.
The NRHA continues to build momentum, and the Futurity boasts the highest payouts ever in all four levels of the Open, breaking records that were set as long ago as 2012. From 2021 – a record-breaking year – the total Open payout has increased by $202,516 to break the $2 million mark for the first time ever.
The mare who topped the Level 4 Open, Andiamoe, has NRHA Open Futurity Champions on both sides of her pedigree. Guided by Seven Million Dollar Rider Shawn Flarida, the All American Quarter Horse Congress Open Futurity Champion posted a bold 228.5 to take control of the leaderboard. Her balanced stops and stylish circles were rewarded by a gentle pat from Flarida at the end of NRHA Pattern 12.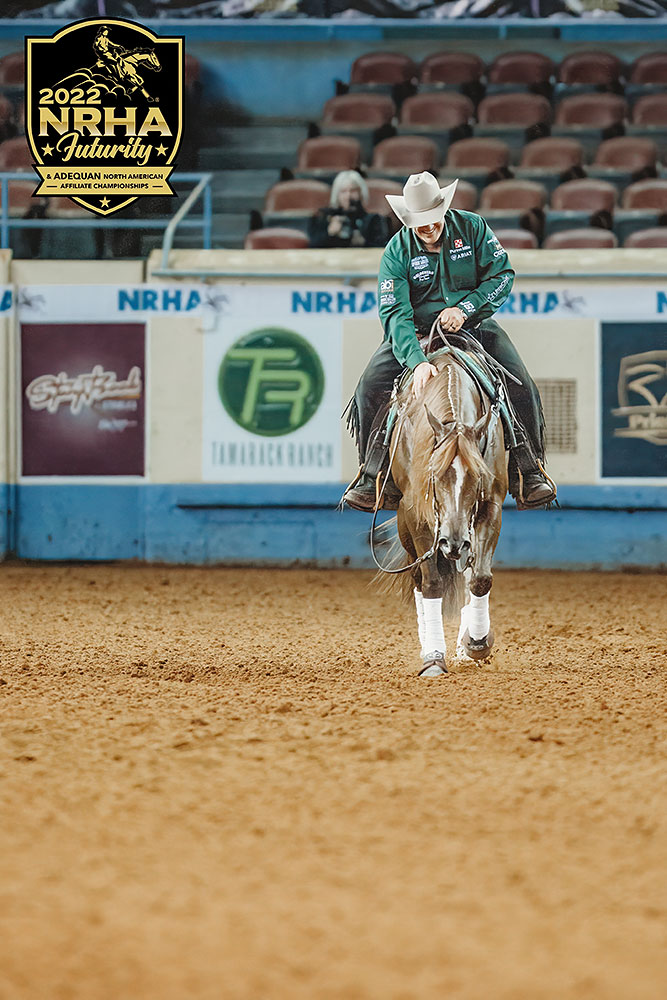 Bred and owned by Two Million Dollar Owner and NRHA Corporate Partner Arcese Quarter Horses, Andiamoe is sired by Eight Million Dollar Sire Gunnatrashya and out of Million Dollar Dam Wimpys Little Chic.
With scores of 224.5, CD Gunnas Chex Olena and Guglielmo Fontana tied for the lead of the L3 Open with CS Especially Moody and Duane Latimer.
Fontana and CD Gunnas Chex Olena (ARC Gunna Sparkya x Mistis Chex Olena) also finished with the high score in the L2 Open. CD Gunnas Chex Olena was bred, nominated, and owned by Società Agricola CD Horses SRL.
CS Especially Moody, bred, nominated, and owned by XCS Ranch of Gordonville, Texas, is sired by Five Million Dollar Sire Gunners Special Nite and out of Judys A Little Moody.
Shineoncrazydiamond and Vanessa Strotmann topped the L1 Open with a score of 220. The stallion, bred and nominated by Stefano Calcagnini, is owned by Strotmann and is sired by Million Dollar Sire Shine Chic Shine and out of Cashing In Diamonds.
It took a 218 to advance to the Level 4 Open Semi-Finals sponsored by Not Ruf At All, a 215.5 to advance to the Level 3 Open Semi-Finals, a 212 to advance to the Level 2 Open Semi-Finals, and a 208.5 to advance to the Level 1 Open Semi-Finals. Prime Time entries already advancing in other levels also earned a spot in the Semi-Finals.
Find complete results, news, and more at NRHAFuturity.com.