Although the weekend is drawing to a close, the 6666 National Reining Horse Association Derby presented by Markel is just heating up. While the Non Pro preliminaries were being held in the Norick Coliseum, the Adequan® Arena played host to the Green and Rookie Reiners.
Classic Equine Green Reiner Level 2 Champion & Highpoint – Teresa Roller & Surprized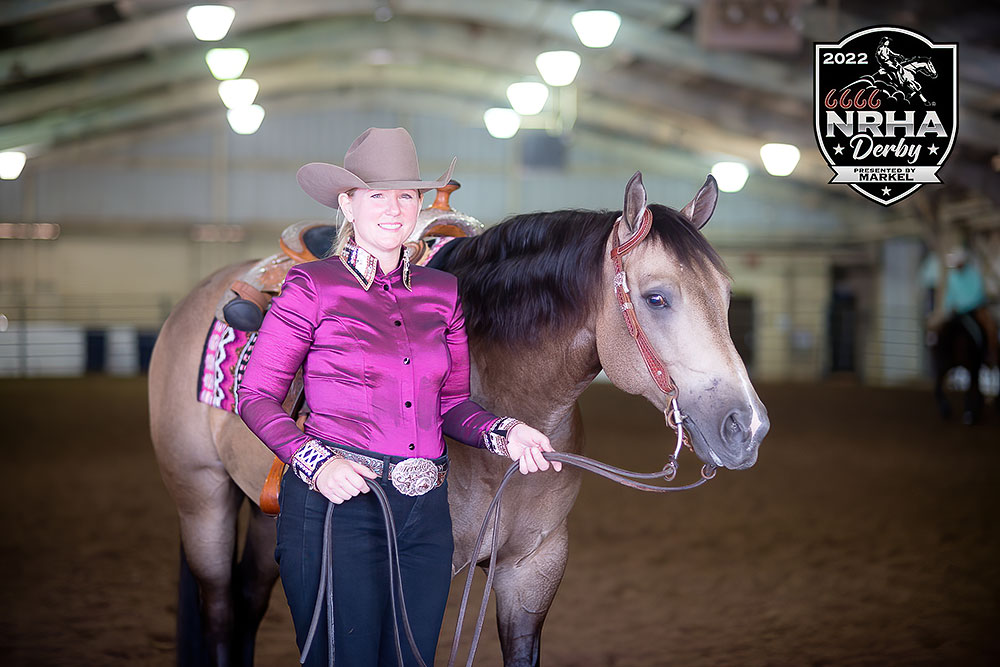 Teresa Roller managed to pull off both the Classic Equine Green Reiner Level 2 (2) Championship and Level 2 High Point Sunday, June 19, in the Adequan® Arena.
The Corinth, Texas resident has been riding reining horses for five years and gradually increasing her skills.
"I enjoy the process to get there. It isn't just the win. It's taken me a little while to get here and I've learned so much," Roller said.
She's been learning with 8-year-old gelding Surprized (Hang Ten Surprize x Snow White Dun It), known as "Cheeseburger."
"He's super cute, he's a gentleman. He is the best little horse and I couldn't be happier with him. He tries for me and I think you can ask for more from a horse," Roller said. "He likes to eat a lot, he can't miss dinner-bucket time."
Roller trains with Luke Gagnon and credited Gagnon with her success.
Classic Equine Green Reiner Level 1 Champion – Morgan Hobson & Trendsettter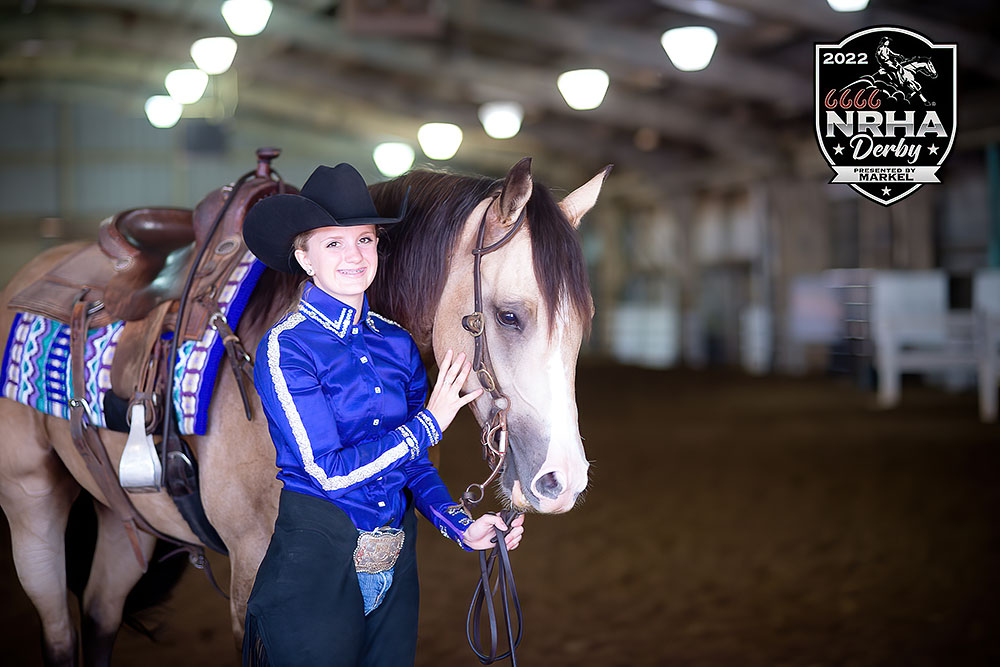 From the last draw, Morgan Hobson and Trendsettter (Spooks Gotta Whiz x Timed To Shine) grabbed the Classic Equine Green Reiner Level 1 (2) Championship with a score of 140.5.
"It felt pretty good. This is my second time ever showing him so I'm really proud of him. He was a good boy," Hobson said.
The 2017 gelding is slated to show in the Open Derby with Josh Tishman later in the week.
"I wanted to have a clean run. I wasn't even going in to win, I just wanted to have a clean run because he is showing in the Level 4 Open. I was going to go in and school him, and have a run. I was very happy with the circles, and he gets a little tense in the rundowns, but he waited on me today," Hobson said.
Trendsettter has lifetime earnings of more than $70,000, including the 2021 Tamarack Ranch Open Stakes Championship with Kole Price.
"He's kind of weird. He loves attention and he's always fun to ride. He's a pleasure to have," Hobson said. "When he stands in the cross ties, he will lick you and bite the crossties until he gets your attention."
Next year, Hobson hopes to compete in the Non Pro with Trendsettter and qualify for The Run For A Million.
"I want to thank Josh Tishman, Casey and Nicole Deary, and especially my mom and dad," Hobson said.
Classic Equine Green Reiner Level 1 Highpoint – Sidney Karr & Gunmetal Whiz Girl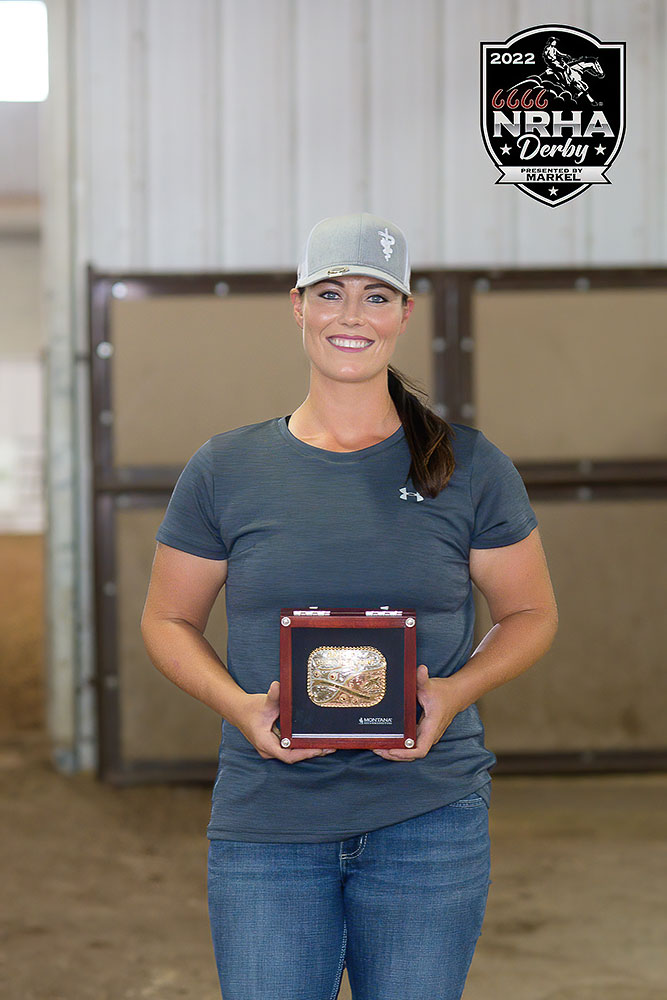 Sidney Karr and Gunmetal Whiz Girl earned the Classic Equine Green Reiner Level 1 High Point Montana Silversmith's buckle Sunday, June 19, in the Adequan® Arena.
"We've only been together for just shy of two months. I picked her up right before the NRBC. This is our third show together and she's just a unicorn, she takes really good care of me," Karr said.
The high point award was a bit of redemption for Karr, since she and Gunmetal Whiz Girl's (Spooks Gotta Gun x Koolwhix N Wranglers) run in the Non Pro Derby preliminaries didn't go to plan.
"I think it was my jitters. Hopefully next year we can be pretty competitive in the level 1 [derbies]," Karr said.
Coming from an all-around show background, Karr said she loves the reining for the environment, people and challenge. She trains with Jonathan Gauthier and thanked the entire Gauthier team for their help.
"They're amazing, the entire crew. Johnathan, Janina, I couldn't ask for a better crew. My mom, my dad, just everyone that gets me here and gets me into the show pen," Karr said.
Jackpot Rookie Level 1 & $200 Rookie Level 2 Champion – Raegan Shepherd & Shining Spook Dancer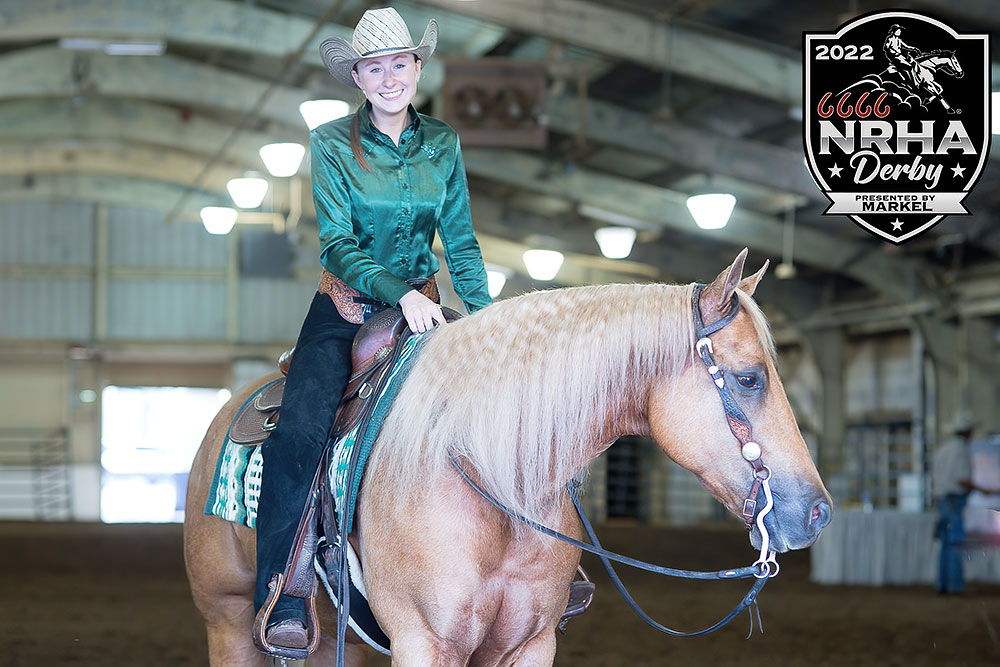 NRHyA member Raegan Shepherd and Shining Spook Dancer swept the Rookie Level 1 and Rookie Level 2 Sunday afternoon, June 19, in the Adequan® Arena. Thanks to NRHA Global Event Sponsor Toyon Ranch, all Rookie entry and judges fees for both slates of classes are paid at the 6666 NRHA Derby presented by Markel.
The resident of North Carolina marked a 141.5 to secure the title on the nine-year-old gelding called "Sunny."
"I was really happy with my run. The plan was to just go out there and show my strengths and get through the parts where I didn't have him as prepared as I wanted to," Shepherd said. "He was there with me every part of the way."
According to Shepherd, Sunny (Smart Spook x Shining Dancer) keeps people guessing at home with his mischievous behavior.
"He's kind of a goofball and we never know how he's going to be. Some days he's great and some days he's wild. He keeps us guessing, which is good," she said.
With the $272 payday, Sunny's lifetime earnings pushed to more than $15,000.
"I want to thank my friends and family, my trainer and everyone who got me to this point today," Shepherd said.
TRFAM Rookie Qualifiers
Five riders advanced from the first slate of Rookie The Run For A Million Qualifier Sunday afternoon in the Adequan Arena at the 6666 NRHA Derby presented by Markel. Long rosettes in hand, the riders joined the ranks of rookies vying for the TRFAM Rookie Championship, which will be held in August at the South Point Hotel & Casino in Las Vegas, Nevada.
Amanda Johnson
Whitesboro, Texas – Arise The Pheonix (Pale Face Dunnit x Talk About Janie)
Pip Brown
Anna, Texas – Roosters Myra (SR Roosters Kid x Miss Magnum Chic)
Harper Lawson
Lincoln, Nebraska – Spooksgottachicolena (Spooks Gotta Gun x Braz Us)
Staci Ann Lawson
Lincoln, Nebraska – Stary Nite (Gunners Special Nite x Dunna Quintana)
Charlotte Trojanovich
Calahan, Colorado – Custom Cocktail (Wimpyneedsacocktail x Custom Topgun)
Qualification for TRFAM is based on rider, not horse. Riders do not have to compete on the horse they qualified on but are required to lease or own their TRFAM the horse based on NRHA rules.