The Reining Horse Foundation's Raise A Million Live Auction returns to The Run For A Million in 2023. Attendees will have the opportunity to take home coveted and unique auction offerings. Over the past two years, the results have been impressive, sparking memorable energy at the TRFAM and providing philanthropic support for the Reining Horse Foundation (RHF), the charitable arm of the National Reining Horse Association.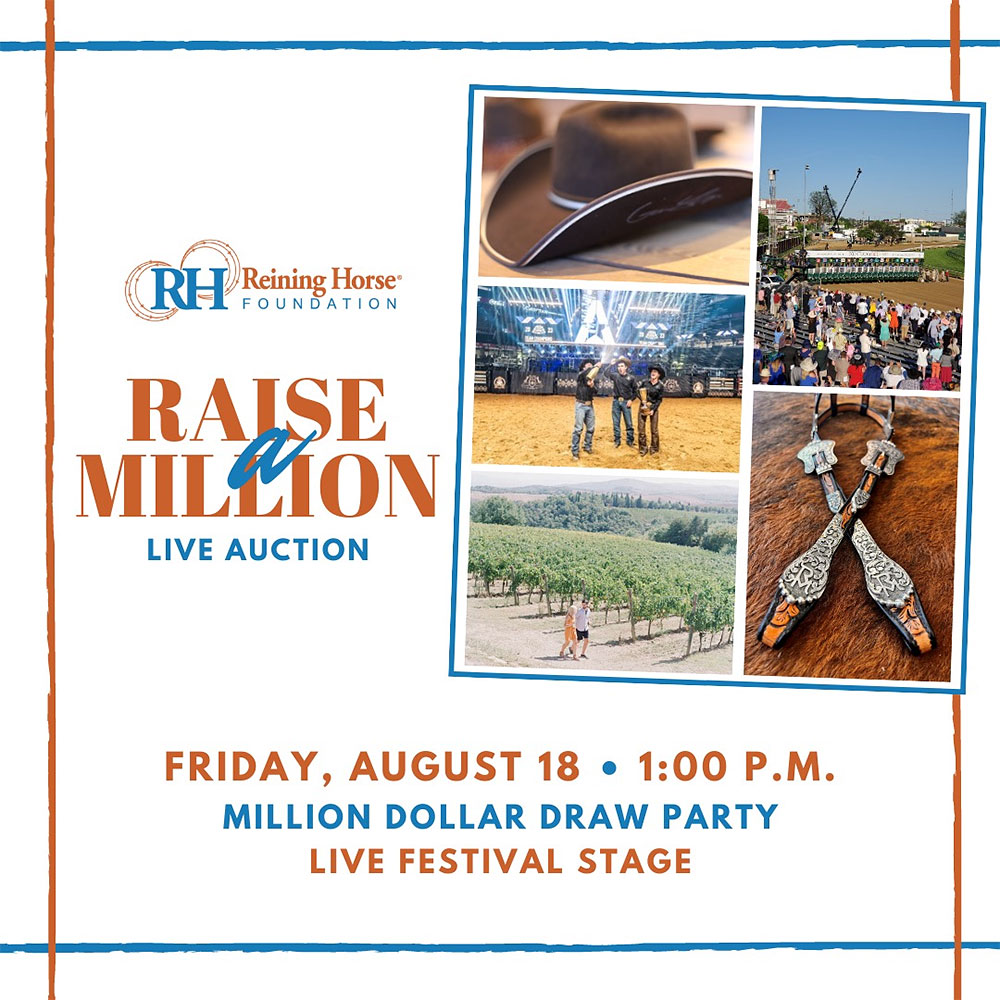 Attendees will find the Raise A Million Auction in a new location this year as part of the Live Festival stage at the South Point Arena and Equestrian Center in Las Vegas, Nevada. The public is invited to attend the auction on Friday, August 18, at 1:00 p.m. before the Million Dollar Invitation Draw. The live auction is expected to offer approximately six lots, and the assortment is impressive. Items include:
The Run For A Million Show Headstall: donated by Bob's Custom Saddles
Original Work of Art: created and donated by Duke Beardsley
Italy Wine & Horses Travel Adventure for Six: with considerations by Spooks Gotta Spark
Reining Power. Women Power. History by the Millions: Signed memorabilia featuring the women competing in the 2023 TRFAM Million Dollar Competition. Plus, a 100X Custom Hat certificate from Shorty's Caboy Hattery! Donations by Cira Baeck, Mandy McCutcheon, Gina-Maria Schumacher, and Shorty's
The American Performance Horseman Exclusive VIP Offering & Premium Seating: for 2024
Run For the Roses, 2024 Kentucky Derby Experience: donated by Tim Anderson and Rick Clark
"The Run For A Million provides an unmatched gathering of performance horses enthusiasts and an unequaled venue for this type of support," said Tim Anderson, RHF president. "We appreciate Taylor Sheridan, Brumley Management, and TRFAM for this opportunity to change lives through core programs like the RHF Crisis Fund and our youth leadership development and scholarship programs."
"The mission of the RHF is to care for and honor the reining community," said Executive Director Leslie Baker, CFRE. "The work of this foundation is continuing in big ways thanks to the generosity of donors and many givers. We are proud that the Raise A Million Auction attracts generous support." Limited proxy bidding is available by contacting Leslie Baker, RHF Executive Director, at (405) 946-7400, ext. 106, or rhf@nrha.com, no later than 5:00 p.m. CST, Thursday, August 17.