For Immediate Release – January 3, 2022 – Oklahoma City, Oklahoma – The Reining Horse Foundation set a record for fundraising at its major annual gala, Sliders' Night Out presented by Toyon Ranch on December 1, and announced a significant expansion of its scholarship program benefiting youth reiners
According to Mike Hancock, chair of the RHF Scholarship Committee, the RHF Board of Directors recently approved growing the number of RHF Scholarships from eight to 10 and increasing annual funding support for these awards from $13,000 to $28,000 per year for the next three years. In addition, several scholarship amounts are rising, including the three top awards, which will increase from $2,500 to $5,000 each effective this year.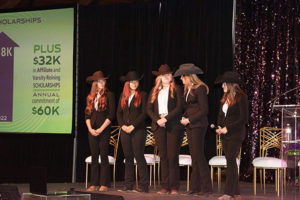 "Our national youth officers, delegates and members get involved with fundraising through programs such as the annual NRHyA Stallion Auction and the Buy-A-Pro Auction, so they learn organizational skills and help keep the youth programs funded," said Hancock. "These efforts are going well, and the reining community has dramatically increased support of the Reining Horse Foundation in recent years. This enables the RHF to make a greater impact on its core programs. Scholarships are one of the best ways to help support young reiners for bright futures."
In addition to the RHF Scholarships, the RHF makes possible another $32,000 per year in NRHA affiliate and Varsity Reining Club scholarships. This expansion will make the total commitment $60,000 per year.
The 2022 applications are available now at nrhya.com/scholarships. To be eligible to apply, students must be members of the National Reining Horse Youth Association for at least 24 months prior to applying and be a senior in high school pursuing an undergraduate degree in a two- or four-year institution, trade or technical school. A previous recipient of an RHF Scholarship may reapply for a second scholarship if she or he meets all other criteria.
The 10 RHF Scholarships will be structured as three at $5,000; three at $2,500; three at $1,500 and one at $1,000. Selection is based on financial need, academic record, involvement in the school and community, a special essay, and references. Applications must be postmarked by March 1.
Leslie Baker, executive director of the RHF, said, "Donors are a big part of this announcement. There are those who are specifically interested in the leadership development and scholarships available through the NRHyA, and we appreciate and welcome their support."
For details on contributing toward youth programs, contact Baker at (405) 946-7400, ext. 106 or email rhf@nrha.com.