Arguably one of the funnest benefit events hosted at a horse show, Reiners Rope is returning to the 6666 National Reining Horse Association Derby presented by Markel. Slated for Wednesday, June 22, Reiners Rope is an action-packed benefit for the Reining Horse Foundation's Dale Wilkinson Memorial Crisis Fund. Organized by NRHA Professionals Billy Williams and Patrick Flaherty with help from Marshall Kyle, Robert Barshofsky, Jeremy Olsen, and a host of other volunteers including other NRHA Professionals providing awards, the fundraiser has been popular with the large audience gathered for the Platinum Performance Welcome Party.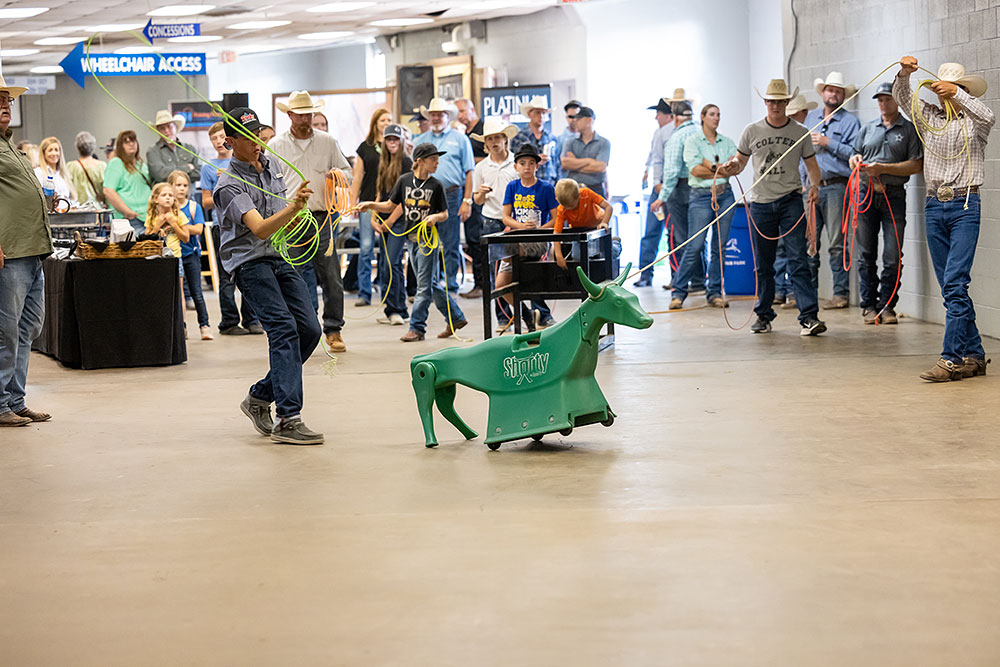 What began as an evening of fun for a few reining enthusiasts in 2019, quickly grew to become a favorite fundraiser chock-full of comradery, friendly competition, and lots of laughs. The event is open for all to watch as horseless ropers pit their skills against others in this one-of-a-kind dummy roping, and all to benefit the RHF's Dale Wilkinson Memorial Crisis Fund that provides grants to NRHA members enduring major hardships, such as illness, accidents and disasters.
In its inaugural year, announcer Jason Jackson and NRHA Professional Matt Armenta emerged as Reiners Rope champions. The COVID-19 pandemic caused a hiatus for the event in 2020, but the next year, when it raised nearly $2,000 for the RHF, two former strangers came together to win the event: Shane Walters and Jett Miser.
Walters, who owns Diamond Dub Quarter Horses along with his wife, Kalicia, said, "One of the great things about Reiners Rope for us was that we got to meet a lot of people that we didn't know, so it helped grow our network. It's a great thing to be able to help others in need."
Miser said, "It was tons of fun. I would recommend [Reiners Rope] to anyone who can swing a rope."
The 6666 NRHA Derby presented by Markel will be held in Oklahoma City at State Fair Park June 15 – 26. The best 4-, 5-, 6-, and 7-year-old reining horses and riders will be laying it all on the line for a chance at some major prize money.
Formally established as a recognized nonprofit organization in 2001, the Reining Horse Foundation is the philanthropic arm of the National Reining Horse Association. A renewed focus is driving efforts to expand fundraising so that the Foundation can do more to support the reining community. Donations of all sizes are relevant when it comes to helping reiners in need through the Dale Wilkinson Memorial Crisis Fund, providing educational scholarships and youth leadership development through the National Reining Horse Youth Association, and perpetuating the sport's history through the NRHA Hall of Fame. For information visit the website at reiningfoundation.com.