There is never a dull moment for youth at the 6666 National Reining Horse Association Derby presented by Markel. In addition to showing their horses, NRHyA members can look forward to fun times with friends at the CINCH Youth Speaking Contest, the CINCH Youth Gathering, and recently, a Regional Food Bank volunteer opportunity and NRHyA Dance has been added to the lineup.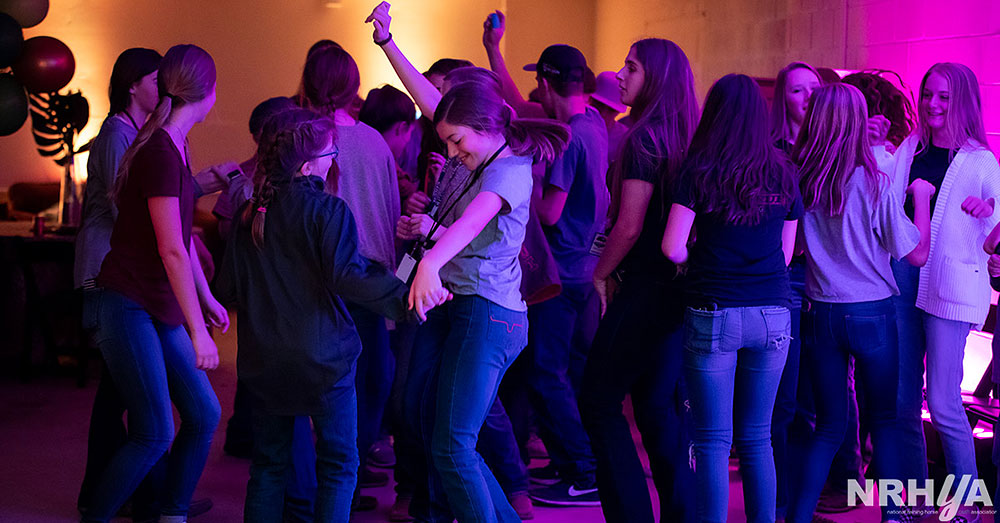 Any NRHyA or NRHA members are welcome to join the NRHyA Officer team at the Oklahoma City Regional Food Bank on June 21 at 9 a.m. Please send an email to youth@nrha.com by June 14 if interested in assisting with the Food For Kids Backpack Program or assembling boxes full of food for seniors living on fixed incomes.
"The NRHyA Dance was a huge hit at the 2021 Futurity, so having one at the Derby was an easy decision," Director of Youth Programs Sara Honegger said.
There are tons of fun activities scheduled in the Platinum Zone on Wednesday, June 22 during the Derby. First thing in the morning, it will be the venue for the Youth Speaking Contest, which contestants must enter by June 1. Then, at 5:30 p.m., the Platinum Performance Welcome Party featuring the Non Pro Finals Draw will commence. At its close, Reiners Rope will begin its Reining Horse Foundation benefit dummy roping. After the champions have been crowned, the NRHyA Dance will begin at approximately 8 p.m.
Just like at the Futurity, the dance will again be presented by "DJ Sammy Olds," also known as NRHA Sr. Director of International Affairs & Development Samantha Oldfield, and attendees can expect to jive to their favorite hits and learn some new jams.
"Our youth officer team and NRHyA delegates have worked hard to come up with new, fun ideas for youth activities for this event, along with keeping their favorites," Honegger shared, "I encourage parents and youth members to follow NRHyA on Instagram and Facebook to stay up-to-date with the latest activities, times, and locations."
Since 2001, young reiners in the National Reining Horse Youth Association have benefited from their memberships through college scholarships, learning experiences from some of the top Reining trainers, life-long friendships, and a whole lot of fun along the way. NRHyA fosters leadership qualities and provides young members with a roadmap for success to guide them along their future career paths. For information, visit NRHyA.com.