In August 2021, The Run For A Million hosted the Raise A Million Auctions to benefit the Reining Horse Foundation. The event exceeded all expectations, with more than a half-million dollars raised for the charitable organization. The Run For A Million presented by Teton Ridge returns to the South Point Arena and Equestrian Center in Las Vegas, August 17-20, and will once again host the Raise A Million Auctions.
"In 2021, the first Raise A Million auction set an amazing record for support benefiting the reining community. People are still talking about that electric event made possible by The Run For A Million, Taylor Sheridan, generous donors and bidders," said Leslie Baker, RHF Executive Director. "To be invited back and have such a terrific lineup of donations leaves us grateful and super excited. We cannot wait to see what an impact this event will have, and we invite everyone to come by the RHF auction display."
As in 2021, there will be a Silent Auction that will be set up and open for bidding in the Western Trade Fair, August 17-20, and will close Saturday, August 20 at 4 p.m.
The excitement will ramp up Friday when the Live Auction will be held just prior to the Million Dollar Competition Draw Party. The Live Auction features six incredible items, ranging from a breeding package with special ties to The Run For A Million past champions to a Shorty's Caboy Hattery custom Luxe mink hat and commemorative beaver box hat can.
The Run For A Million Draw is expected to be a standing-room-only soiree. Big bids are expected once again, as already the items donated are indicative of the potential impact of the event.
Live Auction Items include:
Sleipnir Trio Pave Diamond and Sapphire Pendant made and donated by MS Diamonds TX
One in a Million original glass trio acrylic painting made and donated by MJ's Equine Art Studios, Maggie Leverett
Bit handcrafted and donated by Randy Paul along with his artist's sketch
Custom Luxe Mink Hat with The Run For A Million Beaver Box hat can donated by Shorty's Caboy Hattery
Napa Valley Wine Experience featuring a tasting for six, a two-night cottage stay, two magnums of wine and more. Donated by Spooks Gotta Spark and The Vineyardist Winery
Supreme Breeding Package featuring a breeding to Gunna Stop, a breeding to No Smoking Required and an embryo from Icing Required. Donated by Amber Gokey, Schmersal/Thorsport Inc. and Toyon Ranch LLC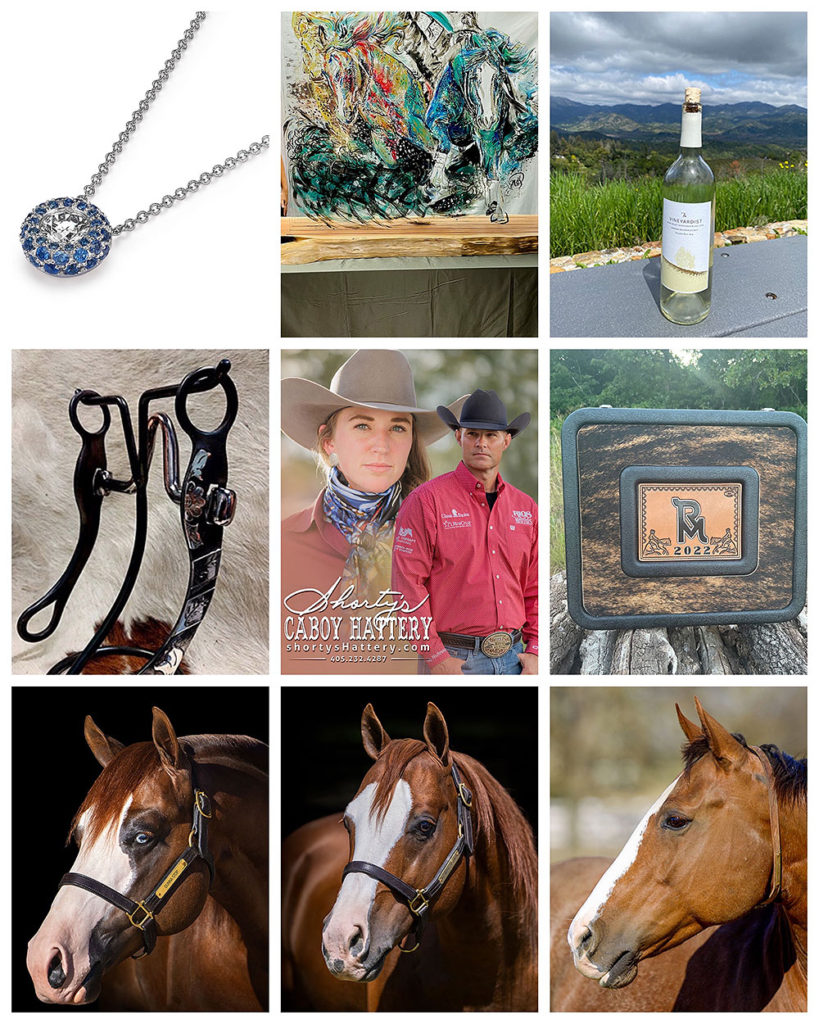 A complete list of Live and Silent Auction items can be found here.
Limited proxy bidding is available by contacting Leslie Baker, RHF Executive Director at (405) 946-7400, ext. 106 or by emailing rhf@nrha.com.
Items are being added daily, and there is still time to donate. Donations of trips, unique experiences, services, training packages, artwork, jewelry, goods, and more are all welcome. Donors should submit the donation form to LBaker@nrha.com no later than August 16.
The mission of the Reining Horse Foundation is to care for and honor the reining community. Core programs include the Dale Wilkinson Memorial Crisis Fund to benefit reiners enduring hardships such as major illness, accidents, and disasters; youth leadership development and scholarships for members of the National Reining Horse Youth Association; and perpetuation of the sport's history through the NRHA Hall of Fame.
For information on the RHF Auctions, visit ReiningFoundation.com/auctions