The late Peter Phinny will be honored by the National Reining Horse Association with the establishment of the Peter Phinny Memorial Leading Futurity Sire Award. This honor will remain a fitting representation of the legacy of this longtime NRHA member and supporter's contributions to the association and the sport.
The perpetual award will be presented each year, beginning in 2022 at the 6666 Ranch NRHA Derby presented by Markel in June. The Mehl Lawson Bronze which represents the award will remain in the NRHA office in Oklahoma City.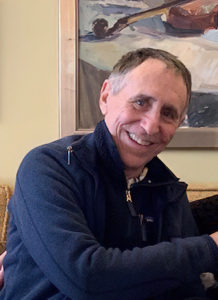 A member of the NRHA since 1966, Phinny was raised in Fremont, Michigan, and lived most of his life in the Glen Arbor area. He will be remembered as a solid citizen, devoted to family, and always kind and generous with friends, associates, and worthy causes.
But to the reining horse world, he was simply part of the universal family drawn together by their love of the industry.
In 1972, Phinny graduated with a degree in literature from Wesleyan University in Middletown, Connecticut. Writing was one of his regular pursuits, and books he wrote over the years, one with NRHA Hall of Fame member Jack Brainard, combined his passion for writing with his love of reining.
Phinny's horse breeding and training properties were located in Maple City, Michigan, and Patagonia, Arizona. He met Tom Pierson, who was working for Jack Brainard during the writing of the book, and Pierson ultimately went to work for Phinny.
Pierson said, "I worked for Peter at his Cold Spring Farm for 10 years, and I can say that this award is a real fit for him. He always studied pedigrees and what was working and wasn't so that would tie into this. He spent time poring over pedigrees looking for nicks and crosses. It was a big part of him and our conversations – what mares to buy – what stallion to breed to.
"As soon as AQHA let you ship semen, Peter brought all his mares home, and it was so enjoyable for both of us. I've always been a broodmare guy, too, and it was like a winter wonderland full of foals. We'd keep them inside in the heated barn then let the mares and babies out in the heated arena every morning until spring when the weather changed, and they'd get to go outside. We both enjoyed that!"
NRHA Professional Matt Lantz was business partners with Phinny. "We were partners for over 30 years and I stood his stallions the majority of the time. Both Mr Melody Jac and Brennas Kid had won the NRHA Futurity. He loved the breeding business," Lantz recalled.
NRHA Three Million Rider Tim McQuay had ridden Mr Melody Jac to the Futurity title and had some horses for Peter over the years. "He was just a very good guy and a dedicated promoter of our industry," McQuay recalled.
Lantz added, "He was good to everyone. His kindness was very real – not a façade."
Phinny's cousin, Frank Merrill, who partnered with him as breeder partners on Gallo Del Cielo (Rooster), agreed. "He was the kindest person. He loved the reining futurity and looked forward to it every year," Merrill said. "He never missed it as long as he was able. He and his wife, Molly, gave a trophy every year to the Futurity champion in the name of Cold Spring Farm."
That involvement has come full-circle and Peter Phinny's legacy will live on with the annual sire recognition beginning in 2022 when it will be presented to Gunnatrashya owner Arcese Quarter Horses USA.