In 2012, the National Reining Horse Association created the Professionals of the Year awards to recognize those members who go above and beyond to advocate for the sport, fellow members, and of course, the horses.
NRHA affiliates may nominate NRHA Professionals for the awards, which include the NRHA Professional Horseman of the Year, the NRHA Non Pro Coach of the Year, the NRHA Youth Coach of the Year, the NRHA Becky Hanson Horsewoman of the Year, and the NRHA Up-and-Coming Trainer of the Year.
"These are really special awards. Not only is it great to be nominated by the affiliate, but it's unique in that they are voted on by their peers," noted Nick Valentine, Chairman of the NRHA Professionals Committee. "It's been great to be able to recognize the people who are committed to NRHA and are dedicating their lives to it."
According to Valentine, the class of 2022 is truly impressive. "I think each year we have a lot of really deserving nominees, and it's always a hard thing when it's time to vote because it is so hard to pick. This year, I think the winners truly are ambassadors of the NRHA. It's not just about success in the show pen, which they all have, but about giving their time. They also all demonstrate that taking care of the horse is one of their top priorities," he said.
Valentine added that notifying the recipients is one of his favorite tasks as Professionals Committee Chairman. "It's really fun for me to call and congratulate them. Most of these people I know quite well, and I consider it a privilege and honor to be the one to surprise them with the news," Valentine said.
The 2021 NRHA Professionals of the Year will be honored with custom spurs from NRHA Corporate Partner Montana Silversmiths and will be featured in the NRHA Reiner Magazine.
Professional Horseman: Trevor Dare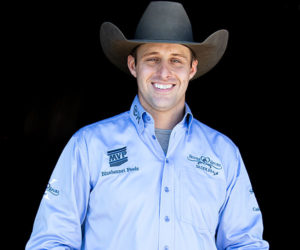 Trevor Dare banked the most prestigious win of his career in 2021 when he piloted Jerseys Baby Driver (Yellow Jersey x Wind Her Up Chic) to the Open Level 4 Championship of the 6666 Ranch NRHA Derby presented by Markel.
Dare comes from a family that has been involved with raising horses for decades, and his uncle, Rocky Dare, is a member of the NRHA Hall of Fame. Originally from Ohio, Dare began showing horses when he was just four years old and transitioned to reining at eight. He made the move to Oklahoma more than 15 years ago, and now operates Trevor Dare Reining Horses out of Silver Spurs Equine in Purcell, Oklahoma. Trevor, his wife Laura, and their son live in Lexington, Oklahoma.
With more than $811,000 in NRHA Lifetime Earnings, Dare finished as the No. 7 money earner for NRHA Professionals in 2021. In addition to his Derby championship, Dare piloted Old Time Roknroll to a Top 10 finish at the 2021 NRHA Futurity.
Becky Hanson Horsewoman of the Year: Kaci O'Rourke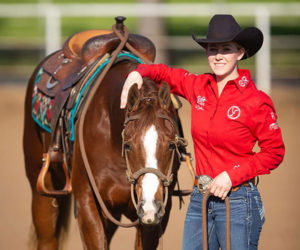 Talented might be an understatement when describing Kaci O'Rourke. The 2021 Becky Hanson Horsewoman of the Year is not only great with a horse; she's also a gifted artist.
O'Rourke was born and raised in Castleton, Vermont, on her family's Pond Hill Ranch, which, at any time has hundreds of horses. That upbringing now doubt helped O'Rourke grow as a horsewoman. She began reining at just 13 years old and became an NRHA Professional at 18. She worked with NRHA Two Million Dollar Rider Casey Deary for five years and then continued with NRHA Four Million Dollar Rider Craig Schmersal.
Since beginning her professional career, O'Rourke has made the Open Finals at the NRBC, NRHA Derby, and NRHA Futurity – along with multiple Derby and Futurity wins and placings. Her lifetime earnings now exceed $138,000.
O'Rourke and her husband, fellow NRHA Professional Jack Daniels, own and operate Pond Hill Performance Horses out of Pilot Point, Texas.
Youth Coach of the Year: Bud Lyon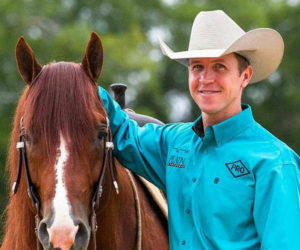 Spend a few minutes with Bud Lyon, and it's quickly apparent why the charismatic NRHA Professional was voted as the Youth Coach of the Year. As a youth, he competed in all-around events, and become a well-rounded horseman by riding with and learning from legendary trainers including Todd Crawford, Don Murphy, and Randy Paul.
Now, Lyon and his wife, Kim, live in Whitesboro, Texas, where they focus on reining and ranch riding horses.
Lyon has won more than $183,000 in NRHA earnings, including top finishes at major events including the National Reining Breeders Classic and NRHA Derby. He's also been successful in other associations. He won the 2018 AQHA World Championship in Senior Ranch Riding and took the 2019 NSBA Breeders Championship Senior Ranch Riding and Junior Ranch Riding Championships. In 2019, he also won the APHA Junior Reining World Championship.
Up-and-Coming Professional of the Year: Josh Tishman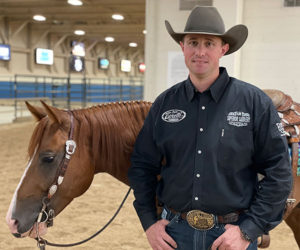 Raised in Maine, Josh Tishman began riding horses as just three years old. The only horseman in his family, Tishman tried a variety of disciplines, ranging from team roping to jumping. He eventually moved to Billings, Montana, where he competed on the Rocky Mountain College IHSA Equestrian Team.
He began riding reining horses, and in 2014, his first year to enter the NRHA Futurity, he made the Level 1 Open finals.
Now Tishman is one of NRHA's Top Professionals, finishing 2021 as No. 9 in the list of money-earning riders. It was a big year for Tishman. At the NRHA Derby, Tishman and Gunnarickashay won the Level 3 Open and took reserve in the Level 4 at the 6666 NRHA Derby presented by Markel. Just months later, the pair won The Run For A Million Shoot Out, earning a spot in the 2022 The Run For A Million presented by Teton Ridge Million Dollar Competition.
Tishman, his wife Layton, and their daughter live in Weatherford, Texas, where he works for NRHA Two Million Dollar Rider Casey Deary.
Non Pro Coach of the Year: Martin Larcombe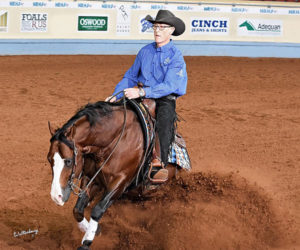 Martin Larcombe's steady demeanor not only helps him win in the show pen; it also has helped him become a great coach for non pro riders.
Growing up in Australia, Larcombe began his career competing in rodeos and quarter horse shows. He eventually began to focus on reining and has trained and competed on great reining horses in Australia, Europe, and the United States.
Larcombe, alongside his sister, Shauna Larcombe, was part of the first Australian reining team to compete at the 2010 World Equestrian Games in Lexington, Kentucky.
Larcombe has lifetime earnings of more than $937,000. He's a two-time NRHA Open World Champion, an NRHA Level 4 Open Derby reserve champion, and is a multiple finalist at all major NRHA events.
He and his wife Sam now live in Whitesboro, Texas.
For more information about the NRHA Professionals program or to find a professional in your area, visit nrha.com/professionals.