For Immediate Release – June 16, 2020 – Oklahoma City, Oklahoma – The horse show action continued in the Adequan® Arena at the National Reining Horse Association (NRHA) Derby presented by Markel. There were 60 entries in the Novice Horse Open classes, spread across three levels. In the end, Jared Leclair and Matt Palmer took home the wins.
Novice Horse Open Level 2 & 3 Co-Champion/Level 1 Champion – Matt Palmer and Im Painted Special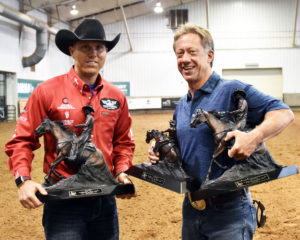 It was only the first time for Matt Palmer to show Im Painted Special, but the duo looked like a veteran team, completing an impressive run that resulted in a score of 149. That run not only won the Novice Horse Open [1] Level 1, it also tied for the win of Levels 2 and 3. All totaled, Palmer and Im Painted Special won $2,503.
"Going in for the first time with everything that has gone on, COVID-19 and all, it was just to go in and see what I had. Every maneuver he did, I loved him. We bought him for his owner, Mark Hurd, to show, so I wanted to get him in the pen and see what he's like, so when I coach Mark I'd have a better idea," Palmer shared.
Hurd and Palmer found Im Painted Special, a 4-year-old by Gunners Special Nite and out of Darlins Not Painted, in Texas at NRHA Professional Tom McCutcheon's barn. "As soon as Mark got on him, I knew this was the horse we needed to take home. My plan was to show him at the NRBC, but when that got pushed back, I decided to show him here. I'll show him at the NRBC that is now in Tulsa," Palmer said.
He added, "Mark is second to none as a customer. I can't thank him enough for all the things he has done for me. I also thank my family, everyone who works for me, and Bob and Arlene Santagata of Santa Hill Ranch. It's a whole team effort, and I'm just the last one who gets to enjoy it."
Novice Horse Open Level 2 & 3 Co-Champion – Jared Leclair and Lime A Rita

In the past year and a half, Jared Leclair and Lime A Rita have become quite the team, consistently winning in the horse show classes at major events. On Monday, the duo continued their winning streak, tying for the win in both the Level 2 and Level 3 of the Novice Horse Open. The win netted checks totaling $1,777.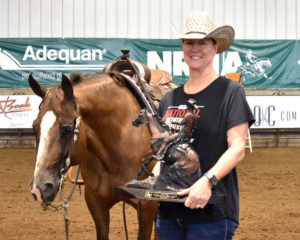 "This is a very good mare," noted Lime A Rita's owner Susan Meyer. "I bought her a year and a half ago in Las Vegas, and I started showing her. I did well with her and won my first trophy, and then Jared took over. They've had a lot of success together, too."
Leclair and Lime A Rita, by Custom Legend and out of She Slides Wright, marked a 149 in the day's competition. "Today she did very, very well. She kept her head down and was very obedient. Everything was stellar, and you could tell she and Jared were listening to one another very well," she said.
It was the first show back after the COVID-19 quarantine period. "It definitely makes me feel more normal," Meyers shared. "I thank Jared for all of his hard work, dedication, and ability to show. I appreciate him so much."
Complete results for the NRHA Derby presented by Markel can be found at NRHADerby.com.